If you purchase an independently reviewed product or service through a link on our website, we may receive an affiliate commission. Learn more.
A fresh new week deserves a fresh new roundup of the day's best paid iPhone and iPad apps on sale for free. Well, that's exactly what we're going to give you. We've included eight different apps in Monday's roundup, and they're all free downloads for a short time. Grab any apps that look appealing as soon as you can before these discounts are done.
This post covers paid iPhone and iPad apps that have been made available for free for a limited time by their developers. BGR is not affiliated with any developers. There is no way to tell how long they will be free. These sales could end an hour from now or a week from now — obviously, the only thing we can guarantee is that they were free at the time this post was written. If you click on a link and see a price listed next to an app instead of the word "get," it is no longer free. The sale has ended. If you download the app anyway, you will be charged by Apple.
POLARIS – AR filters for Earth
Normally $0.99.
POLARIS is an Augmented Reality app to help millennials to learn about the Earth. With a 3D Earth model to let you explore geographical data & trends like climate change, coffee consumption, employment rate, forest loss, renewable and beer consumption, internet speeds, healthcare, CO2 emissions and other 10+ filters. You can use the key to learn about the topic in detail. Apart from Augmented Reality, you can also explore all this data in a 3D globe or a map.
FEATURES:
– AR View with 20 filters for the Earth
– Keys with information on the filters
– Grid for the Earth
– Search for your favorite filters
– 3D & Map view

Augmented Reality will let you interact with the Earth in a new way.
Developed by Emberify in collaboration with Ritu Chuahan & Shailvi Shah.
Download POLARIS – AR filters for Earth
Find a Coffee
Normally $2.99.
Picture the scene: It's cold. You're broke. Your partner has left you. You just got fired. You're lost and don't know where the closest coffee shop is.

Never fear: Find-a-coffee is happy to save you.

Moments after clicking on our re-assuring icon, you're snug, warm, sipping cappuccino and making eyes at the barista (who happens to be filthy rich as well as cute).

Don't say that wasn't a few cents well-spent on this app!

No matter your location, immediately hunt out the closest coffee shop. Perfect for the circumstances described above (or even less drastic ones). Put one of the largest coffee shop databases in your pocket and be ready for action at any time.

– incredibly easy to use
– lays out the exact distance to coffee. Mmmm coffee is good.
– Works with any version of the iPad, iPhone or iPod touch.
– find your perfect coffee shop from home or on the road, wherever you are in the world – on the road or at home
– Simple user interface and intuitive user experience.
– Fellow-coffee drinker reviews!
Week Calendar Widget Pro
Normally $1.99.
NO need to unlock your device to see your calendar events!!!
Displays your existing calendar events from multiple calendar sources into one widget configurable view. Displays up to 7 days, tap on any day's header to go to day view mode. Navigate your schedule for past and future events from the widget. Technically, there is no need to unlock you device and see your event details such as: location, attendees, notes ..etc.
Suitable for people with busy schedule such as work and school.

The widget includes:

․ Full Calendar event details (title, date, time, attendees, notes , location)
․ Day timeline
․ Week View timeline
․ Scroll through 24 hours
․ navigate through past or future days and weeks
․ Tap on event to open event or iPhone calendar
․ Handles complicated event overlapping
․ Assigns colors to events
․ Choose to show/hide any day of the week
․ Choose first day of week
․ Choose number of days to show in the widget
․ Control the height of the widget from setting

The app remembers the last screen the user was viewing or it can be configured to jump to today or current week.

Please try our "Reminders widget" app that provides a nice widget for the built-in iOS reminders app.

More features will be added soon!
Please send us what you want! We will add it!
Download Week Calendar Widget Pro
Yoopins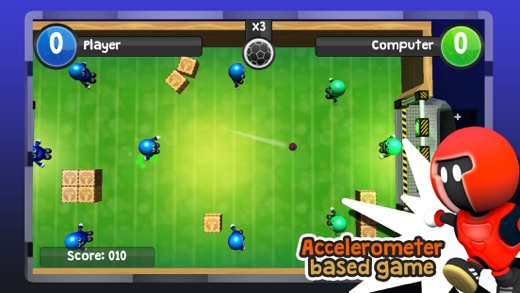 Normally $0.99.
Enjoy a new way of playing soccer! This accelerometer based game features a unique and original gameplay. Guide your Yoopin team to victory in the most exciting tournament!

Take control of the ball! Use the accelerometer to bring the ball to your team players so they can kick and score. But beware your opponents for they will do anything to score. Try it!

GAME FEATURES
•Exciting and original gameplay
•More than 70 unique levels
•Special levels featuring lots of minigames and challenges
•Original characters
•Different balls to increase the fun
•Items and powerups
•Multiple languages: English, Spanish
•This app doesn't offer in app purchases, all content can be unlocked by your own skills!
jS Walk 20 – Walking Tracker
Normally $0.99.
Walking 20 mins a day can help improving your health and improve the chances of longer living. This is where jS Walk 20, an easy to use walk timer & monitor, comes in, to encourage you off your seat and to "just start walking!

"Study: A 20-Minute Walk Every Day Could Save Your Life" – Sciencealert.com

"A daily walk can add seven years to your life. Everyone should be doing at least between 20 and 25 minutes of walking a day" – independent.co.uk

"Daily walk adds years to your life: Just 20 minutes a day is enough" – express.co.uk

"Scientists recommend 20-minute daily walk to avoid premature death"- The Guardian

Our simple timer starts you off with a 20 mins target during which you can monitor your progress with an easy to use interface. jS Walk 20 features sophisticated iPod features with gesture controls for ease of use. The built in safety features further enhance this great package that is tailor made to make you healthy.

The walking display screens provide a super clear summary of your progress at a glance from any angle (perfect for when using an armband). Music controls have never been easier with intuitive tap or swipe gesture control.

Features:
– Big, Bold, High Contrast & Color coded Display. Customizable and easy to read in any condition.
– Set any target 20 min or over as you advance with your daily walks.
– Adjustable Read Angle is particularly suited for armband use and instant glance readability.
– Advanced Music Gesture Controls provide complete control of your playlists/playback and complete the package to give you the ultimate, easy to use running/walking/jogging app.
– Direct links to Workout stations & jS Playlist on Apple Music.
– Safety features to aid in emergency situations:
* Alarm function to draw attention of passersby.
* Instant call emergency or a saved contact number.
* SMS your run details and location to a saved contact.
* Turn your iPhone to a side light when running at dusk or dark.

Other Features:
– Innovative, glance free, "safe-mode" which kicks in when you start walking, dims the screen and minimises battery drain.
– A simple touch of the screen brings the screen to life, increasing the brightness for 20 seconds so it is readable in any light condition.
– The duration, distance & pace screens each have a unique color for easy identification at a glance.

Disclaimer:
– jS Walk 20 can access the Health app to gather data, such as height & weight, in order to calculate calorie consumption more accurately. No data is used or shared with any third party for any other purposes.
– Continued use of Pedometer running in the background can dramatically decrease battery life.
Download jS Walk 20 – Walking Tracker
Space Cadets Star Fighter
Normally $0.99.
A young Space Cadet must take on the entire Imperial army with only his starfighter, a trusty astromech droid, and a little help from his hokey religion called the force…All because he didn't want to fix his uncles evaporators! Help the young pilot maneuver his star fighter in a war among the stars! There is a galactic dispute raging in the universe, Good vs Evil, and a hero is needed to bring order to the chaos. Choose your starfighter, destroy as many bad guys as you can, rack up the high score, and compete on the galaxy wide leader boards. Use your force power to destroy objects along with your arsenal of weapons and your trusty astromech droid unit by your side.

Space Cadets-Star Fighter is a retro top down shooter with modern 3D graphics. Calling all Fan boys & girls to pilot mini starfighters just like you have always wanted to do… You are in control! Move your ship where you want to go and dodge the enemies as they shoot laser fire, bombs, and missiles your way. Never a dull moment!

Choose from 5 of your favorite ships in the Galaxy (More coming soon).
7 Power-ups
7 Levels
7 Bosses
9 Ranks- Earn a Jedi ranking to use the force power up and be unstoppable!!!

Use your force power to destroy and move objects from your path.
Top score leader boards
Download Space Cadets Star Fighter
Fugu Bots
Normally $0.99.
Run around and battle the bots! Use the dual virtual joysticks to run and shoot. Shake to pause.

Built with the Angry Bots project and Unity game engine from Unity Technologies, and the Enemy + NPC Health Bars from Snazzlebot Games.

Added Game Center integration, iPad support, and upgraded to Unity 2017 and iOS 10.
Healthy CrockPot Recipes
Normally $0.99.
Lifestyle now a days make it hard to have home Cooked nutritious and Delicious food. We just never seem to have the time and turn to ready made food as an alternative. This is were Healthy crock pot can in to the Action. With minimum preparation And Cook Time you can cook and learn easy And healthy crockpot recipes.

The Healthy Crock Pot Recipe app contains recipes with wide range of ingredient content like minimal ingredient to healthy ingredients.

Following are the features for this application:

1) Easy to follow recipes
2) Offline Access And Sync Recipes Once there is an new Recipes For you
3) Browse Recipe by categories
4) Get featured recipe and categories based on season,Trend and most viewed recipe and categories.
5) Mark Recipe as Favourite to Cook Later or Easy finding.
6) Share The Recipe Card with your friends on Facebook,Twitter, Whatsapp or any Other Social Media
7) Send the recipe by airdrop, email or text message to your friends
8) Prepare shopping List based for item you are going to cook
9) Last But not the least You don't have to update app to get our new recipes As Application will automatically Sync New recipes.
Download Healthy CrockPot Recipes
---
Our deals and product reviews are picked by BGR's expert editors and team.

Follow @BGRDeals on Twitter to keep up with the latest and greatest deals we find around the web. Prices subject to change without notice and any coupons mentioned above may be available in limited supply.