If you purchase an independently reviewed product or service through a link on our website, we may receive an affiliate commission. Learn more.
Yesterday's post covering the best paid iPhone and iPad apps on sale for free was a terrific one, and there are still a few freebies to be found if you head back and check them out. We've dug through today's discounted apps and come up with a fresh list though, and there are some gems to be found. A bunch of fun games are on sale on Wednesday, and there's also a cool app that lets you customize your notch if you have an iPhone X. Check out all of today's apps below and be quick about it, since these sales could end at any moment.
This post covers paid iPhone and iPad apps that have been made available for free for a limited time by their developers. BGR is not affiliated with any developers. There is no way to tell how long they will be free. These sales could end an hour from now or a week from now — obviously, the only thing we can guarantee is that they were free at the time this post was written. If you click on a link and see a price listed next to an app instead of the word "get," it is no longer free. The sale has ended. If you download the app anyway, you will be charged by Apple. Subscribe to our feed to be notified as soon as these posts are published, and you'll avoid missing the sales we cover.
Custom Notch
Normally $0.99.
Customise your notches on your iPhone X with Custom Notch Wallpapers.

Create your own custom notch wallpapers.

– 66 Notch Styles.
– Use your own Wallpapers or Photos.
– Allows to pinch and zoom

+ Choose your photo
+ Choose a notch style
+ Preview
+ Save
+ Set as Wallpaper
+ Share with your friends
+ Show your new iPhone X Notch to your friends.
iRecorder Pro Audio Recorder
Normally $2.99.
iRecorder Pro is a quick and easy to use audio recorder for iPhone and iPad, with Wi-Fi transfer to any computer. Customers LOVE iRecorder, you will TOO!

SIMPLY THE BEST:
iRecorder is designed to be quick and easy use, and simple to understand. Great for on-the-go capture of your thoughts, ideas, notes-to-self, lectures, concerts, music, you name it! Record for hours, or just seconds.

* HIGH-QUALITY RECORDINGS
* FAST LOAD TIME
* EASY TO USE
* EVERYTHING ONE TAP AWAY
* USERS LOVE THIS APP, YOU WILL TOO!

MORE GREAT FEATURES:
* Wi-Fi Sync to transfer recordings to any computer on the same Wi-Fi network
* iTunes file sharing
* Share recordings using iOS share extensions
* SmartSplit to easily send large recordings in multiple parts
* Record in the background
* Adjust playback speed
* pause and resume during recording
* no limit to recording length
* rename and re-arrange recordings quickly
* rotates upside down for easy microphone use
* Use microphones, headsets etc.
* VoiceOver optimized, VoiceOver on during recording

SIMPLE BY DESIGN:
When it comes to mobile applications, sometimes less is more. We kept iRecorder simple and un-cumbersome, leaving a great user experience.

PRO QUALITY:
Our recording quality is second to none. We deliver pro-quality recordings, and a high-quality​ user interface you would expect on iPhone.

GREAT CUSTOMER SERVICE:
Our customers praise us for great customer service. We take it to heart. If you have an issue we are here to help you.

ACCESSIBILITY PROMISE:
We are dedicated to making the best & most accessible recording app for iOS. iRecorder is optimized for VoiceOver users!

iRecorder is a trademark of SimpleTouch software, all rights reserved.
Download iRecorder Pro Audio Recorder
ARvid – Augmented Reality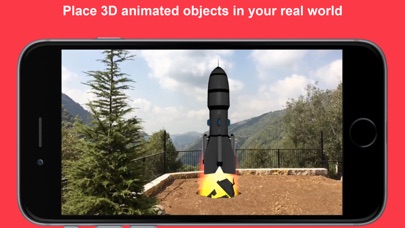 Normally $0.99.
ARvid lets you add 3D animated objects into your world and take videos to share with friends

Includes

Fracture Pack:
– Blast your floor
– Add a Tornado
– Witness the moon fracture
– Launch a rocket
– Meteorite Impact
– Falling rocks
– Crack your floor

Pyro Pack:
– Burn your real world with a Flamethrower
– Shoot Fireballs
– Place a fire
– Make it rain fire
– Add Smoke
– Draw with fire
– Place a Circle/Box/Line of fire
– Trap your friends with Fire
– Fireworks

3D Text Pack:
Add 3D text to your real world with effects
– Fire Text
– Clouds Text
– Smoke Text
– Cosmic energy Text
– Gold Text
– Flowers Text

3D Painting Pack:
Choose from a range of brushes and colors; 3D paint in your real world
Download ARvid – Augmented Reality
Space Evaders – Fight to Stay Alive
Normally $0.99.
Enjoy the Space Evaders game!
******************************

Need some time to kill?

Why not kill some enemies why you do it. Fly through space and attack ships and collect hearts for health.
Download Space Evaders – Fight to Stay Alive
Impossible Leap
Normally $0.99.
Leap between obstacles and try to survive as long as possible. Tap to jump from circle to circle.
Leap your way through the ingenious and tricky levels we have created for you!
Impossible Leap will seriously challenge your skills and reflexes!

Looks Easy? THINK AGAIN !!
Life Wars: the Game of Life Adventure
Normally $0.99.
Life wars is a new amazing shooter game!
Guide your ship up and and down on your screen and try to defeat the enemies coming from everywhere!
But before the war begins choose the right ship and equip a powerful arsenal.
Enter in the amazing Conway's Game of Life world, and discover the various enemy spaceships!

Features:
– Three game modes: Discovery mode, Infinity mode and Conway's Game of Life mode
– Choose your ship and equip various powers and weapons
– Challenge your ability and enter in the "Fever Mode"
– Share your best scores with your friend inside the Game Center
– Discover several Game of Life spaceship enemies
– Wiki with informations about the discovered spaceships

From today on, the Game of Life won't be only for nerds! ;-)
Download Life Wars: the Game of Life Adventure
Cubes : brain teaser
Normally $0.99.
Cubes is a simple and addictive puzzle game. The goal is to form or complete a pattern with moving cubes.
The first levels of the game are basic so you can master the concept quickly. Then you will have challenging levels but yet accessible with nice and cute pixel art patterns.

Features:
◉ 127 unique and cute pixel-art levels(All unlocked)
◉ 2 types of controller : simple swipe gestures and arrows
◉ Player Profile with best scores(Time and number of moves) for each level
Melody Composer Squared
Normally $4.99.
Melody Composer Squared is a unique editor for creating, analyzing and editing melodies using their conversions to images. The app uses the Diagram, which graphically discovers messages and puzzles, hidden in music.

Melody Composer Squared will be interested for children as an educational tool and for adults who would like to understand principles of a melody creation.

Features
– the app contents no ads;
– has all functionality for the creation of gorgeous melodies;
– a library with examples of simple forms and famous melodies;
– an intuitive interface;
– a small size of the app.

Tools
– Pencil tool: build a melody note by note;
– Eraser tool: double tap clears all frame;
– One-touch tool: create a melody just with one move.

Compatible with iPhone 5/5s, SE, 6s/6s plus, 7/7 plus, 8/8 plus, iPhone X and iPad 3 and higher
Download Melody Composer Squared
---
Our deals and product reviews are picked by BGR's expert editors and team.

Follow @BGRDeals on Twitter to keep up with the latest and greatest deals we find around the web. Prices subject to change without notice and any coupons mentioned above may be available in limited supply.