It feels like anything and everything is on sale ahead of Christmas this year. Just check our deals channel if you don't believe me. Of course, that includes apps as well and we have a terrific roundup of freebies for you on Tuesday. There are nine iPhone and iPad apps in total on today's list, and they're all premium apps that have been discounted for a limited time. Grab them for free while you can!
This post covers paid iPhone and iPad apps that have been made available for free for a limited time by their developers. BGR is not affiliated with any developers. There is no way to tell how long they will be free. These sales could end an hour from now or a week from now — obviously, the only thing we can guarantee is that they were free at the time this post was written. If you click on a link and see a price listed next to an app instead of the word "get," it is no longer free. The sale has ended. If you download the app anyway, you will be charged by Apple.
Copy Parrot
Normally $3.99.
Copy Parrot is a quick and easy way to store and access important information.

It allows you to copy some information from one device and paste it onto another, anywhere in the world.
Copy a text message from your phone from home and paste it onto your iPad at work.
It works like this:
1. Select the text and tap 'copy'.
2. Open Notification Center by dragging down from the top and paste into one of the Copy Parrot clipboards by tapping on the second button.
3. Open Notification Center on your other device and tap the first button to copy it.
4. Paste the information into the new location.

By using the 'Quick Parrot' widget in Notification Center, you don't need to search around to find the app. Simply pull down from the top of your phone and you have instant access to the information you need.

You can also view your private clipboard right from your wrist with Copy Parrot on Apple Watch.
Haptic Keyboard: ENZO
Normally $1.99.
Featured by both BGR and AppAdvice and trusted by thousands of users across the globe, ENZO: Haptic Keyboard is the most beautiful and powerful keyboard to give you haptic feedback.

Utilizing Apple's Taptic Engine (iPhone 7, 8 and X), every touch gives you a satisfying click. The soft vibration makes you feel like you are typing on a real keyboard. All this is packaged in an interface that is both familiar and intuitive. Every button is deliberately placed to create an experience that you can enjoy.

Download ENZO and start typing!

We spend almost a third of our waking hours on our phones. The majority of this time is spent typing on keyboards that give us no satisfaction. We believe that an activity that we spend so much time on should be enjoyed. With ENZO, we hope to do just that.

Third party mobile keyboards today are too complicated. They give us too many customizing options that we don't even know where to start. They provide us with too many buttons that we will never use. We want to empower you by giving you a keyboard you don't have to second guess. Every key you press is exactly what is typed on the screen.

You can use this when you're texting friends, composing emails, or writing notes. The possibilities are endless.

Getting started is easy. Simply download and open the app and follow the onscreen instructions to install. Once you've enabled full access (required for haptic feedback), you'll be good to go!

At ENZO, we believe that your keyboard isn't the only thing that you should give you satisfaction. In fact, every moment of your life should give you satisfaction. Therefore, we have additionally added a feature that allows you to be present every day of your life.

To find out what it is, download today!
Download Haptic Keyboard: ENZO
Monster Stunts: Extreme Stunt Truck Racing
Normally $1.99.
*****
Support Challenge Mode!
Challenge with the best player all over the world!
*****

Monster Stunts – A stunt monster truck racing game. Drive the monster truck through the tracks as fast as you can to get rewards. Rotate 360 degrees to get more coins. Please be careful, don't hit the ground, then would crash the monster trucks. Get more rewards to earn more coins. Unlock more monster trucks in shop.

How to play:
* Drive by pressing on the right or left side of the screen.
* Tilt the device to control the monster trucks.

Features:
* Extremely fast and addictive gameplay
* 70 levels with more to come
* 10 monster trucks with more to come
* Game Center support
* Rotate 360 degrees to get more coins
* Universal (support all iOS devices)
Download Monster Stunts: Extreme Stunt Truck Racing
Week Calendar Widget Pro
Normally $1.99.
NO need to unlock your device to see your calendar events!!!
Displays your existing calendar events from multiple calendar sources into one widget configurable view. Displays up to 7 days, tap on any day's header to go to day view mode. Navigate your schedule for past and future events from the widget. Technically, there is no need to unlock you device and see your event details such as: location, attendees, notes ..etc.
Suitable for people with busy schedule such as work and school.

The widget includes:

․ Full Calendar event details (title, date, time, attendees, notes , location)
․ Day timeline
․ Week View timeline
․ Scroll through 24 hours
․ navigate through past or future days and weeks
․ Tap on event to open event or iPhone calendar
․ Handles complicated event overlapping
․ Assigns colors to events
․ Choose to show/hide any day of the week
․ Choose first day of week
․ Choose number of days to show in the widget
․ Control the height of the widget from setting

The app remembers the last screen the user was viewing or it can be configured to jump to today or current week.

Please try our "Reminders widget" app that provides a nice widget for the built-in iOS reminders app.

More features will be added soon!
Download Week Calendar Widget Pro
MovieSpirit – Movie Maker Pro
Normally $9.99.
Do you want to make your own movie?
Do you want to be a director, producer, starring…?

In MovieSpirit, these characters can be done by you!

Through MovieSpirit, You can combine all media elements such as video, photo, music, text and voice with your creative ideas. What's more, you can add various effects to them(scene switching effects, text animation, etc).

Super function

– Add multi-layer video (video in video effect)
– Add slow motion/fast motion effect to video
– Add text (Expression icon can be added, too)
– Record voice
– Add music
– Add Gif
– Various scene switching effects
– Various shapes for video/photo
– Painting directly on the movie
– Chroma Key for overlay video/photo
– Color Splash
– Warp video/photo freely
– Motion Point for creating amazing movement of video/photo/text
– Import video/photo/music/gif from computer directly for editing through Wi-Fi
– Create and share movie to Instagram, Youtube, Vine, iCloud, Facebook, etc
Download MovieSpirit – Movie Maker Pro
SLog – Sex Activity Tracker
Normally $1.99.
Sex, is awesome. And now, you can make it even better, with SLog. We're proud to bring you a revolutionary app that creates fun visualizations that represent your intimate sessions with your partner…or one night stand with that cute girl/guy you just met. We don't judge.

SLog uses the gyroscope built into your smartphone to analyze how you're gettin' down between the bedsheets in a brilliant display of engineering and technological aptitude. Showcased in a sensual, yet sophisticated black toned theme, you can see how your intimate sessions vary over time, in individual sessions, and with multiple partners. You can create and track your sexual encounters, and reflect on them over time; measuring things like your sessions' intensity, duration, and volume.

Connect with partners in an unprecedented way, and enhance these exciting memories with your partner's stats, flags, top-lists and performance patterns. You can review and keep tabs on your history, see the wildest sessions you've had, and track your performance over time! Once you try SLog, your sex life will develop a new exhilaration, satisfaction guaranteed
Download SLog – Sex Activity Tracker
Atv Mountain Rider
Normally $0.99.
Do you have the racing skills good enough to compete against other racers While performing Gravity defying stunts .Experience the adrenaline rush playing this racing game.Get on your ATV and set out on an exciting adventure that requires you to drive on the offroad filled with so many beautiful scenes and really crazy drivers. This game is against the AI players. There's a nice variety of race Tracks, some of which are mind blogging .This game offer a nice change of pace.
Eddie
Normally $6.99.
Eddie is your personal writing and research assistant on your iPhone, iPad and Apple Watch.

With Eddie's auto saving feature and the realtime database you will never need to worry about saving or having the latest version of your work on any of your devices.

Use 'Eddie Assistant' with a single tap on the Eddie brush icon to quickly access the definition of words you have selected, the built in web browser for more efficient research and to view pin points on a map of the currently selected address or location.

You will always know how many words or characters you have written with Eddie's Live Counter that updates as you type or highlight any of your sentences and paragraphs to view the word and character count for just your selection.

Find the word, sentence, paragraph or document that you are looking for with the new Eddie Search. Eddie Search uses a unique method to find the contents of a phrase instead of exact word matching to help you find exactly what you require. Eddie Search also searches both within the current document as well as the text across all of your documents, speeding up your discovery process with just a single search box.

Take hands free notes with Eddie for Apple Watch, ideal for making shopping lists, taking notes or jotting down ideas whilst on the go. Documents created or edited on your Apple Watch will sync back to all of your other Eddie compatible devices for further editing or sharing.

Format your Eddie documents with the new formatting tools. Choose to make your selected text a Title, Header or Body and change the text color to make certain parts stand out for future reference or to let you know paragraphs that may still need a little work.

Sharing documents with Eddie is simple with the Eddie iMessage App. The Eddie iMessage App lists all of your documents, allowing you to share them with just a single tap. You can also use the share button in the Eddie app to email, Tweet, Post your masterpiece to Facebook or keep a backup in iCloud Drive with just a tap. You can now share your documents with anybody, even if they do not have the app, with Eddie Public Documents that can be viewed on any device or platform in the browser.

Use Eddie's Night Mode feature to darken the UI, text and keyboard to reduce strain on your eyes and improve focus when you are working late. With Eddie's Auto Night Mode you will automatically be launched into the appropriate mode for the time of day.

Eddie documents are stored in the cloud which allows you to access them across all of your current devices and when you sign in on any new devices.
Cleaner Pro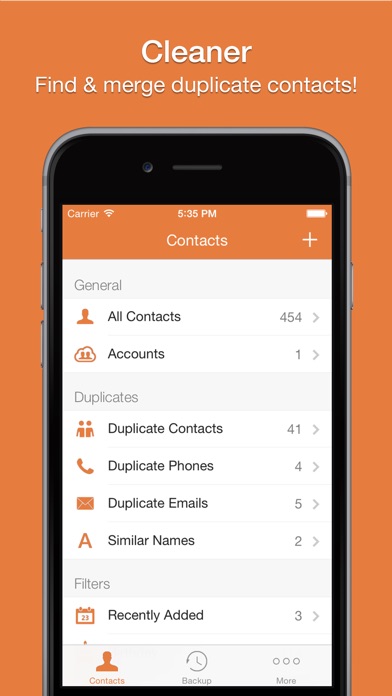 Normally $2.99.
* Over 2,000,000 people love Cleaner Pro :)

* Easily Remove Duplicate Contacts! *

MAIN FEATURES
○ Find & Merge duplicate contacts!
○ Remove contacts without name or phone number
○ One tap to backup your contacts!
○ Quickly find the contacts you need

Your contacts are the most important data in your phone which easily becomes messy if not consistently updated.
Cleaner Pro easily helps you detect and merge duplicate contacts.

SIMPLY MERGE DUPLICATE CONTACTS
○ Find & Merge duplicate contacts!
○ Find & merge contacts with similar names.
○ Find & Merge contacts with duplicate phone or email.

CLEANUP
○ Remove contacts without name
○ Remove contacts without phone & email

BACKUP
○ One tap to backup your contacts!
○ Quickly export your backups to Dropbox, Google Drive, Email
○ Move contacts between accounts (Exchange, iCloud, Local Address Book)

SMART FILTERS
○ Quickly find the contacts you need
○ Filter contacts by Company & Job title
○ Filter contacts by upcoming birthday & creation date