If you purchase an independently reviewed product or service through a link on our website, we may receive an affiliate commission. Learn more.
Today marks the start of a fresh new week, and it just so happens to be iPhone week! Are you getting a new iPhone 8 or an iPhone 8 Plus on Friday? Well Apple's new iPhones have more storage than ever, so get ready to enjoy all that extra space by filling up on paid iPhone and iPad apps on sale for free.
This post covers paid iPhone and iPad apps that have been made available for free for a limited time by their developers. BGR is not affiliated with any developers. There is no way to tell how long they will be free. These sales could end an hour from now or a week from now — obviously, the only thing we can guarantee is that they were free at the time this post was written. If you click on a link and see a price listed next to an app instead of the word "get," it is no longer free. The sale has ended. If you download the app anyway, you will be charged by Apple.
Umbra VPN
Normally $4.99.
Umbra VPN will grant you encrypted connection to safely browse the network.
The app is very simple to use, just choose the proxy you'd like to cover with and your good to go!
Umbra VPN allows you to surf your favorite websites and all kinds of media you like anonymously without being tracked.

Enjoy private browsing with Umbra VPN.
Tonica – Manual Camera & Color Tone Filter
Normally $1.99.
Tonica is a photo filter app that allows you to select and adjust color you want to emphasize in your photos. A clear sky, beautiful lip and a sunny day can all be made with Tonica.
Download Tonica – Manual Camera & Color Tone Filter
Currencies – The Smart Currency Converter
Normally $0.99.
Introducing Currencies 2.0, your new currency converter. Available on iPhone and Apple Watch.

This brand new version has been rethought and rebuilt from scratch. Currencies 2.0 takes a completely new approach to exchange rate conversions.

FEATURES:

All your currencies in one place – Set the source currency, set an amount and scroll through over 160 currencies to quickly convert them.

Recent and favorite currencies – Swipe left-to-right on any currency to add it to your Favorites, which are always visible on top. Recently used currencies are also stored nearby in order to make them accessible quickly.

Intelligent converter – Paste any text that includes a numeric value into Currencies on your iPhone and the app will figure out what to do. Include a currency code or symbol and Currencies will automatically set it as the source currency!

Currency lookup – Easily search through dozens of currencies from the search field. Don't know which currency is being used in a particular country? No problem! Search for a country name and the related currency will show up in the results!

Location aware – Currencies can track your location and can automatically set the local currency as your source when you travel to another country. Neat!

Today extension – Need to get a quick look at the current conversion rates? Add Currencies to your iPhone's Today view and access that information quickly. Tap on a currency to make it source and instantly update the conversion rates.

CURRENCIES IS ALSO ON APPLE WATCH:

Perform conversions right from your wrist. We have thought this through quite a bit and Currencies takes advantage of this new revolutionary device in ways we could only imagine some years ago.

Dictation – Currencies is built to take advantage dictation on your Apple Watch. Tap the top amount, select a previous amount or tap the dictation button to initiate a currency conversion. Some examples:

"10 point 40"
"49.99 US dollars"
"Five thousand yens to pounds"

Currencies will automatically figure out what you want and select the right currencies for you and compute that conversion. It cannot be any better than this!

Don't know which currency is being used in a particular country? No problem! Just dictate the country and Currencies will figure out which currency it should use! Some examples:

Saying "Italy" will select Euro
Saying "China" will select Chinese Yuan

You can even change the destination currency through dictation:

Saying "To US Dollars", "Into Euros" or "In Australian Dollars" will set the destination currency to USD, EUR or AUD.

Of course, you can still select currencies by taping their respective buttons. You'll then be able to select a currency from the most recently used or favorite currencies.

Glance – Need to get a quick look at the current conversion rates? Currencies is available from your watch face and will let you quickly see the latest conversion rate from the currently selected currencies. You're travelling? Currencies will show you the exchange rate for the country you're currently in with your home currency!
Download Currencies – The Smart Currency Converter
BlastBall MAX
Normally $1.99.
What players are saying:
"this is awesome. Just plain ****ing awesome." -Touch Arcade forum
"the best puzzelgame available in the App Store." – Belgian user review
"create huge combos in this ultimate puzzle challenge.' -Touch Arcade forum
"have been playing the hell out of it." -Pocket Tactics forum
"I. CAN'T. PUT. IT. DOWN." -Boardgamegeek forum
"this is a GOTY nominee in puzzle genre. What a masterpiece!" -Slovakian user review
"thoughtful brain burner which keeps you coming back for more." -Boardgamegeek forum

BlastBall MAX is the ultimate challenge for puzzle fans, bringing you an ALL NEW puzzle mechanic. BlastBall's basic goal is making 5-in-a-row, but master the moving board and two specials abilities a blasted row spawns, and you'll uncover a puzzle game with gameplay depth unlike you've played before.

BlastBall does not feature timer based gameplay, constant random factors, Pay to Win features or tacked-on gameplay mechanics. Our game focusses on one thing: delivering pure puzzle gameplay.

Boardgame roots!
The BlastBall puzzle mechanic was co-created by abstract boardgame designer legend Kris Burm. He's known for boardgame classics like GIPF, DVONN, TSAAR, YINSH and ZERTZ, BlastBall aims to be the ULTIMATE puzzle experience. So put on your thinking cap, and give it a try.

BlastBall MAX features:
– An amazing and ALL NEW puzzle mechanic
– 90 missions that'll help you conquer its deep gameplay
– Universal iPad & iPhone support
– iPad Retina & full resolution iPhone 6 and iPhone 6+ graphics
– Game Center and Facebook highscore charts
– Tons of fun Game Center achievements
PhoneBook Pro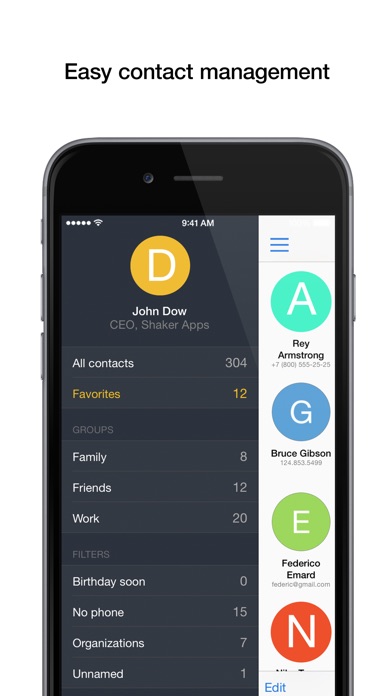 Normally $1.99.
PhoneBook Pro – it is an application to manage your contacts, that will make your address book neat and easy to use.

MAIN FEATURES
• Remove duplicates and merge contacts
• Backup and restore contacts
• Group messages and emails
• Filter contacts by any conditions
• Favorite contacts in the app and in the Notification Center

CLEANING THE CONTACTS
The app will find all the duplicate contacts, contacts with the same phone numbers or email and similar names. Before clearing you can preview result of the merging and manually select the contacts.

BACKUP
Backups can be sent by email or transferred to your computer via iTunes.
You can restore all the contacts at once, or manually selected contacts.
You can connect your Dropbox account and automatically save contacts on a schedule.

FAVORITE CONTACTS
You can bookmark the phone numbers or emails. Available the appropriate action: call, send a message or email, call by Facetime or send a message in WhatsApp.
+ Widget with your favorite contacts in Notification Center.

CONTACT MANAGEMENT
• Instantly send group text & email
• Filtering contact with any conditions
• Export contacts by Mail or in a message
• Create, edit, delete and batch delete contacts, groups and filters
• Handy organization of contacts
• Quick search
• Quick access to your own contact
• View the links and addresses on the map
Forgot My Fitbit
Normally $0.99.
Forgot My Fitbit app prevents you from losing and forgetting your Fitbit. Helps you get your Fitbit back on your wrist in seconds.

WHAT OUR USERS ARE SAYING
————————————————-
"This app is a life saver. It's very easy to leave your house without my Fitbit Alta. The notifications I get right before I leave the house are the best. I hate losing Fitbit step challenges because I forget to wear my Fitbit." – Mlouuuuuuuu

"Mornings are crazy at my house and I can't count the number of times I've left for work with my Fitbit still on the nightstand. This app has already helped me out several times by reminding me that I've left it behind before I've gotten out of the driveway." – wojo123
————————————————-

Fitbit's can fall off your wrist without you knowing and forgetting to wear your Fitbit before leaving your house or work is very common. Forgot My Fitbit can help solve these problems by tracking your Fitbit's location and notifying you to wear your Fitbit in case your forgot to put it back on.

The app works with the following Fitbits – Fitbit Alta, Blaze, Charge, Charge HR, Charge 2, Flex 2, Surge. The app doesn't not work with a Fitbit Flex, One, or Zip. Sorry. :(

HOW DOES IT WORK

1. Launch the app on your iPhone and select your Fitbit.

2. When the app cannot "see" your Fitbit it sends a notification that your Fitbit is missing.

3. Use the map in the app to see the last know location of your Fitbit. Or use the notification as a reminder to put your Fitbit back on your wrist.

Couple things to remember –
– The app MUST run in the background. Our tests have shown that our app only uses 1% of your battery per day!!
– The app MUST be launched again if you restart your iPhone.

Pretty simple.
Making Memes
Normally $1.99.
This app brings to the user a meme generator to easily and quickly create simple memes using images from his gallery or picking preloaded memes from the app library and adding the two typical label above and below the image.

As usual, the app allows the user to share the final image using any app installed in his/her device as Facebook or Twitter.
Slide Show Movie With Music
Normally $2.99.
Creating a slideshow is quick :

1) Pick your photos

3) Select filters or add text and sticker

2) Add your own music

4) Share it
Download Slide Show Movie With Music
---
Our deals and product reviews are picked by BGR's expert editors and team.

Follow @BGRDeals on Twitter to keep up with the latest and greatest deals we find around the web. Prices subject to change without notice and any coupons mentioned above may be available in limited supply.