If you purchase an independently reviewed product or service through a link on our website, we may receive an affiliate commission.
There's a reason why the phrase, "(Insert noun here) is the best thing sliced bread" is still a thing. One would think they'd be able to find another thing that's better than sliced bread at this point, but it must just be THAT good. Well, it's certainly convenient, to say the least (who wants to shove entire loaves of bread in their mouth?). Regardless, the point being is that sliced bread is a commodity that is clearly something we've grown accustomed to, and that's not going to change any time soon. And if you're someone who either bakes their own bread from home or buys fresh loaves from the bakery, you're going to have to find a way to achieve those same perfectly even slices that you'd find in a store-bought bag. This is easier said than done, however — unless you have your own bread slicer at home. If you've ever wondered how they get those slices so perfect, wonder no more. All you need is one of these devices, as well as a sharp knife, to get the job done. So if you want to make your homemade bread the best thing since, well, sliced bread, take a look at some of the best bread slicers the Internet has to offer.
Best Bread Slicing Guide and Knife Combo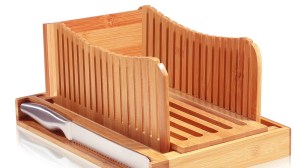 Overall, you're not going to find something that works as well as the Bambusi Bread Slicer Cutting Guide with Knife. Basically, if you want to slice your bread evenly, this is a must-have. The sides of the device are grooved to perfectly guide your bread knife to cut each slice in unison. You can choose from three slice thicknesses to get thick, thin, or medium-width slices. Not only is it great for homemade bread, but it's perfect for cutting bagels, challah, baguette, cakes, and more. It's virtually mess-free, as the slicer comes with an easy-to-remove crumb catcher tray on the base. What we liked about this combination, in particular, is that the knife it comes with is designed specifically for this bread slicer, eliminating the chance of your knife not properly working with this device. The slicer itself is made out of eco-friendly, dense bamboo giving it increased durability and longevity. It's also completely foldable, compact, and portable, so you can store it virtually anywhere with ease.
Bamboo Bread Slicer Cutting Guide with Knife - 3 Slice Thickness, Foldable Compact Cutting Boar…
List Price:
$49.99
Price:
$28.21
You Save:
$21.78 (44%)
Available from Amazon, BGR may receive a commission
Best Value Bread Slicer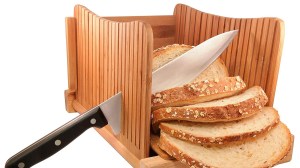 If you're simply looking for the slicer sans the bread knife, the DBTech Bamboo Wood Compact Foldable Bread Slicer is a great choice. This slicer is similar to the first one — it's made of 100%, eco-friendly bamboo, it's super compact and foldable, and contains three different grooves for different bread slice sizes (1.2cm, 1.0cm, and 0.8cm). It's made with a spring-loaded flip out design that makes it super easy to open quickly and, of course, when you're done, fold it away for storage. But it's not like it takes up much space when it's opened, either, as it contains counter-friendly dimensions of 12″ x 7 ½" x 6 ½" for ultimate convenience.
DB-Tech Bamboo Wood Compact Foldable Bread Slicer
Price:
$19.79
Available from Amazon, BGR may receive a commission
Best Bread Slicing Knife
Conversely, if you're looking only for a high-quality bread knife, whether it's because you already own a slicing board, intend to buy them separately, or simply don't see the value in even slices, then you should opt for this PAUDIN Ultra Sharp Serrated Knife 8 Inch, German High Carbon Stainless Steel Cake Slicer, Ergonomic Handle, Durable Kitchen Knife Bread Cutter for All Types of Bread. This powerful knife is ergonomically designed to give you the perfect balance in order to cut each slice in perfect unison. Additionally, it provides super stability, control, and comfort, regardless of what you're cutting. This 8-inch bread knife is made from high quality German stainless steel and contains a serrated edge for smooth slicing. It's ultra-durable and the high-quality alloy helps prevent against dulling and rust. Also, this rarely if ever, needs to be sharpened, meaning the original cut is long-lasting. And if you're someone with a knack for aesthetics, the special waved pattern on the blade will look great in ANY kitchen — guaranteed.
Bread Knife - PAUDIN N4 8" Serrated Knife, Ultra Sharp German High Carbon Stainless Steel Bread…
List Price:
$36.99
Price:
$29.99
You Save:
$7.00 (19%)
Available from Amazon, BGR may receive a commission