For the last five years, Bitcoin critics have said that the currency is too volatile to be a practical economic tool. The usual response is something along the lines of "All aboard the rollercoaster!" because half of the appeal of Bitcoin seems to be the fluctuations.
But even by Bitcoin's normal standards, the last week — and particularly the last 24 hours — have been completely crazy. You can go check the current price of Bitcoin yourself — no point writing it down since that would make this article obsolete in seconds — but the key takeaway is that Bitcoin has jumped from about $13,000 to $17,000 in 24 hours. Something is rotten in the state of Bitcoin.
Again, volatility is nothing new for cryptocurrencies. But the speed at which Bitcoin's price is soaring right now is unprecedented. It took two years from when the first Bitcoin was mined for it to be worth $1. It took nearly another three years to hit $1,000, in November 2013. Four more years passed until it hit $10,000 on November 28th 2017.
Since that milestone a week and a half ago, Bitcoin has added a further $7,000 to the price. It jumped from $15,000 to $17,000 between the time I woke up this morning and when I sat down at my desk. That's not normal, or stable, or sustainable.
For the visual learners in the class, here's a chart of Bitcoin prices this year, courtesy of MarketWatch. Note how perfectly the last few months follow an exact exponential curve, or as economists call it, "a bubble."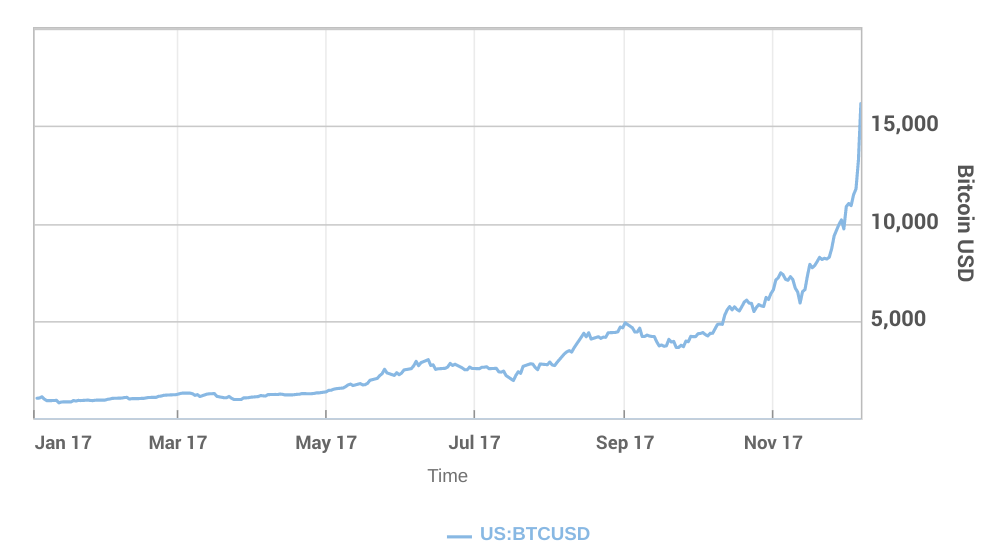 There's a real problem for Bitcoin here. The best guess is that the massive price increases are being driven by speculative investors who are watching the price skyrocket and just want to cash in. Sounds great, right?
But Bitcoin isn't an investment mechanism. It's a currency, and in order for a currency to have any intrinsic value, you need to be able to use it to buy stuff. Bitcoin has historically only been accepted at a handful of online stores, and even some of those have ditched Bitcoin in recent days because the cost of transactions is spiraling out of control alongside the currency's value.
Even if you could spend your Bitcoin on groceries and video games, who's going to? Bitcoin has always struggled with the fact that it's deflationary, but right now, prices are increasing so fast that no one is going to be spending their money on anything.
The arguments about whether Bitcoin is a stupid fad, or the solution to corrupt governments manipulating fiat currency, aren't going to be settled today. If nothing else, all the Bitcoin investors are too busy opening new credit cards to buy more Bitcoin.
But the thing worth bearing in mind is that this isn't normal. Yes, Bitcoin has always been a rollercoaster, but the price has never fluctuated this much, and certainly not with so much money tied up in it.