The results are in, again. According to Nielsen Mobile Insights, which is comfortably the largest survey of cellphone customers,, T-Mobile has the best customer satisfaction, the best customer service team, and is the network that people are most likely to recommend to friends.
Nielsen surveys over 30,000 participants across a broad demographic every month to put together its data. This particular set of data doesn't deal with cell service or prices — rather, it's a simple test of which networks have the happiest customers (and, by extension, which network is the best).
Based on Nielsen's data for the end of 2016, T-Mobile is head and shoulders above the crowd. An uptick in scores in the last few months of the year have it comfortably above AT&T and Verizon in overall satisfaction and customer care, while Sprint, as per usual, trails in last place.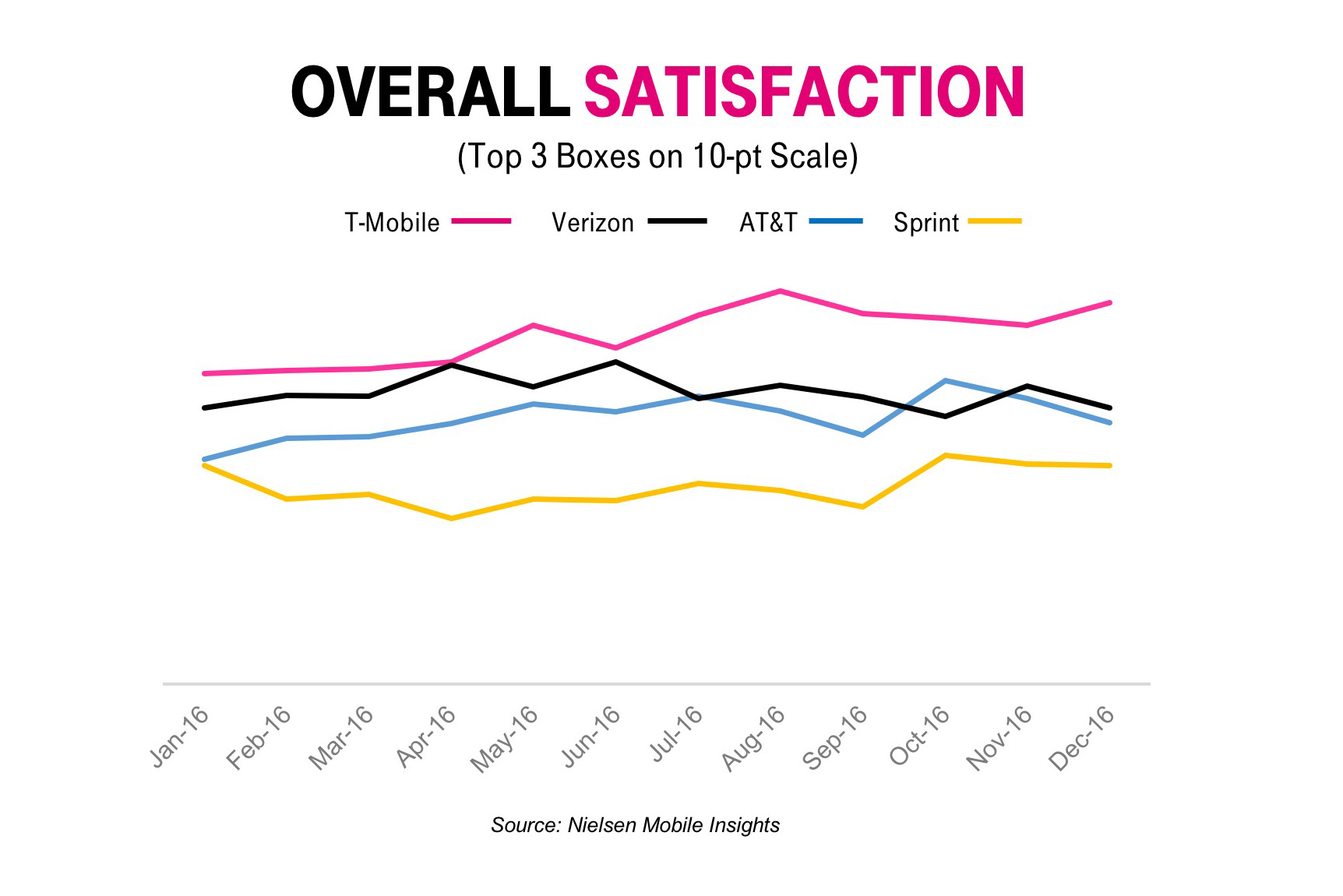 In a press release, T-Mobile CEO John Legere responded to the results in his usual way. "We have the best damn care team in the business – at this point, that's not even up for debate. But like everyone else at this company, our care team takes 'we won't stop' pretty literally. They've got their sights on being the #1 care team in any industry, anywhere – not just wireless. That was so 2016."
The customer care results are in stark contrast to complaint data from the Federal Trade Commission, which receives nearly double the number of complaints per customer about T-Mobile than any other mobile network. As BGR has previously reported, T-Mobile customers and employees have alleged that bill cramming and fraudulent sales are rampant at certain stores, which is the opposite of the happy picture painted by the Nielsen report.
That does make sense when you consider the number of FTC complaints and individual employee reports, compared to T-Mobile's entire workforce and customer base. Put in perspective, bill cramming seems to be the outlier — you don't become the most-recommended wireless carrier in the entire country without doing something right.