OnePlus might have hoped that its second smartphone launch of 2018 would go a bit more smoothly than this, but the OnePlus 6T has finally been made official nevertheless. Rumor has it OnePlus had initially planned to announce the phone in mid-October, but then Google's Pixel 3 and Pixel 3 XL release forced the company to rethink its plans. It landed on October 30th for its big press conference in New York City, and it sent invitations out to the media in preparation for the event. That's when things took another turn: Apple announced that it would be hosting a big hardware event on the very same day. There was absolutely no way OnePlus was going to fight with Apple for media coverage, so it rescheduled its press conference for today and thankfully, the OnePlus 6T's unveiling is now behind us.
While things might have been a bit chaotic out of the gate for the OnePlus 6T, the good news is that none of that will matter down the road. When the dust clears, the most important thing is that the OnePlus 6T offers Android fans a wonderfully sleek and powerful new option that might really have an opportunity to shine brighter than any OnePlus phone before it for a few big reasons.
First and foremost, the OnePlus 6T is a terrific phone. It offers top-of-the-line specs including a Qualcomm Snapdragon 845 processor, 6GB or 8GB of RAM, 128GB or 256GB of storage, a dual-lens rear camera that has gotten several key software enhancements compared to the OnePlus 6 from earlier this year, and plenty more. It's also one of the first phones in the world to ship with Android 9.0 Pie out of the box.
Second, the OnePlus 6T's main rival among Android fans has not gotten off to a good start. Google's Pixel 3 and Pixel 3 XL are fantastic phones over all, but they're plagued with software problems and users are not happy. Google is working to fix many of the problems users have encountered so far, but there's no telling when those fixes will actually be available.
Third, OnePlus' new flagship phone is the first smartphone with an in-display fingerprint sensor to be released in the United States. This nifty new tech ditches the fingerprint scanner from the back of the OnePlus 6 and replaces it with an optical fingerprint reader that's embedded right in the screen. When it comes time to unlock your phone or authenticate a payment, simply place your finger on the fingerprint icon near the bottom of the display and presto! Best of all, it's just as fast as a conventional fingerprint sensor, with read speeds as quick as 0.34 seconds.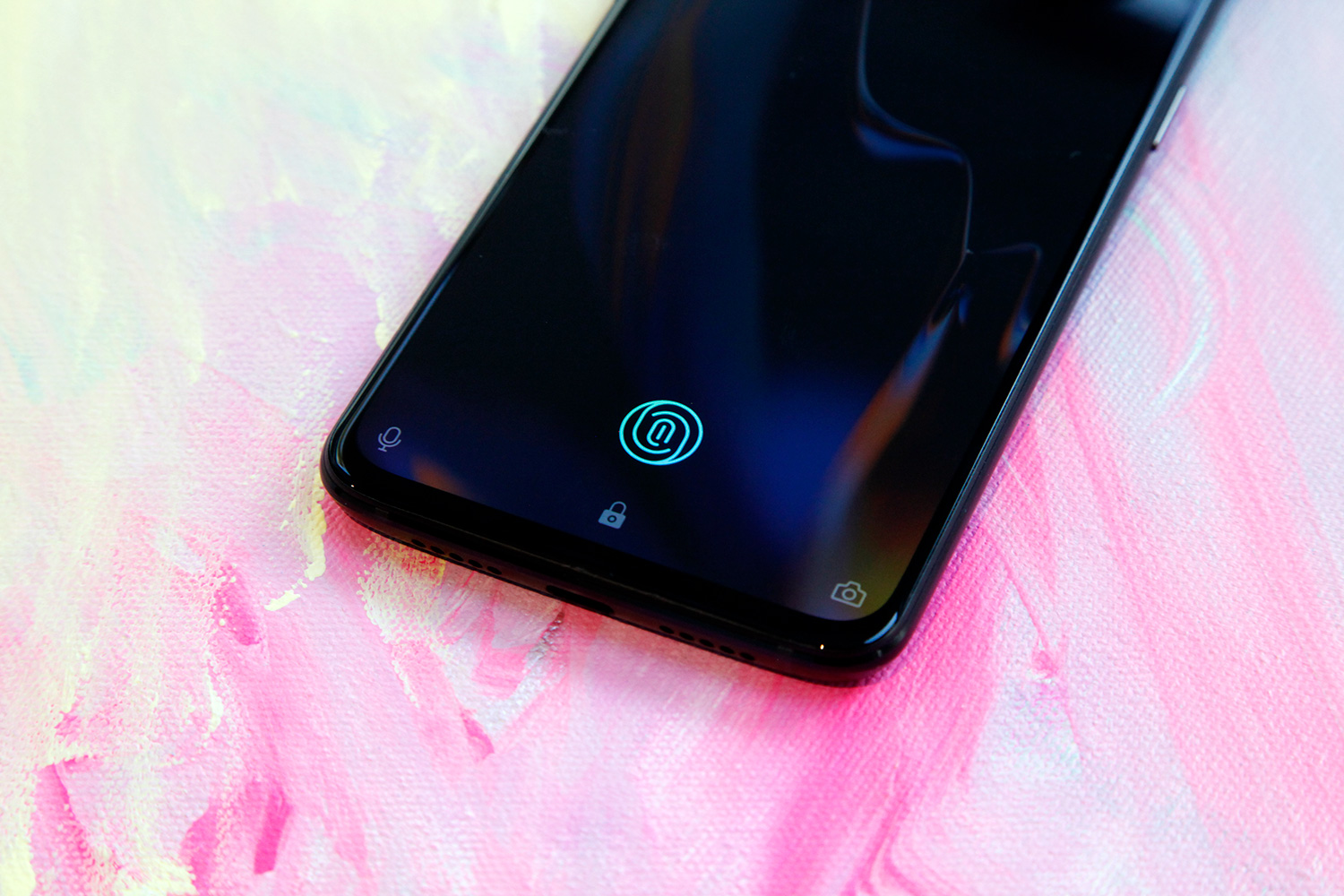 Fourth, this is the first OnePlus phone ever to launch in the US with a wireless carrier partner. T-Mobile is leading the charge and it looks like the un-carrier plans to give the OnePlus 6T plenty of support. What's more, it's releasing the phone with a trade-in promotion that will save buyers as much as 50% off the price of the phone. This is the first time a OnePlus phone has ever been offered in the US with a promotion like this. Here's some info on the deal from OnePlus:
T-Mobile customers can get the OnePlus 6T for half off ($300 off) with eligible trade – that's just $0 down and $11.67/month for 24 months on T-Mobile's Equipment Installment Plan with device credits and trade-in. Without trade-in, customers can get the device for $0/down and $24.17/month for 24 months on EIP. Over 30 devices are eligible for the trade-in program, including all OnePlus devices (OnePlus 6, OnePlus 5T, OnePlus 5, OnePlus 3T, OnePlus 3, OnePlus X, OnePlus 2 and OnePlus One).
Fifth, and perhaps most importantly, the OnePlus 6T is an incredible bargain even at its regular price. For just $549, you get the most powerful Android phone in the world with 6GB of RAM, 128GB of storage, and a large 6.41-inch Optic AMOLED display that has a redesigned tiny notch. An iPhone XS Max with a similar screen size and half that much storage costs twice as much. Literally. It's $1,099.
The top-of-the line OnePlus 6T ups the RAM to 8GB and doubles the storage to 256GB for $629, and a mid-range model has 8GB of RAM and 128GB of storage for $579. The OnePlus 6T is, without question, the best value in the smartphone market right now.
A limited number of OnePlus 6T handsets will be sold exclusively at the T-Mobile signature store in Times Square tonight beginning at 5:00 PM ET. The phone will then be released online on OnePlus' website and T-Mobile's website on November 1st, as well as in T-Mobile stores and in several other markets around the world. For more info on OnePlus' hot new flagship phone, be sure to read our in-depth OnePlus 6T review.
Here are some key OnePlus 6T specs:
Qualcomm Snapdragon 845
6GB or 8GB of RAM
128GB or 256GB of internal storage
6.41 inch Optic AMOLED display with 2.5D Gorilla Glass 6
In-screen fingerprint sensor
Rear Camera: 16MP 1.22 f/1.7 wide-angle + 20MP 1.0 f/2.0 telephoto
Selfie Camera: 16MP 1.0 f2.0
3,700 mAh battery
20W fast charging