This coming Wednesday, the collective eyes of the tech world will be laser focused on Apple's media event where the company will introduce its 2018 iPhone lineup for the first time. This year's event will be particularly intriguing because Apple is poised to unveil not one, not two, but three brand new iPhone models. Predictably, Apple hasn't been able to keep rumors about its next-gen iPhone lineup under wraps, which is to say we already have a pretty solid idea of what we can expect Tim Cook and co. to announce when they take the stage at the Steve Jobs Theater this coming week.
Apple this year is expected to introduce three brand new iPhone models, a lineup which includes a revamped version of the iPhone X, a 6.5-inch iPhone X variant, and a 6.1-inch iPhone with a nearly edgeless LCD display. As far as product names are concerned, a massive leak recently revealed that Apple plans to slightly shake up the naming scheme it uses for new iPhone models. Specifically, Apple's next-gen iPhone X will reportedly be called the iPhone Xs while the larger 6.5-inch model will reportedly be called the iPhone Xs Max. Meanwhile, it remains to be seen what Apple calls the 6.1-inch model. Incidentally, some sketchy reports have indicated it might be dubbed the iPhone XR or even the iPhone XC. There's also a possibility, however slight, that Apple may simply call it the iPhone 9.
iPhone nomenclature aside, what really matters is what Apple's next-gen iPhone lineup will bring to the table in terms of overall performance and price. With that said, let's dive right in and start with the LCD model.
6.1-inch iPhone
While last year's iPhone X — with its $1,000 price tag — was positioned as premium device, Apple's 6.1-inch iPhone will be much more affordable. Some analysts are even predicting that upwards of 50% of all iPhone sales next year will come from the 6.1-inch model. Apple's ultimate goal here is to provide current iPhone owners interested in upgrading the opportunity to pick up a phone with a brand new form factor with Face ID without necessarily having to break the bank in the process. Of course, with a cheaper price point comes a few tradeoffs. Right off the bat, the 6.1-inch iPhone will incorporate an LCD display as opposed to an OLED panel. What's more, the 6.1-inch model will reportedly not include support for 3D Touch and will feature an aluminum frame as opposed to stainless steel. Camera wise, the device will likely feature a single 12 megapixel sensor on the rear, which is to say you'll have to spend a bit more money if you want to enjoy the dual camera system Apple introduced on last year's iPhone X.
We've also seen speculative reports claiming that the 6.1-inch iPhone will introduce a new "Cover Glass Sensor" that will see the device's touch module moved from the display panel right up to the surface of the glass. According to reports, this will make the display less likely to shatter when dropped.
Apple's 6.1-inch iPhone may also offer a wide variety of color options. Over the past few weeks ago, we've seen reports claiming that the device will be available in 5 colors, with some of the possible options being white, black, yellow, red, bright orange, electric blue, gold, and even in pink. Now before you get too excited, there's a strong chance a gold option will only be available on the pricier Xs models.
Some purported photos of 6.1-inch iPhone prototypes can be viewed below.
https://bgr.com/wp-content/uploads/2018/09/iphone-9-colors-leak-1.jpg?quality=98&strip=all&strip=all
As far as hardware is concerned, the 6.1-inch iPhone will include Apple's next-gen A12 processor, 3GB of RAM, and with respect to storage, will likely be available in 64GB and 256GB configurations. While Apple will undoubtedly tell us more about the A12 later this week, some alleged Geekbench scores suggest that Apple's next-gen chip, coupled with the performance-focused update that is iOS 12, will deliver truly jaw-dropping performance.
Price wise, there are rumblings that Apple is planning to aggressively price its 6.1-inch iPhone model as a means to combat longer upgrade cycles. Though we'll have to wait until Wednesday for specifics, most analysts anticipate that the device will be priced somewhere in the $650 to $750 range.
5.8-inch iPhone Xs and 6.5-inch iPhone Xs Max
As an S-cycle upgrade, you probably shouldn't expect to see any radical changes with Apple's next-gen 5.5-inch iPhone X and the Xs Max. Per reports, both devices will boast 4GB of RAM, a nice bump from the 3GB of RAM on last year's models. As for other features, both the Xs and Xs Max will have a gold color option, as evidenced from the leaked marketing photo below.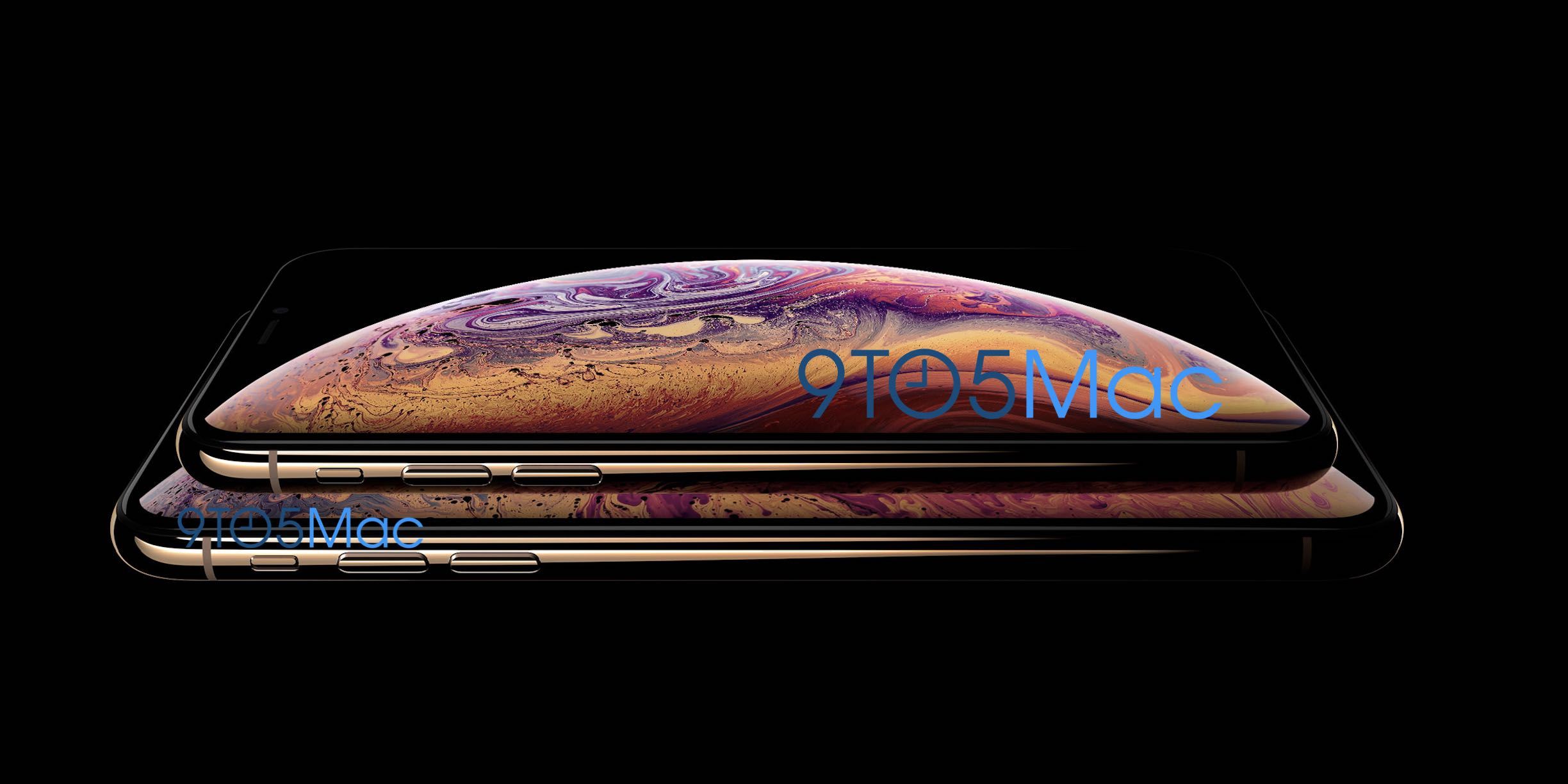 Further, both models will reportedly offer users a 512GB option for storage, a welcome choice given how easy it's become to run out of storage space these days.
The biggest changes to Apple's premium iPhone models could very well focus on camera technology. Though early reports claimed that the iPhone Xs Max would incorporate a triple-lens camera scheme, the feature will likely not arrive until 2019.
Price wise, Apple's iPhone Xs models will likely set you back quite a bit. As evidenced by last year's iPhone X, Apple has no qualms about extravagant pricing. What's more, the success Apple saw with last year's iPhone X suggests the company won't be tweaking its pricing matrix anytime soon. That said, a recent — and likely misguided — analyst note claimed that the iPhone Xs and Xs Max may be priced at $999 and $1,049, respectively. While there have also been rumblings that the devices might be priced at $799 and $999, that seems somewhat unlikely. The most likely price points are the ones we've been hearing for months: The iPhone Xs is likely to start at $899 while the new Xs Max occupies the current-generation iPhone X's price points at $999 and $1,149.
Interestingly, the photo below — which claims to show off the glass panels from Apple's 2018 iPhone lineup — illustrates how the bezels on the 6.1-inch model may be slightly thicker than on the more premium models.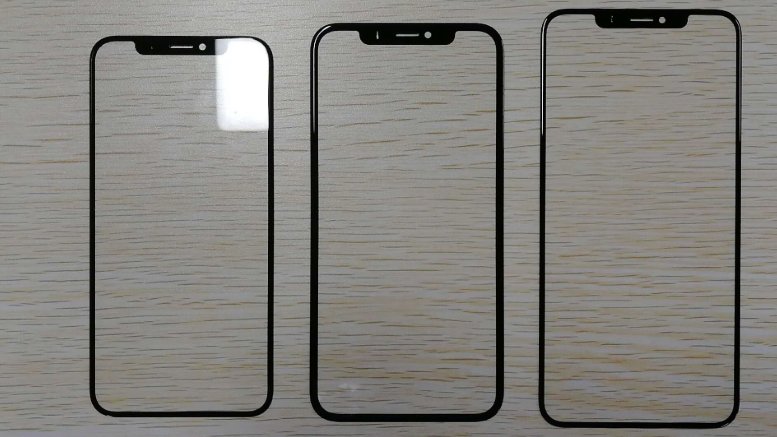 Batteries, adapters, Gorilla Glass and other odds and ends
Though far from a deal breaker, it's worth mentioning that Apple's 2018 iPhone models may not include a Lightning to 3.5mm headphone jack adapter in the box. On another note, we've also seen reports that Apple's 2018 iPhone lineup will support faster charging. Meanwhile, there's a good chance that both the Xs and Xs Max models will boast more powerful batteries than their predecessors along with dual SIM card slots.
There's also a possibility that this year's iPhone models could feature Gorilla Glass 6, a new formulation that was reportedly designed to focus more on reducing the incidence of shattered displays than on scratch resistance.
When will they launch?
The good news is that all of Apple's new iPhone models will reportedly launch in September. In other words, the November launch of last year's iPhone X was hopefully the exception, not the rule. We've also heard reports that Apple is starting mass production a tad earlier as to avoid any frustrating supply shortages at launch. Suffice it to say, you will hopefully be able to pick up the iPhone of your choice, no matter the model, in just a few weeks. Incidentally, there are rumblings that the 6.1-inch model might be supply constrained at launch. If history is any indication, iPhone Xs pre-orders will open up on Friday, September 14 ahead of a release on September 21.