No, the iPhone 7 didn't explode like a Note 7, but the device allegedly gave a pregnant woman in Australia second degree burns after she fell asleep on her smartphone. There's a lesson here, folks, is that you shouldn't sleep and text, even if there's likely a very small risk for this to happen to you too.
DON'T MISS: The 5 best new features coming to your iPhone in iOS 10.2
Melanie Tan Pelaez plugged in her iPhone 7 while she was watching movies and she fell to sleep, News.com.au reports. The next morning she woke up feeling pins and needles up and down her arm, which was red. Doctors told her that she suffered a second-degree burn from a foreign object, and instructed her to find the "object."
At home, Tan Pelaez realized that her iPhone 7 had to have caused the injury. The markings on her hand matched the phone and the charger. Strangely, the phone itself did not explode and was not harmed in the process. Also, the bed did not catch fire.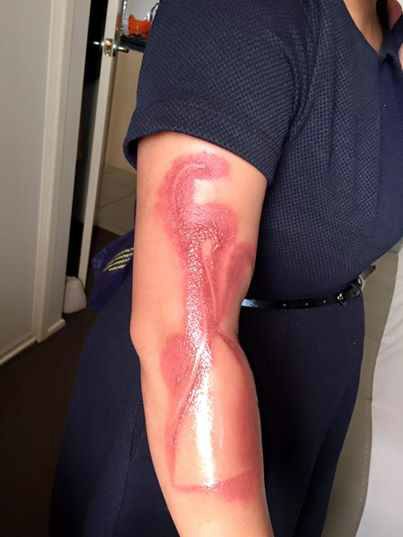 It's likely the handset overheated while charging, and heat did not dissipate as it regularly would on a device that's not covered by a body, or anything else for that matter. This is just a guess at this time, however. But it still quite a scare, especially in light of the whole exploding Galaxy Note 7 scandal.
Apple is said to be investigating the matter.
Tan Pelaez took the supposedly faulty phone in for a check up at a nearby Apple Store. She was told that the iPhone lacked a certain distinctive smell that would have proved the phone was at fault. Even so, Apple staff packed up the device and sent it to Cupertino for testing. They offered her a replacement iPhone 7 unit, but she refused to take it.
Tan Pelaez doesn't trust the iPhone after the incident, even if she has been an iPhone user from day one. She's going to need plastic surgery to fix her arm, but her pregnancy is fine.