Samsung's Galaxy Note 7 disaster is barely even a distant memory at this point. While some industry watchers were ranting and raving last year about how it would be the company's demise, we reminded readers that consumers have an extremely short memory. The company's Note 7 recall and discontinuation barely even impacted its earnings at all thanks to strong performance in its chip division, and the gorgeous Galaxy S8 and S8+ was more than impressive enough to erase exploding Note 7 phones from most people's memories.
It has been nearly a year since Samsung first took the wraps off the Galaxy Note 7, and its successor is almost here. We've seen the leaked specs and BGR exclusively revealed the phone's final design in a 3D CAD drawing, and the phone seems more than impressive enough to finish the job of making consumers forget all about the Note 7. Now, a new leak imagines what the finished product will look like when the Note 8 is finally released, and it's nothing short of stunning.
Now that there are 3D drawings of the Galaxy Note 8's final design floating around, we can expect all the budding graphic designers out there to go to town. Samsung's Note 8 is one of the two most hotly anticipated launches of the summer — with the other being Apple's iPhone 8, of course — so people are eager to try their hand at imagining what the flagship phone might look like.
The first such attempt since our CAD drawing leak comes from Chinese microblogging site Weibo (via Slashleaks), where a user may very well have already hit the nail on the head. He or she created 3D renders of the phone using recent design leaks as a guide, and these images might actually be a near-exact representation of Samsung's upcoming new phablet.
Here are the two images: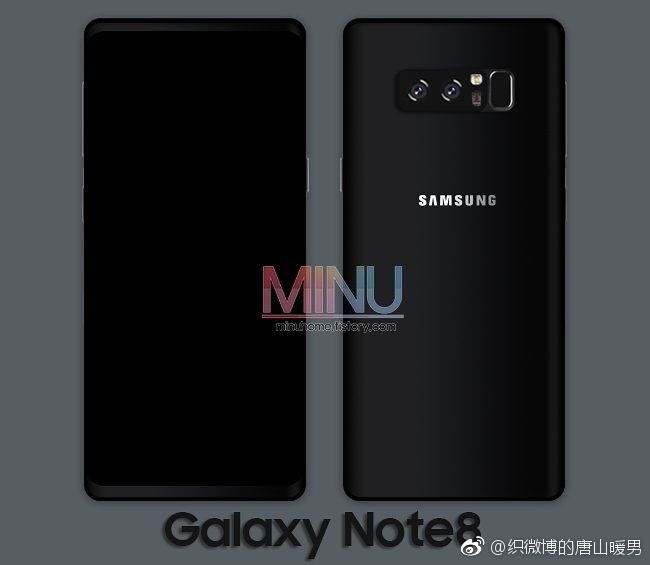 In a nutshell, we're looking at a phone that bears a striking resemblance to Samsung's Galaxy S8+, but with an even bigger display that might also feature a slightly improved screen-to-body ratio. Around back, we can see the new dual-lens camera and the poorly positioned fingerprint scanner.
Samsung is expected to unveil the Galaxy Note 8 during a press conference in late August, but we can expect to know everything there is to know about the phone long before then.