Yesterday, Elon Musk got into a little Twitter back-and-forth with Drew Olanoff (@yoda) over why the cave explorer Elon had previously bashed with a particularly nasty tweet hadn't taken legal action against him. Almost as if Elon was implying "don't you think if the things I wrote weren't true, he would have brought a legal challenge against me?"
Well, it turns out — that diver may be gearing up to do just that.
British cave explorer Vernon Unsworth, who helped in the effort last month to rescue the Thai youth soccer team from a cave, is preparing a civil complaint for libel against the Tesla chief executive. That's according to a letter dated Aug. 6 from Unsworth's attorney sent to CNBC.
Note the date of that letter, which precedes by a few weeks Elon's exchange on Twitter yesterday: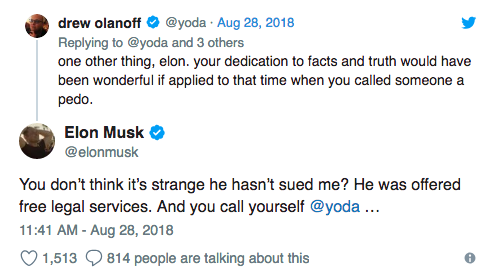 From a report by CNBC today, Musk had blasted Unsworth on Twitter after the diver "criticized his mini-submarine plan to help rescue the trapped team. The cave explorer told CNN in July that the mini-submarine Musk was constructing 'had absolutely no chance of working.'
"The Tesla and SpaceX CEO apologized, but brought up the controversy again Tuesday by tweeting 'it's strange he hasn't sued me? He was offered free legal services.' Unsworth's attorney called Musk's tweets 'false and defamatory' in the letter. He called on Musk's legal counsel to contact him in order to avoid litigation and to correct the allegedly false statements."
This is one of what's become a string of self-inflicted mishaps Elon has brought about in recent weeks, with all of them taken together warranting prominent coverage in The New York Times, as we reported here.
In that interview he gave to the Grey Lady, among other things, Elon revealed himself to be pretty on edge lately, even admitting he sometimes needs to take Ambien to get to sleep, and that he spent his 47th birthday in June stuck at work. Some of what's also seemed baffling is the wild back-and-forth nature of his career lately, which included an out-of-nowhere tweet about taking Tesla private, then in recent days saying what amounted to "never mind."