Well, look at that. I might actually start to use Bing Chat again.
When Microsoft made Bing Chat, its AI chat assistant powered by GPT-4, available for use by the general public back in February, the feature gained 100 million users in a month. The interesting part about that was that, despite many users starting to use the chat assistant, it's only been available to use through Microsoft's own products like the Bing app and its Edge browser. That seems to finally be changing.
As reported by Windows Latest, users of Apple's Safari and Google's Chrome browsers are starting to gain access to the chat assistant. The outlet says that they personally got a notification in Windows 10 and 11 about the assistant being available through the other browsers. Users who have tried the chat assistant in Chrome and Safari said that they're able to use it in both light and dark modes (or the dynamic setting, which will change based on the setting of the operating system).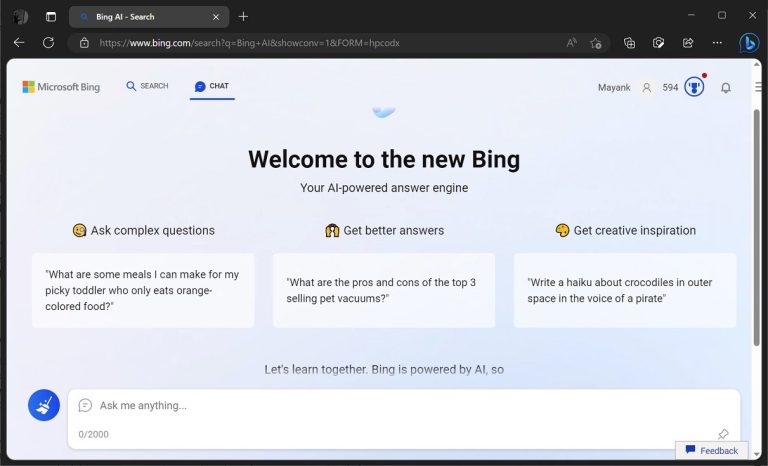 However, Microsoft seems to be starting both of those browsers out with lower capabilities than what is currently available to users in Edge. According to the report, "Microsoft is limiting Bing Chat capabilities in Chrome. Our tests showed that Chrome's Bing supports only five messages per conversation instead of 30 in Microsoft Edge. Similarly, Bing in Chrome limits character count to 2,000, while Edge supports 4,000."
I personally stopped using Bing Chat because it was only available in Edge — I just couldn't be bothered to switch browsers for one purpose — or switch altogether, of course. I am committed to Chrome and Safari now. Now that it is available in both, I could see myself experimenting with the chat assistant once again. We'll see if others have the same reaction, and Bing Chat's user base skyrocket once again!