Oh crap, Apple figured out how to get a lot of us to pay more for our iPhone.
When Apple unveiled the iPhone 15 Pro at its "Wonderlust" special event last week, it announced its new A17 Pro processor, its first chip with the "Pro" moniker in its A-Series processor line that is designed for the iPhone, some iPads, and the Apple TV 4K. At launch, the processor is exclusive to the iPhone 15 Pro and iPhone 15 Pro Max.
The A17 Pro chip, in addition to being a step forward in performance and enabling new workflows for photographers and videographers, is also a big leap for mobile gaming. Greg Joswiak, Apple's senior vice president of Worldwide Marketing, said in a statement that the new chip "ushers in a new chapter of performance and games never before seen on iPhone."
The A17 Pro is built on 3-nanometer technology, features a complete redesign to its GPU, includes an AV1 decoder, and also packs hardware-accelerated ray tracing.
The new CPU is up to 10 percent faster with microarchitectural and design improvements, and the Neural Engine is now up to 2x faster, powering features like autocorrect and Personal Voice in iOS 17. The pro-class GPU is up to 20 percent faster and unlocks entirely new experiences, featuring a new 6-core design that increases peak performance and energy efficiency. Now with hardware-accelerated ray tracing — which is 4x faster than software-based ray tracing — iPhone 15 Pro offers smoother graphics, as well as more immersive AR applications and gaming experiences.
With all of this performance, the iPhone 15 Pro will be able to play some AAA games that were previously impossible to bring to a smartphone. According to the company, "iPhone 15 Pro brings true-to-life gaming to the palm of users' hands with console titles never before seen on a smartphone, like Resident Evil Village, Resident Evil 4, Death Stranding, and Assassin's Creed Mirage."
As someone who has played Death Stranding on PlayStation, it is absolutely bananas thinking that this game is coming to my iPhone. I can't wait to see what it feels like to sit back, pop my iPhone 15 Pro into my Backbone controller, and play a game previously only available on console or PC and enjoy it natively on a smartphone.
This is Apple's way to get us all to pay more for our iPhone
While this capability is incredible, it is also an incredibly smart business play by Apple. Over the years, the company has focused on the iPhone's camera system as the reason to buy the Pro model. And, as the years have passed, it has added more and more capabilities to that camera system, like 4K, 120fps, and the ability to shoot in ProRes for photos and videos.
All of those premium capabilities not only require more processing power but also more storage. So, photographers and videographers who wanted to take advantage of those features naturally upgraded the storage of their iPhone Pro or Pro Max.
However, it feels like Apple is starting to push up against the limits of what it can do for photographers and videographers. They've done a lot, and they're likely getting as much business out of that group as they can. So, where can it turn to next to find another large group of people who are most likely to pay for more storage and, in turn, increase Apple's profits? It's gamers.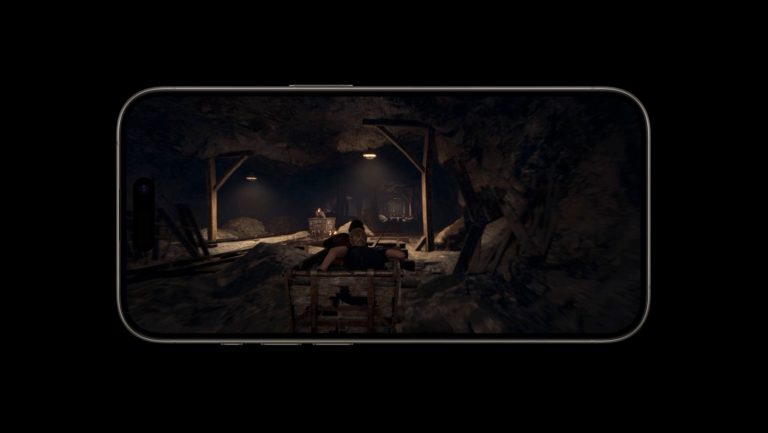 The gaming industry is huge. As reported by BankMyCell, the rough estimate is that there will be over 3 billion gamers on Earth by the end of this year. That's an enormous business opportunity for Apple with the iPhone, which is currently estimated to be in the hands of over 1 billion people worldwide.
With the performance of the A17 Pro, Apple can finally target console and PC gamers with the iPhone. The ability to play console-quality games on a device you can carry around in your pocket is an incredible proposition, and with how many iPhone users there are, game developers have an enormous potential customer base to access.
Of course, one thing we know about console and PC games is how much storage space they require. It's not uncommon for games to take up 100GB of storage. For gamers who usually buy the 128GB iPhone Pro, those days are over, and that's the unlock for Apple financially. The investment into the A17 Pro's gaming capabilities directly ties into the average selling price of the Pro iPhones increasing due to our need for more storage in order to enjoy those games.
This is just the beginning
While console-quality games are coming to the iPhone 15 Pro this year, I don't think Apple is going to take long to bring that capability to its other devices. Apple Arcade has shown that game developers can release a game for all of the company's devices at the same time, from the iPhone and the iPad to the Mac and the Apple TV.
As Apple updates these other devices, I wouldn't be surprised to see the company enable the same experiences on the iPad, Mac, and Apple TV. This would be an enormous selling point for gamers. Right now, the Nintendo Switch is the only major console that you can unplug from your television in order to take your games with you.
Imagine playing Death Stranding on your Apple TV and then picking up where you left off on your iPhone or iPad. Apple is laying the groundwork for an incredibly compelling gaming experience that could outperform the Switch in graphics and mobile experience — and it's possible with the devices you already may have in your home and your pocket.
We'll have to see if developers get on board, but it seems that gaming may be the next big direction for Apple. And, with just how much storage we'll all need to play these games, it likely means Apple will be making much more money from all of us gamers with the iPhone 16 Pro (and every other device we want to play on).