Top Gun: Maverick has proven to be a massive success at the box office for Tom Cruise, Paramount Pictures, and everyone involved. If you've watched the movie by now, you'll probably agree with most of us that it's an excellent follow-up to the original film from 1986, a film so many people have a very distinct memory of where they were when they first saw it. What you might not know is that Val Kilmer's voice in the movie was brought to life with voice AI.
Val Kilmer used voice AI to talk in Top Gun: Maverick
When the original Top Gun was released in 1986, Val Kilmer and Tom Cruise's chemistry on-screen as Iceman and Maverick was an instant hit. Seeing these two as fighter pilots in the original film was not only classic but made people clamor for Top Gun: Maverick even more. While the first film had a legendary cast and soundtrack (Danger Zone and Take My Breath Away are iconic), the newest one has actors like Jon Hamm, Jennifer Connelly, Miles Teller, Glen Powell, and others in it. But revisiting that story without Kilmer's Iceman would have been disappointing for many fans and even for Kilmer himself.
Following the chemotherapy sessions and tracheostomy he underwent because of his throat cancer treatment, he lost his speaking voice. So the filmmakers decided to produce the actor's voice for the Top Gun sequel using archival footage and an AI-based voice dubbing technique. Sonantic, an AI technology company based in London, developed the dubbing technique.
The voice AI learned how to mimic Kilmer's voice, including the iconic way he talks. The result is a startling and somewhat freaky impersonation that feels like it came right out of the actor himself. It is basically like you're hearing Tom Cruise and Val Kilmer in Top Gun all over again.
According to Fortune, Sonantic used a voice engine to teach the voice model how to speak like Kilmer using his old audio recordings. The engine had around ten times fewer data than it would have been given in a typical project, and it wasn't enough. Then the company decided to develop new algorithms that could produce higher-quality voice models using the available data.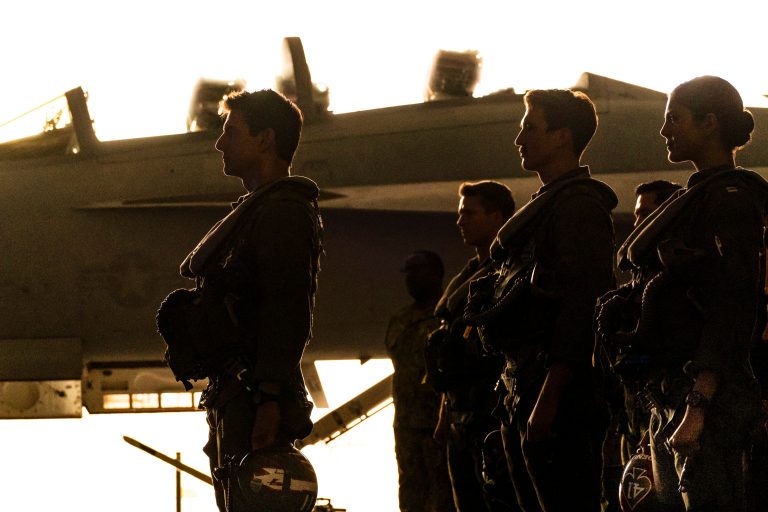 "In the end, we generated more than 40 different voice models and selected the best, highest quality, most expensive one", John Flynn, CTO, and co-founder of Sonantic said in a statement to Forbes about reviving Kilmer's voice unrelated to the movie. "Those new algorithms are now embedded in our voice engine so that future clients can also take advantage of them." The results of the Val Kilmer voice AI are shocking and impressive.
Driving voice with artificial intelligence
If you haven't had a chance to see Top Gun: Maverick yet, then I highly recommend experiencing it for yourself. Top Gun: Maverick director Joseph Kosinski does a great job of weaving in familiar storylines following Tom Cruise's Maverick into a story set in the present time. If you haven't seen it yet, you can hear Kilmer's voice AI in a promotional video from 2021 that I've embedded above.
The revelation that Kilmer, who is represented by MN2S, used voice AI in Top Gun: Maverick came during a New York Post interview with his daughter, Mercedes Kilmer. In the interview, she explains how they dubbed the voice AI over Kilmer's acting to bring his scenes to life.
"They were able to dub him with his own voice, which is amazing," Mercedes explained in the interview. "It's such a technical feat, being able to engineer his voice that way, that it's an extension of the technical feat of the film."
Other sources at the studio told Variety that they did not use voice AI for Kilmer in the movie. In the past, his son Jack Kilmer has helped bring his voice to life in projects. So, it is possible he helped out in this instance, too. However, we may have to wait for an official announcement to back up either claim.
We're not going to spoil how or why Kilmer appears in the film without a warning of some kind. But it's a perfect way to have Iceman return all these years later. And it's even more impressive that voice AI helped bring Kilmer's lines to life with this incredibly special gift.
Kilmer humbled by fan's reactions
Now that Top Gun: Maverick has been out for a few months, plenty of people have had a chance to see Maverick (Tom Cruise) and Iceman's (Val Kilmer) reunion in the Paramout Pictures blockbuster. And as a result, Kilmer himself has seen a lot of fan reactions to his appearance in the movie. And he says that he's been incredibly humbled by their responses. (Spoilers for Top Gun: Maverick below.)
"I'm grateful to the entire team at Sonantic who masterfully restored my voice in a way I've never imagined possible," Kilmer said in a statement back in 2021.
"As human beings, the ability to communicate is the core of our existence, and the side effects from throat cancer have made it difficult for others to understand me. The chance to narrate my story in a voice that feels authentic and familiar is an incredibly special gift.", he added.
One of the trickiest parts of Kilmer's appearance in Top Gun: Maverick was incorporating his real-life struggles into the character. As a result, Iceman himself has also struggled in a hard fight with throat cancer. This left the character unable to speak much. He uses a computer monitor with text throughout most of the scene to communicate.
However, there is a small instance where Kilmer talks in the scene. It's this part that Kilmer's daughter says was brought to life using voice AI. In response to fans' reactions, pop culture icon Kilmer told the LA Times, "I can't believe how kind the whole world has been. I get hundreds of fan letters every week. It's very humbling."