Since Hubble's launch in 1990, NASA's Earth-orbiting telescope has been a keen observer of any matter of things. From spotting comets and asteroids to watching the seasons change on other planets, Hubble has seen a lot during its 30-plus years of operation. Now Hubble's latest images of Uranus have showcased how the blue world experiences seasonal changes, with it looking paler than ever.
Because it takes around 84 years for Uranus to complete an orbit of the Sun, the seasons slowly change on Neptune's twin. However, because of Uranus' strange orientation – the planet is flipped on its side – when these changes come, they can be quite extreme. This latest collection of Hubble's images of Uranus is yet another example of how extreme the weather can be on the strange planet.
The first Uranus photo that the Hubble team shared was taken in 2014, seven years after the planet experienced its spring equinox in the northern hemisphere. In this image, the planet is pale blue, showcasing multiple storms with methane ice-crystal clouds appearing in the northern hemisphere. The rings were also starting to open up.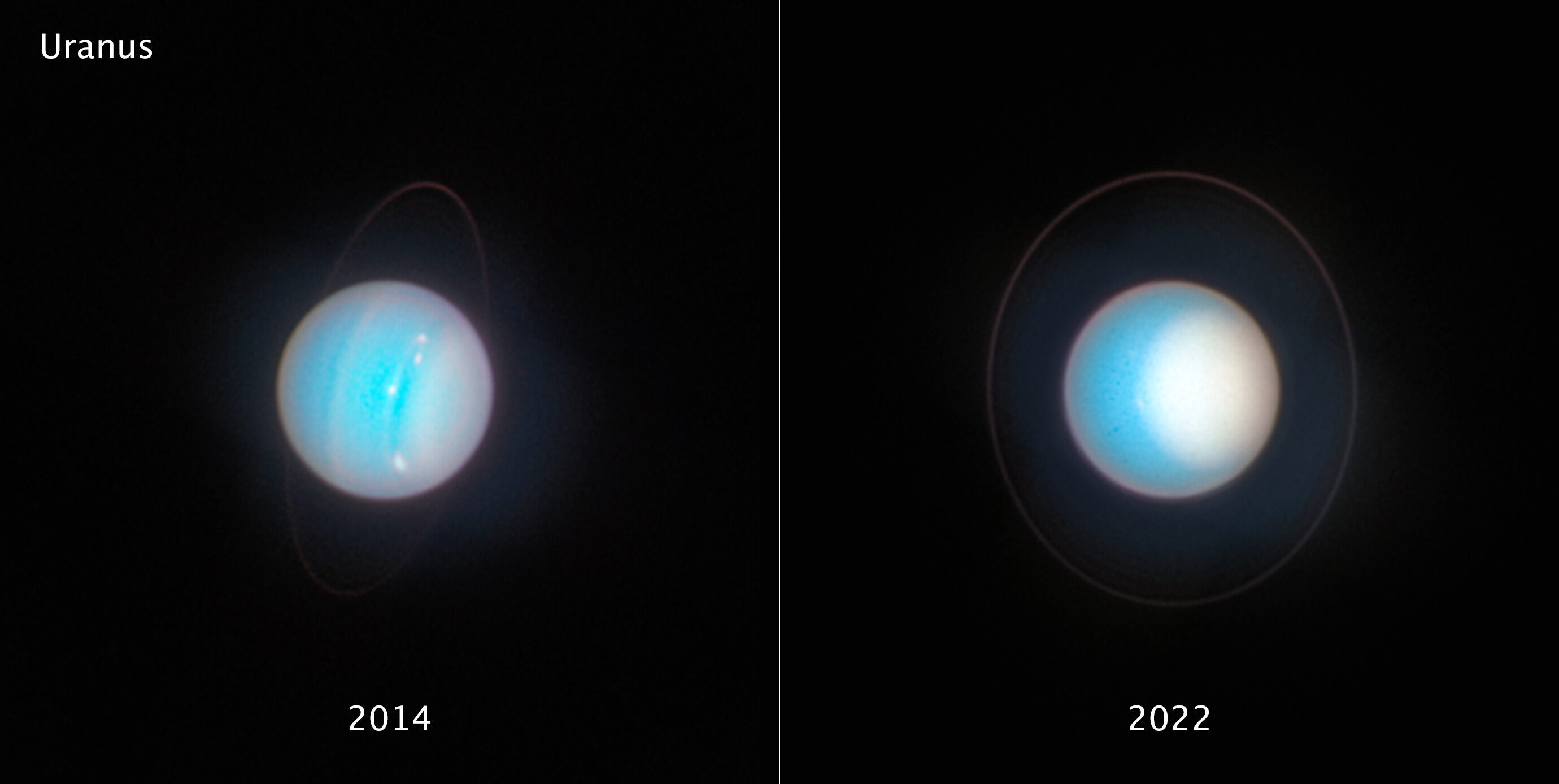 In the newest photo of Uranus, which Hubble captured in 2022, the blue planet has a large pale haze over part of its northern hemisphere. The Hubble team says this paleness is a thickened photochemical haze and indicates that it indicates the planet's northern pole. Several storms can also be seen along this border.
Of course, there's still so much we don't know about this oddball planet. While Hubble's observations and images of Uranus have given us more data, we need to put spacecraft in the atmosphere to truly understand how this planet works. That's why so many astronomers have been calling for NASA to send probes to Uranus.
Unfortunately, with NASA's Return to Venus missions seeing so many delays and hiccups, it's unclear if or when we'll see any major push from NASA to get spacecraft to Uranus. In the meantime, at least the space community has already come up with some fantastic Uranus mission names.