Of all the incredible pieces of machinery that NASA has orbiting Earth right now, the Transiting Exoplanet Survey Satellite (TESS) is one of the most impressive. Its ultra-sensitive lenses can spot the tiniest changes in brightness of far-off stars that hint at the presence of distant worlds. Every image that TESS sends back to Earth holds a wealth of information, and when you stitch over 200 of them together you get a truly glorious glimpse of our home galaxy.
In a new release, NASA showcases the awesome power of TESS with a panorama of the southern sky. It's the result of 208 TESS images that have been delicately pieced together, and boy does it do a good job of making us feel tiny.
As you can see from the image above, there's a lot to take in here. The glowing arc featured prominently in the mosaic is our home galaxy, the Milky Way, teeming with stars and planets. Each tiny dot of light tells its own unique story. By comparing TESS images taken at different times, scientists can identify stars that are likely being orbited by planets.
Thus far, TESS has discovered 29 confirmed exoplanets, but it's already spotted over 1,000 exoplanet "candidates" which will require additional confirmation. The technology at work here is incredible, and the images that TESS produces are massive.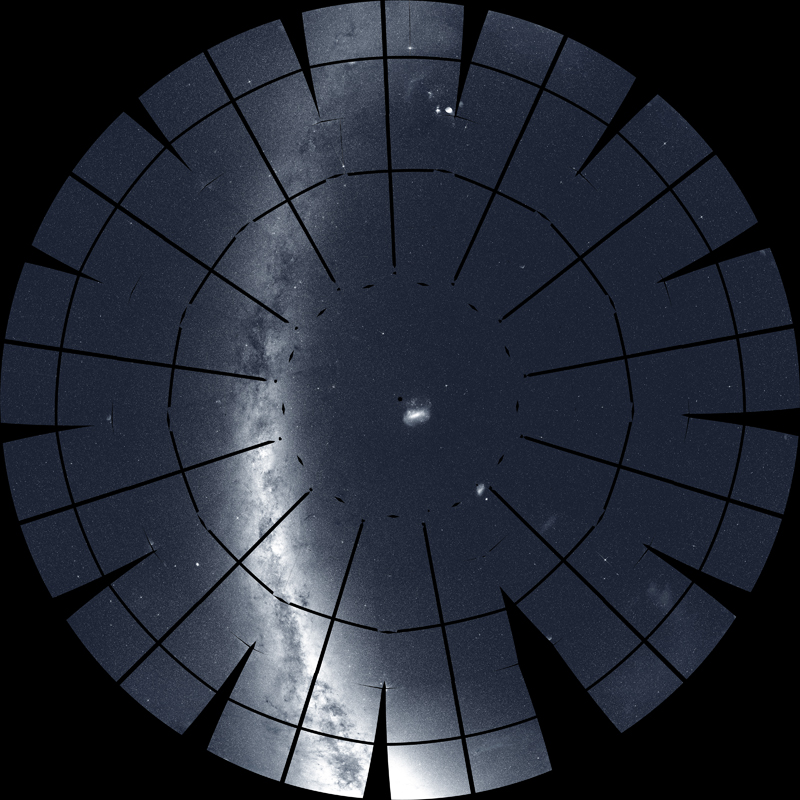 The image you see above is a highly compressed thumbnail version of the original. If you really want to feel the full power of TESS, you can download the full-sized version that measures an insane 16,339px by 16,339px and weighs in at an incredible 205.1 MB.
"Analysis of TESS data focuses on individual stars and planets one at a time, but I wanted to step back and highlight everything at once, really emphasizing the spectacular view TESS gives us of the entire sky," NASA's Ethan Kruse, the individual who assembled the mosaic, explains.
Well, it certainly is spectacular, and there's a lot to digest. We still don't have a good idea of how many stars are actually in the Milky Way, with estimates varying from around 100 billion to over 300 billion. We can feast our eyes on a good chunk of them here, and it's hard not to imagine what is out there, just out of our reach.