It was bleak medical diagnosis for his young nephew that put the idea in Manmeet Maggu's head to launch a startup focused on robotic exoskeletons for children.
A few years ago, Maggu and Trexo Robotics co-founder Rahul Udasi were still undergraduates at the University of Waterloo. That's when they found out Maggu's nephew had been diagnosed with cerebral palsy – and that he might never be able to walk as a result.
Building robots was already something of an interest they shared. The diagnosis caused them to look around at the robotics market and decide – they ought to build something to help Maggu's nephew.
"When we started looking around, we realized the tremendous negative health effects of being in a wheelchair, especially for a child that's going to spend their entire life in the wheelchair," Maggu told BGR. "For us it was something – we started looking for ways to get (his nephew) out of the wheelchair, and pretty soon we realized today there's no solution out there. There's no exoskeleton or robotic solution that can help a child get out of the wheelchair and be walking around. That was when we decided to us our robotic experience and background to really build something for him."
It started off as a project, a kind of side hustle, before getting formalized into what would become Trexo, a Toronto-based startup. The company was launched in 2016, and it's been moving forward incrementally since then.
Maggu has been handing business development as the CEO, while Udasi is more on the product development/CTO side. Working in tandem to bring a product to life that excites physicians, therapists and parents.
The company completed its first testable prototype in 2016. They also took it to India, to introduce it to Maggu's nephew for a tryout. "We essentially watched him take some of his first steps using our device. That was an incredibly proud moment for us."
Since then, Trexo has been chosen as a finalist in the New Startup category in the upcoming Canadian Innovation Awards. At the end of 2017, the startup won first prize in a pitch competition led by a Toronto hospital's philanthropic arm. And Trexo will be even busier this year.
The startup is preparing to launch a pilot study with its device – which weighs about 30 pounds – with the Cincinnati Children's Hospital. Trexo also is hoping to have secured U.S. approval for the device by the end of this year.
Trexo's device is essentially a converted walker. Two robotic legs attached to any walker are what allow the child to walk independently, using equipment they're already familiar with.
The response the team got from testing it out with Maggu's nephew is what convinced them to keep going.
"Then we started working on the next one and just after that – we started talking to more families, clinics and hospitals and realized the tremendous potential of this sort of device," he said. "It's families all over looking for a device like this. We started getting contacted by people in India, Canada, the U.S. – literally all over the globe.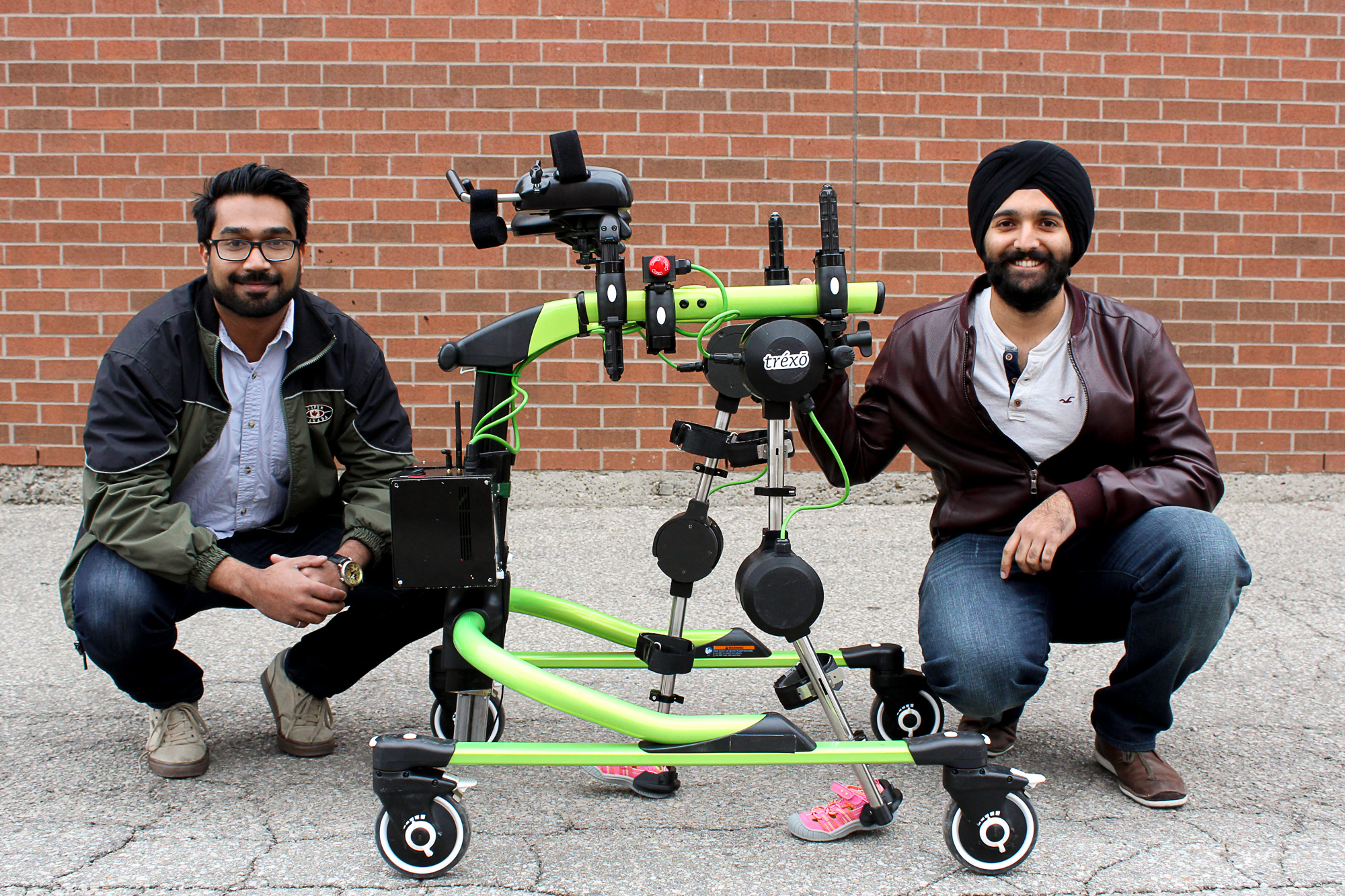 "Essentially, the way our device works is we take an existing walker – we decided to build around the walker. So we built robotic legs that attach onto the walker, and it provides powered assistance. So it's basically powered motors on the hip joint as well as the knee joint that kind of provide the assistance in allowing a child to walk."
The entrepreneurs have participated in the Techstars Internet of Things accelerator, which helped get them even more ready to take the business farther. And it's helped connect them to partnerships like the Cincinnati hospital that could prove useful long-term.
"For us right now, it's about building the right partnerships," Maggu said. "There's been a few exoskeleton companies out there. Most have started off with the adult market. We see the children's market as the right place to start. We believe the future of exoskeletons begins with children. This is where you can have the highest impact. And then grow with the children as they grow into adulthood."