Explorers have uncovered the existence of a secret chamber in the Great Pyramid of Giza. Once the tallest human-made structure on Earth, the Great Pyramid has fascinated scholars, scientists, and explorers for thousands of years. Despite all the exploration of the structure, the pyramid remains a bit of a mystery.
This newly discovered chamber is yet another slice of that mystery. A layer that scientists are trying to peel away using cosmic-ray muon detection. They cover this secret chamber in the Great Pyramid in a 2023 paper published in the journal Nature, where an international team of researchers reveals more details about it.
According to those researchers, the corridor is roughly six feet wide, and it sits just above the main entrance of the pyramid's northern face. The presence of this mysterious secret chamber in the Great Pyramid was first uncovered in 2016 and 2017.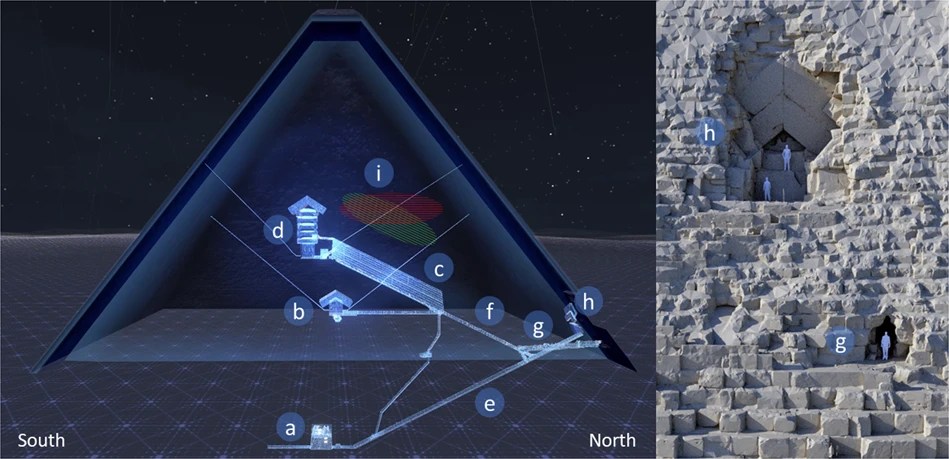 It's unclear exactly what the purpose of this corridor was intended to be. However, it isn't the only secret chamber hidden within the Great Pyramid of Giza. Researchers also discovered what they dubbed "the Big Void," a massive empty space within the pyramid.
Explorers believe that this corridor, and perhaps even "the Big Void," were created by the pyramid's original builders to help distribute the weight of the structure and keep it from collapsing. The researchers say that the secret chamber they discovered in the Great Pyramid was most likely an intentional design.
The ScanPyramids Mission, which is behind the biggest discoveries involving the Great Pyramid, released a video on the various discoveries, outlining how the secret corridor appears to line up with the northern chevron that can be seen outside the Great Pyramid's entrance.
Researchers still hold the belief that the corridor could be a stabilizing corridor due to its use throughout the rest of the Great Pyramid. The hope is that learning more about "the Big Void" and this secret chamber can help scientists uncover more about the structure's construction.
It's also possible that the corridor leads to another room, a secret chamber that could be full of antiquities that would tell historians more about ancient Egypt. We'll just have to wait and see where the evidence takes us.