The Switchbot Lock fits over your existing lock a gives it smart features and the ability to work with the rest of your smart home.
Pros
Easy to install
Well-designed
Widely compatible
Cons
Bulky
Hub required for many features
| Buy From | List Price | Sale Price | |
| --- | --- | --- | --- |
| | $99.99 | $99.99 | See It |
The home is getting increasingly smart, and more and more new devices are getting smart connectivity. But not everyone wants to replace the devices and fittings in their home. Instead, many prefer to retrofit their home with smart devices to turn those old dumb products into smart home solutions. A newer example of that is the Switchbot Lock.
Like Switchbot's other products, the Lock is designed to fit in your existing home, without requiring the replacement of anything in your home. It doesn't replace your lock — instead, it fits on top of your lock and turns the deadbolt itself. It's a pretty neat way to add smarts to your home at an affordable price.
But how well does the Swicthbot Lock actually work? I've been using it for a while now to find out.
Switchbot Lock design
The Switchbot lock's design enables it to fit seamlessly over a variety of different lock types, making it a highly adaptable and convenient option for homeowners looking to upgrade their security without the hassle of a full lock replacement. Though slightly bulky, the Switchbot Lock still manages to maintain a relatively sleek appearance, ensuring it doesn't necessarily detract from the aesthetics of your door or entryway.
Available in both black and chrome color options, the lock is designed to complement a range of home styles and decors, allowing users to choose the perfect match for their personal taste. It's also built from mostly premium materials, which is always helpful. The high-quality build not only ensures the lock's durability but also adds a touch of sophistication and modernity.
One of the most attractive features of the Switchbot Lock smart lock is its relatively easy installation process. The lock is designed to be user-friendly, with clear instructions and minimal tools required for setup. This allows homeowners to quickly and efficiently install the lock themselves, saving both time and money that might otherwise be spent on hiring a professional.
Switchbot Lock features
The Switchbot Lock smart lock offers an array of impressive features that elevate its functionality and convenience for users. Central to its operation is the Switchbot app, which serves as the primary interface for controlling and monitoring the lock. Through the app, users can easily lock and unlock their doors remotely, check the lock's status, and even set up automatic locking schedules to ensure their home remains secure at all times. This level of control and customization contributes to a user experience that is both intuitive and highly personalized.
Integration with popular smart assistants is another notable feature of the Switchbot Lock, as it works with Google Assistant, Alexa, IFTTT, and Siri Shortcuts. This compatibility allows users to incorporate the lock into their existing smart home ecosystem and control it using simple voice commands, providing an added layer of convenience and accessibility. However, it is important to note that the lock is not compatible with Apple's HomeKit, which may be a drawback for some users heavily invested in the Apple ecosystem.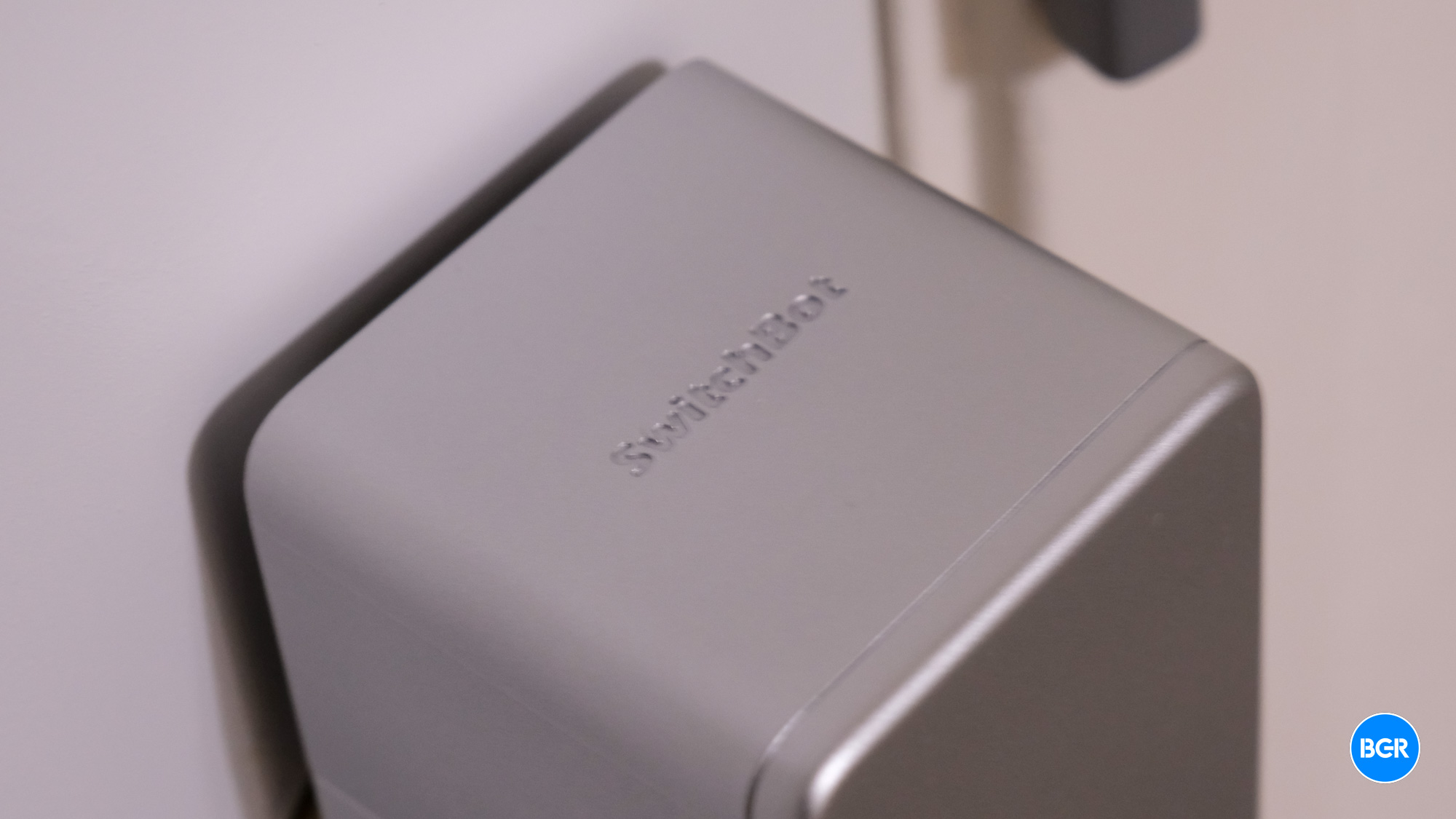 It should be noted that to fully utilize the smart assistant features of the Switchbot Lock, a separate smart hub is required. The hub serves as a bridge between the lock and the user's smart home network, enabling communication with various smart devices and voice assistants. While this may be an additional expense for some users, the benefits of integrating the lock with a smart home system, and the resulting seamless control and automation capabilities, make it a worthwhile investment for those seeking a truly connected and convenient home security solution.
Once installed, the Lock was easy to use and quite responsive — though more responsive with the hub installed too.
Switchbot Lock app
While the Switchbot Lock is compatible with various smart home ecosystems, you'll still have to download and use the Switchbot app. Generally speaking, the app boasts an intuitive design and user-friendly interface, making it a pleasant experience to use. However, for those with a limited number of Switchbot devices, it might be more practical to continue using their primary app for all other smart home devices.
The Switchbot app is organized into several distinct tabs. The Home tab serves as the central hub for managing all your Switchbot devices, including hubs and other products that don't require direct control. Users can tap on individual devices to access advanced settings or utilize quick buttons for immediate control of devices.
The Scenes tab provides a platform for setting up automations, allowing users to define conditions under which devices will change states. While this feature is indeed useful, many users may opt for managing automations through their primary smart home app.
The remaining tabs include the Shop and Profile sections. Within the Profile tab, users have the opportunity to link their devices to other smart home ecosystems and establish Siri Shortcuts, which adds another layer of convenience to the overall experience.
Conclusions
The Switchbot Lock proves to be an excellent smart home security solution for those seeking a versatile and user-friendly upgrade to their existing lock system. With its compatibility across multiple lock types, sleek design, and premium materials, the Switchbot Lock offers a balance of functionality, aesthetics, and durability. The well-designed app, integration with popular smart assistants, and easy installation process all contribute to a seamless and convenient user experience. Although it does not support Apple's HomeKit and requires a separate smart hub for full functionality, the Switchbot Lock remains a solid choice for those seeking a modern and adaptable smart lock to enhance their home security.
The competition
The Switchbot Lock is the only smart home lock of this kind, but there are other smart locks that don't require the user completely replace their existing lock. A good example of this is the Level Lock, which replace the deadbolt part of the lock, but not the outside — thus making the smarts invisible and ensuring that the old key can still work. I find the Level Lock to be a little more elegant, but requires more DIY than the Switchbot Lock.
Should I buy the Switchbot Lock?
Yes. It's a good solution for renters or those who don't want to completely replace their lock.