The Switchbot Blind Tilt connects to your existing blinds, and turns them into smart ones. How well does it work?
Pros
Well-priced
Responsive
Works with most ecosystems
App works well
| Buy From | List Price | Sale Price | |
| --- | --- | --- | --- |
| | $69.99 | $69.99 | See It |
The home is getting smarter, but there are still some nooks and crannies that have yet to get smart — and much of that comes down to retrofitting older homes with smart accessories. There, for example, smart blinds out there — but they can be expensive, and require you replace the blinds that you might already have and like. There is, however, a solution for that — the Switchbot Blind Tilt, which attaches to your old, dumb blinds, and allows you to control them with your phone or voice.
It's a pretty ingenious device, and a great way to save money on smart devices while still building a smart home. But how well does it perform? I've been using the Switchbot Blind Tilt for a while now to find out.
Switchbot Blind Tilt design
The Switchbot Blind Tilt is built to be connected to the adjustment rod of your blinds, and as a result, it can add some weight and heft to the entire setup. Thankfully, however, it's not too over the top, and you'll get used to the look.
When installed, you'll notice what looks like two hanging objects from your blinds — the main controller for the Switchbot Blind Tilt, and the adjustment rod itself, which the Blind Tilt attaches to. The Blind Tilt is bigger and thicker than the average blind adjustment rod, but it's also white — so if you have typical blinds, it'll mostly blend in.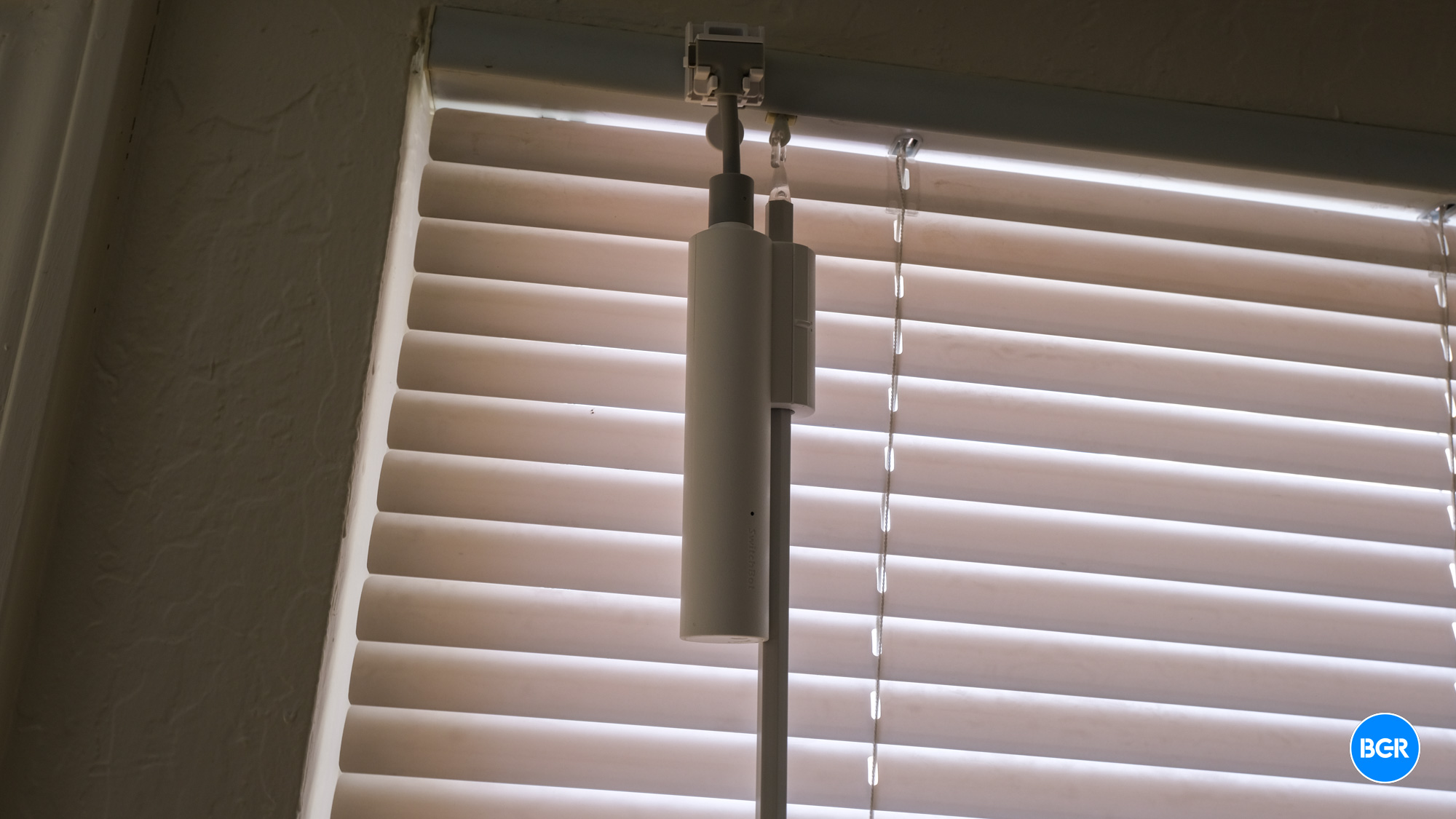 The device comes with adapters for most setups too. There are different sleeves for different rod thicknesses, and I found it mostly easy to install using the app instructions.
The Blind Tilt also comes with a solar panel, which can be installed on the other side of the blinds to allow for continuous power. It's a great way to ensure that you don't have to charge the device, though if you don't want to install the solar panel, you'll still get around 10 months of battery life.
Generally, you should expect that the Blind Tilt will be visible and add some bulk to your blinds — but with the white color, it will mostly blend in.
Switchbot Blind Tilt features
Of course, no one is buying the Blind Tilt for its design anyway — the real reason to buy the Blind Tilt is for its ability to control your blinds.
Through the Switchbot app, you can set your blinds to be horizontally open, or closed one direction or the other. I found the Blind Tilt to be quite responsive to control from the app, even without the hub installed. From the app, you can also schedule the Blind Tilt to open and close at certain times of the day, which is a handy feature. Or, you can set it to open and close based on outdoor light. You'll need to have the solar panel attached for this.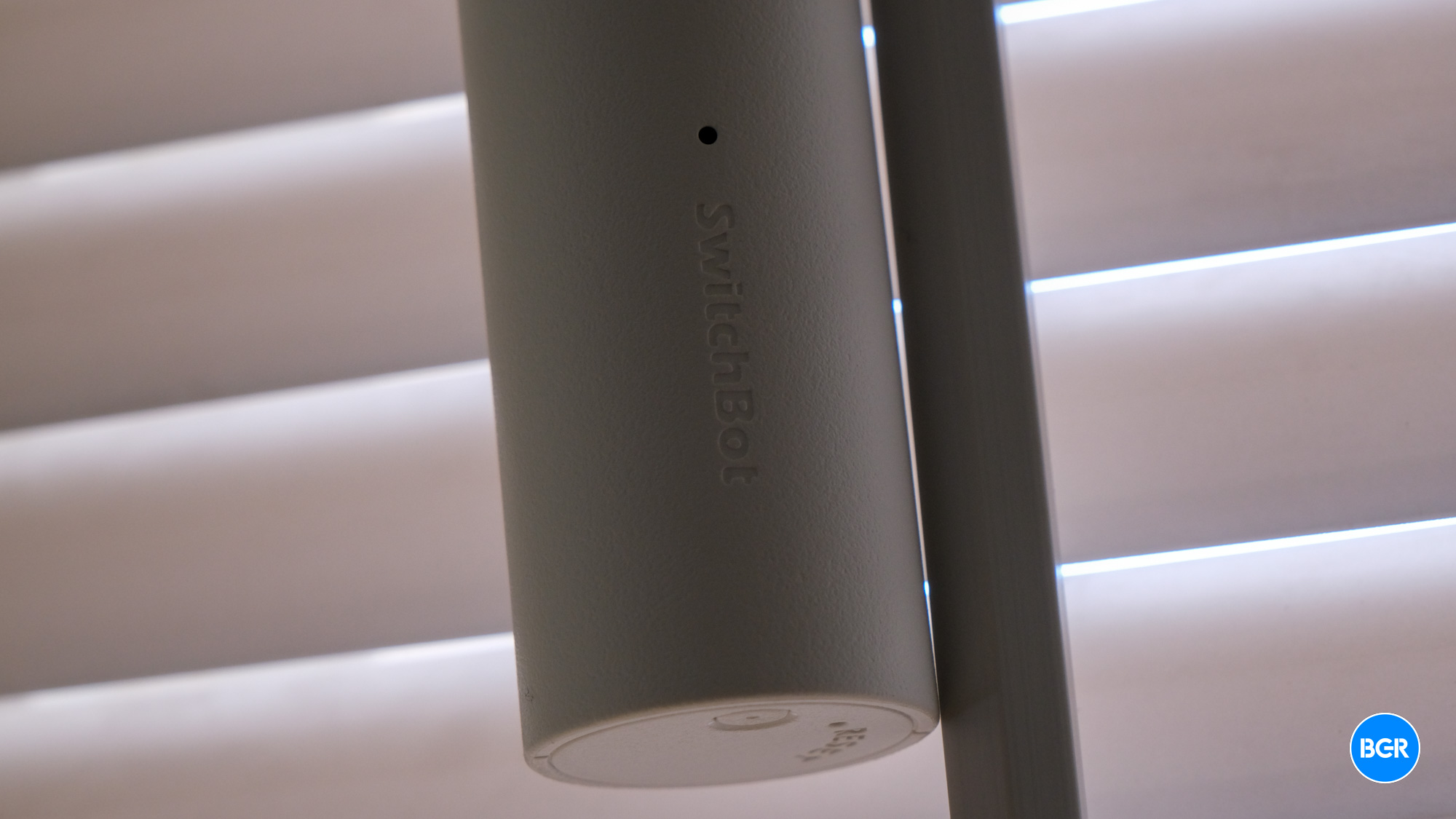 The Switcbot Blind Tilt works with Google Assistant, Alexa, IFTTT, and Siri Shortcuts — however, you'll need the Switchbot Hub for these features. Also, it's important to note that while the device works with Siri Shortcuts, it does not work with HomeKit, regardless of whether or not you have the hub.
I did install the hub, and frankly, I didn't experience much of a difference in how responsive the blinds were — which is a good thing. Of course, without the hub, the blinds only work through Bluetooth — not Wi-Fi. So, if you want to control the device remotely, you'll need the hub as well.
The Blind Tilt is, however, compatible with other Switchbot products, like the Switchbot Remote or the Switchbot NFC tag. This allows you to control the device with the push of a button, for example. I really like this feature.
Switchbot Blind Tilt app
While the Switchbot Blind Tilt works across smart home ecosystems, you'll still need to interact with the app at some point. For the most part, the app is well-designed and easy to use — and as a result, I didn't mind using it at all, although of course, unless you have a ton of Switchbot devices, you'll probably want to stick to using the app you use for all your other devices.
The app is divided into a few different tabs. The Home tab is where you'll interact with all of your Switchbot devices, including the hubs, or products that don't really require control. You can press on each device to access deeper settings, but you can also hit quick buttons to control devices.
The second tab is labeled Scenes, and it basically lets you set up automations. If a condition is met, for example, a device will change states. It works pretty well, though again, most will end up using automations through their main smart home app.
The other two tabs are Shop and Profile. From Profile, you can connect devices to other smart home ecosystems and set up Siri Shortcuts, which is helpful.
Conclusions
Generally, the Switchbot Blind Tilt is a handy device that works well for most users with a smart home. Sure, it's not the classiest-looking device out there, and I wish it supported HomeKit, but if you're in a non-HomeKit smart home ecosystem, or don't mind using the Switchbot app, the Blind Tilt is worth considering.
The competition
There are other devices to convert older blinds into smart blinds, however, some of them don't quite work with this type of blind, while others are more expensive. If you're looking for a device to convert older blinds into smart blinds, and don't mind not being able to use the device with HomeKit, the Switchbot Blind Tilt is the way to go.
Should I buy the Switchbot Blind Tilt?
Yes. It's a great device at a reasonable price.