The Nokia G310 5G is a solid contender in its price range, but it ultimately falls a little short.
Pros
Sleek design
Repairability
Stripped-back software
Excellent battery
Cons
Camera isn't great
Underperforms
There's a lot of talk about how phone upgrades are becoming stale and incremental, but in reality, there's still a lot of room for improvement in the space. At the top end, there are innovations like foldable displays — while at the bottom end, budget phones are finally getting some of the features that flagship devices have had for years.
One of the most recent budget phones to be released is the new Nokia G310 5G, which gets things like a triple camera array, a large display, and a low price tag. Are these features just a smoke-screen for an ultimately sub-par device? I've been using the Nokia G310 5G to find out.
Nokia G310 5G specs
Dimensions
165.1 x 75.7 x 8.6 mm
IP rating
None
Display resolution
720 x 1,612
Display size
6.56 inches
Display type
LCD
Display refresh rate
90Hz
Chipset
Qualcomm Snapdragon 480+ 5G
Memory
4GB
Storage
128GB
Rear cameras
Wide: 50MP
Macro: 2MP
Depth: 2MP
Video
1080p at 60fps
Front camera
8MP
Ports
USB-C 2.0
Battery size
5,000mAh
Charging
20W wired
Connectivity
Bluetooth 5.1, Wi-Fi 5, 5G
Colors
Blue
Price
$186
Nokia G310 5G design
The design of the Nokia G310 5G is actually quite good. Sure, it's not the most premium phone out there, and it doesn't look as such. But it also does look a little more premium than it actually is, which is always nice.
On the back of the phone can be found a nice metallic-looking back, even though it's actually plastic. That surrounds the vertically aligned triple camera array. On the right side of the phone can be found the power button (with a built-in fingerprint sensor), along with a volume rocker. On the bottom, there's a USB-C port, coupled with a good ol' headphone jack. It's not dead yet, folks.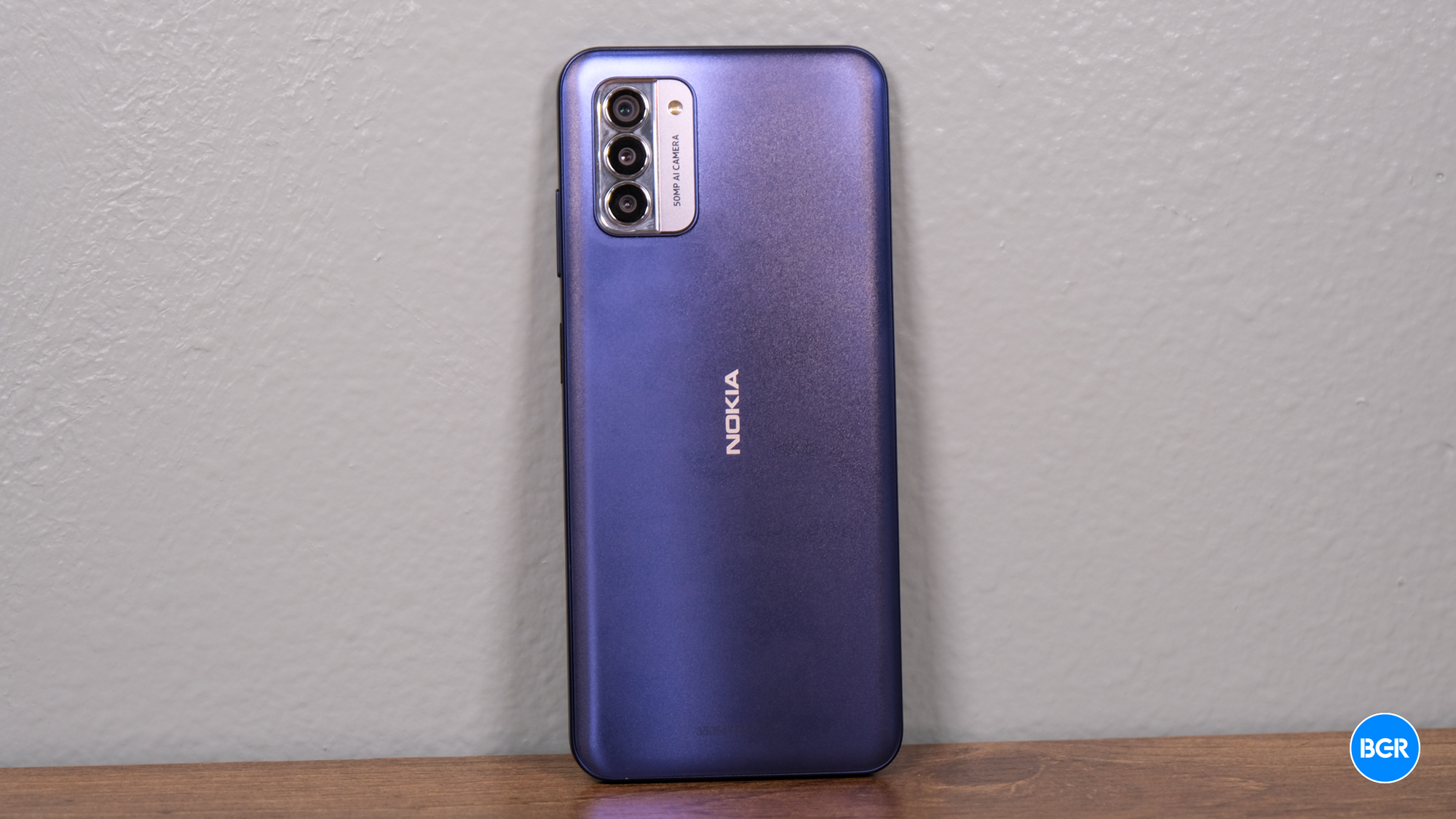 The device is clearly made from plastic, but it doesn't feel cheap in the hand. Part of that has to do with the fact that it has some heft to it, along with the nice flat edges on the sides.
Nokia says that it has designed the phone with repairability in mind. The device offers Nokia's so-called QuickFix technology, meaning that it'll provide parts and guides to iFixit for easier repairs. According to Nokia, things like the battery, screen, charging port, and more can be self-repaired — which is very cool.
Nokia G310 5G display
The screen on the phone starts to prove why the device is so cheap. The display is nice and big, at 6.56 inches, with a resolution of 720 x 1,612, and a 90Hz refresh rate. I often don't mind swapping resolution for a higher refresh rate, and it is nice that you can get a 90Hz panel here. But I find the lower limit to that trade-off, for me, is 1080p. At 720p, the display on this phone does indeed look a little low-resolution.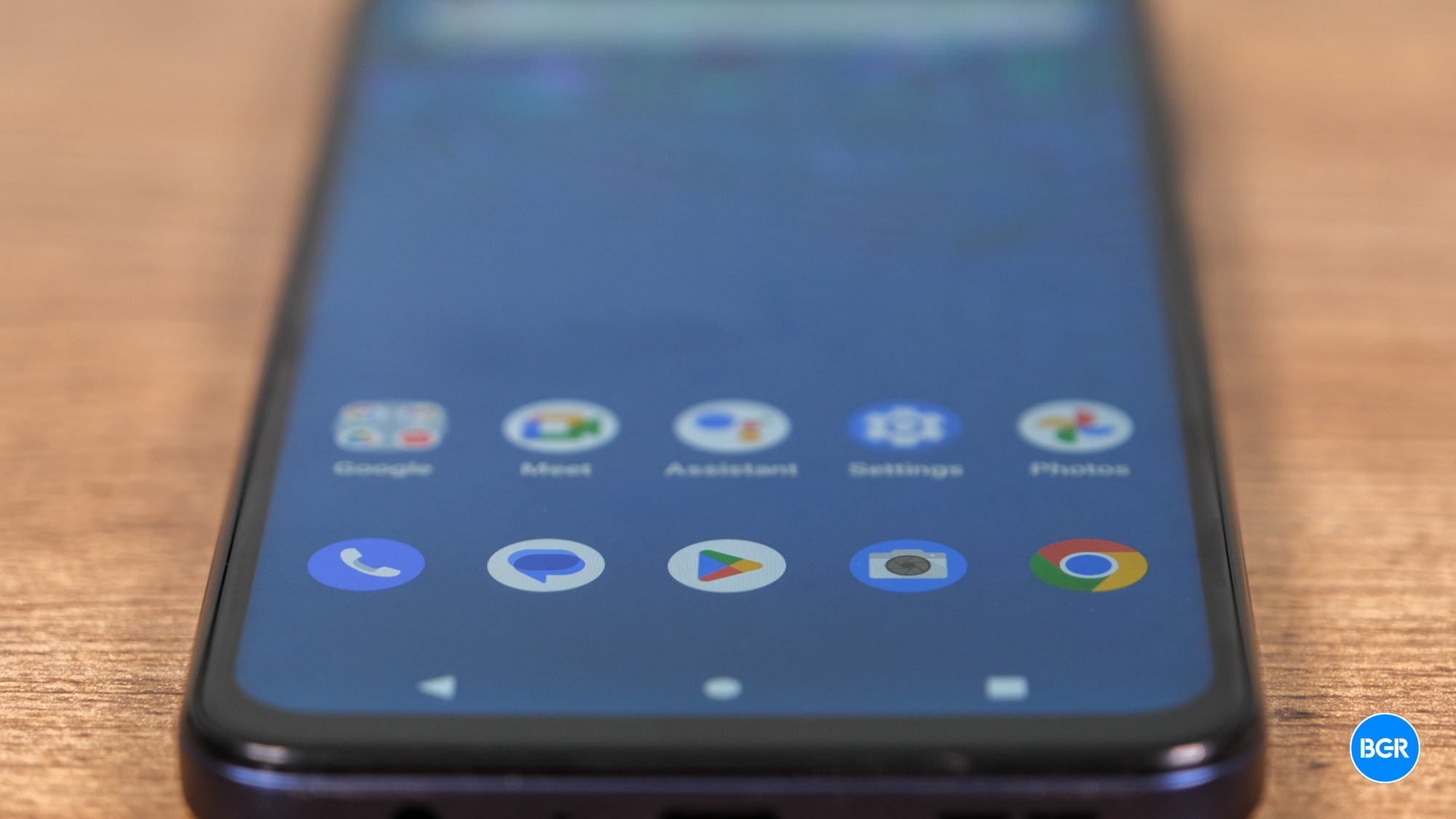 Still, as mentioned, the fact that it's a 90Hz screen is nice. This helps allow for smooth scrolling and animations.
Apart from the resolution and refresh rate, the screen gets bright enough for day-to-day use, but it didn't necessarily blow me away. In some situations, like in very bright environments, you may find it hard to see content.
Nokia G310 5G performance
Under the hood, the phone isn't terrible — but it's clearly a budget phone. The device is powered by a Snapdragon 480+ 5G, which means that it'll lag a little compared to the competition. That chip is coupled with 4GB of RAM.
The phone performs about how I expected, which is to say, it's a little slow. It won't load games as quickly as a higher-end device, and I did find that it regularly stuttered and dropped frames, even during seemingly basic tasks. Multitasking especially made this an issue.
Benchmark results confirmed the lower performance. The phone scored the below benchmark results:
GeekBench 6: 748 single-core, 1892 multi-core
As you can see, the Nokia G310 5G isn't really a high-performing device. It'll do the job for most basic tasks, like making calls and scrolling social media — but if you're looking for a gaming device or something for heavier multitasking, it may be worth looking elsewhere.
Nokia G310 5G battery and charging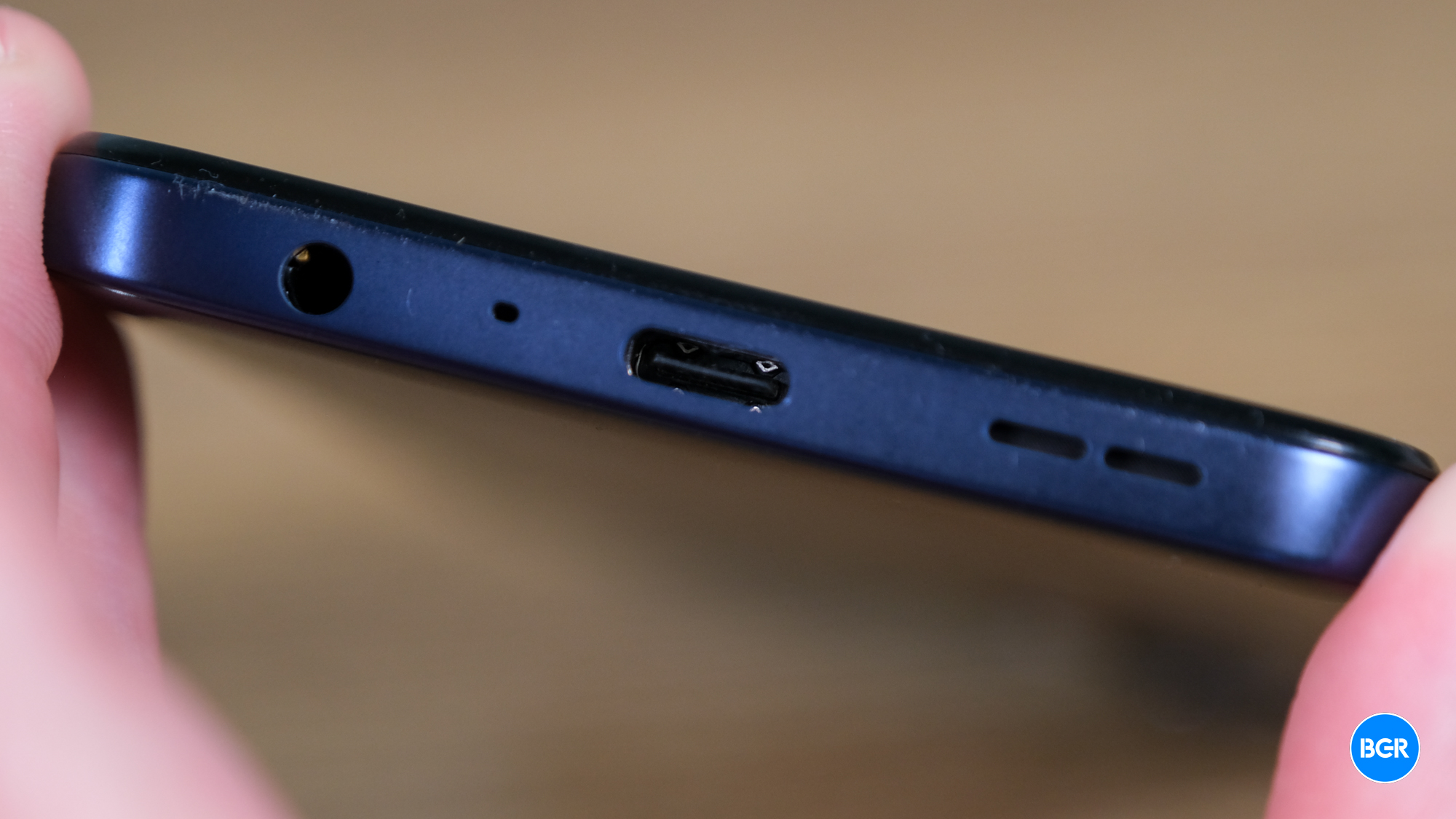 Perhaps the standout feature of this phone is its battery life. Between the 5,000mAh battery and the low-resolution display, the phone can outlast plenty of both similarly-priced and much more expensive competition. The device was easily able to get me through a full day of use with over 50% of the battery remaining, and most will be able to squeeze two days of moderate use out of the phone. Motorola claims up to three days — however, I don't think most users will get there.
It doesn't necessarily charge all that quickly, though. The device can charge at up to 20W with a compatible USB-PD charger, and it'll take a few hours to fully charge. The device does not support wireless charging, unfortunately.
Nokia G310 5G camera
On the back, as mentioned, can be found a triple camera array — but unfortunately, only one of those cameras is really usable. You'll find a 50-megapixel main camera, along with a 2-megapixel macro camera and a 2-megapixel depth camera.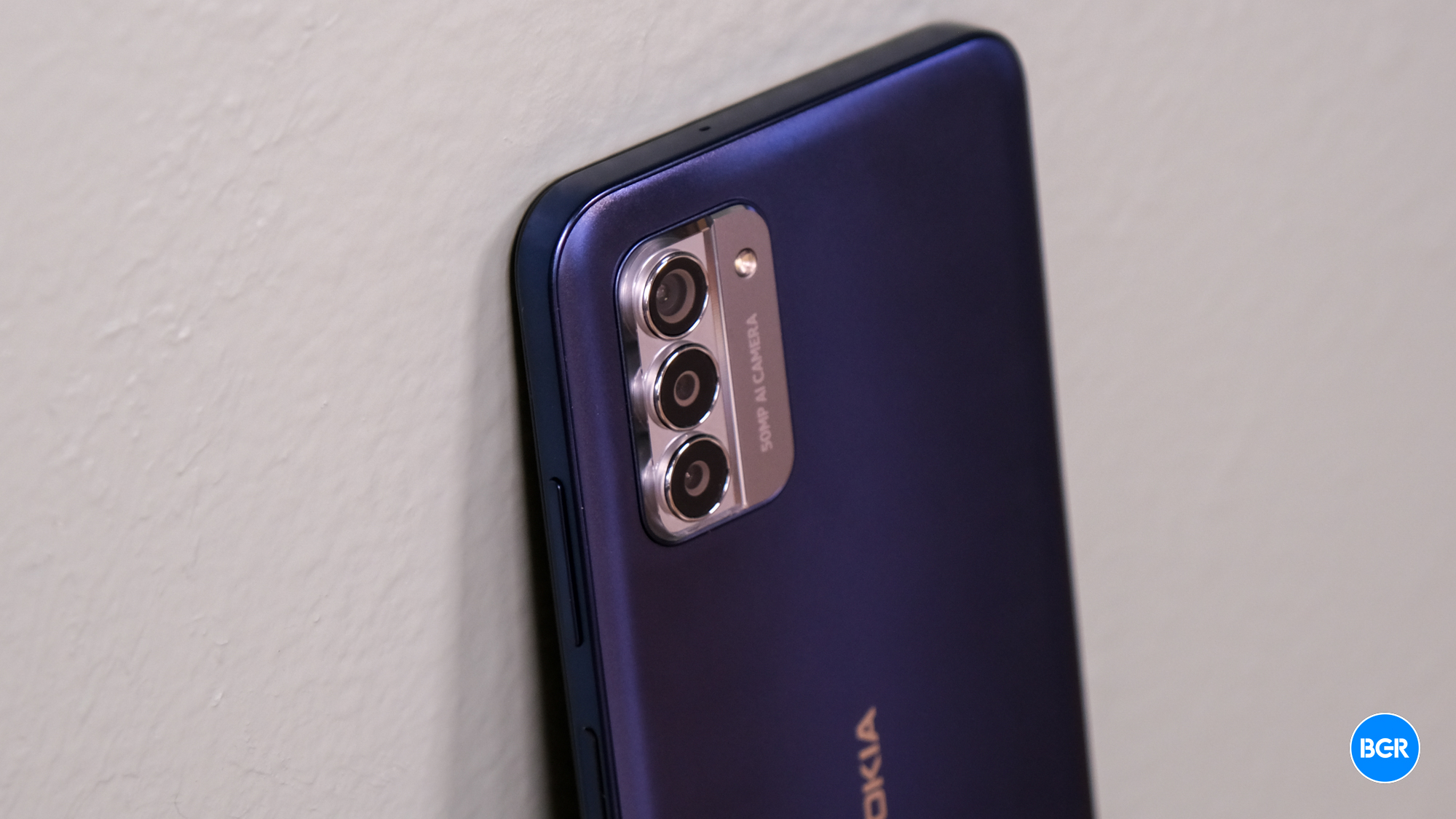 As you would expect, the depth camera is only used for additional data when taking photos, while the macro camera is low quality and unnecessarily included. These 2-megapixel macro cameras have outstayed their welcome, even on budget phones. They only serve as a way for companies to market a triple-camera system.
But none of that means that the phone can't produce decent images. In well-lit environments, images are perfectly fine. They won't get close to flagship devices out there, but they're not absolutely terrible.
That changes a little in low light or when using the macro camera. These images are sub-par, and I hope companies like Nokia continue to improve on low-light photography, even in their budget ranges.
Nokia G310 5G software
The software experience on the Nokia G310 5G is pretty good. The phone offers a pretty stock software experience, meaning that Nokia largely makes minimal tweaks to the software interface. That also means that everything is pretty much where you would expect it to be — including in the settings.
Thankfully, there's almost no bloatware on the phone. There are no extra unwanted apps, and the only additional app that is here is the Nokia "My Device" app, which offers some tips on using the phone, a device health tool, and more. I didn't use the app except for the review — others may use it more.
Conclusions
The Nokia G310 5G may not be the best new phone out there, but it does do a little better than we expected, given its price range. Even better, of course, is the fact that it's more repairable than others — and we're hoping other phone manufacturers follow suit in offering better repairability overall.
The competition
This device goes up against tough competition, including from the likes of the Samsung Galaxy A14. The Galaxy A14 offers a higher-resolution display, a better-performing chip, and a more versatile camera. If you're looking for a great phone under $200, you should go for the Galaxy A14.
Should I buy the Nokia G310 5G?
No. You should buy the Samsung Galaxy A14 instead.