The Jabra Elite 10 earbuds offer a high-end listening experience, and easily compete with the best.
Pros
High-end design
Good fit
Excellent audio
Smart features
| Buy From | List Price | Sale Price | |
| --- | --- | --- | --- |
| | $250 | $250 | See It |
The likes of Apple and Sony may dominate the headphone market, but there are still plenty of smaller companies that can make serious waves. A prime example of this is Jabra, which has been building some of the best wireless earbuds of the past few years. Recently, Jabra took the wraps off of its latest headphones — with the new Jabra Elite 10 being at the top of the pile.
The Elite 10 earbuds build on Jabra's extensive experience in building headphones and are aimed at improving audio quality while adding newer features like Dolby Atmos optimization and head-tracking. At face value, this helps Jabra compete with other smart headphone offerings — including the likes of the AirPods Pro. But how do they ultimately perform? I've been using the Jabra Elite 10 earbuds to find out.
Design
The Jabra Elite 10 earbuds don't reinvent the wheel when it comes to earbuds, but that's not necessarily a bad thing. The buds offer a similar design to previous-generation Jabra earbuds, with a stemless design and rubberized feel. Each bud has a flat face with a glossy finish and the Jabra logo.
Hidden under the logo on each earbud can be found a button for controls. Unfortunately, Jabra is sticking with hardware buttons here — not touch controls, for example. This means that the user has to push the bud into their ear in order to control their audio, which can be quite uncomfortable.
Apart from that, however, I quite like the design of the earbuds themselves. They feel premium, and considering Jabra's emphasis on ruggedness for this generation of earbuds, they should be able to survive most day-to-day use.
That doesn't necessarily go for the case, though, which is unfortunately not water-resistant like the earbuds themselves. Still, the case also looks and feels quite premium. It's a little larger than the charging case of the AirPods Pro, but I still found it to be portable and pocketable. On the bottom of the charging case is a USB-C port, but the earbuds also support wireless charging — a feature that I feel should be standard on all wireless earbuds these days.
Generally, I like the look and feel of the earbuds. They're well-designed, built to last, and small enough to carry around easily.
Features and app
The Jabra Elite 10 earbuds are Jabra's highest-end earbuds — and they're packed with features aimed at making the experience of using them more versatile. For starters, they have active noise cancellation, and I found it to be quite good. It's still not quite as impressive as the ANC tech on the AirPods Pro, but I used the earbuds on a plane and found that it still easily cut out most outside noise. The earbuds also have a transparency mode — which is also not bad, but again, not as great as that on the AirPods.
The earbuds also support Bluetooth Multipoint. This feature means that they can connect to up to two Bluetooth devices at a time. I wish they supported more connections — like some other non-AirPods earbuds. But, two is still definitely better than one.
Perhaps the standout feature here is support for Dolby Atmos, including head-tracking. This is aimed at competing with the AirPods' Spatial Audio feature. Generally, I prefer not to use object-based audio tech like Dolby Atmos when listening to music, but I do find that it can be helpful in making for an immersive movie-listening experience. It worked easily as long as the feature was enabled in the Jabra app.
As you would expect, the Elite 10 earbuds work with the Jabra app, an app that I generally quite like. The Jabra app allows you to easily switch between noise modes, and tweak the EQ of the earbuds themselves. It's generally easy to navigate and powerful.
The Jabra Elite 10 earbuds offer a six-hour continuous battery life with ANC on. That's not bad. It's not necessarily the best battery life out there, but most will find it to be more than enough. The charging case will get the earbuds a total of 27 hours, which is also quite good. Most won't need to charge the earbuds more than once every few weeks with casual use.
Comfort
The Elite 10 earbuds, thankfully, are relatively comfortable — which is always helpful for a pair of earbuds that you may wear for a few hours at a time. I was indeed able to wear these earbuds for a few hours without finding them too uncomfortable.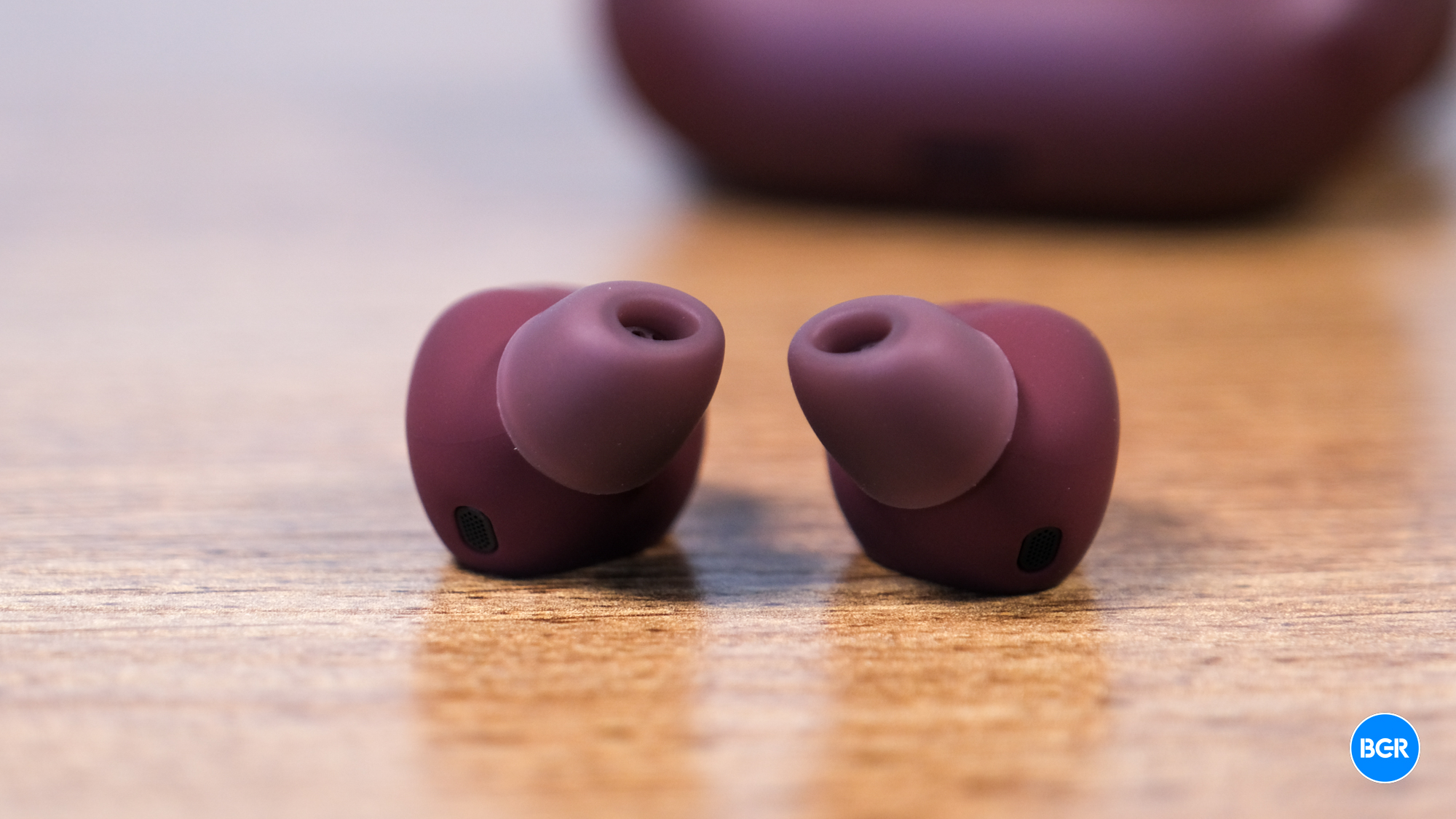 They were generally good at staying in my ears, too. This is something that may vary a little depending on the user and their ear shape, but as usual, it's probably a good idea to experiment with the ear tips included in the box when you first get the headphones. I tried using the headphones for running and found that they didn't feel like they were going to fall out at all.
Sound
Sitting at the top of Jabra's range, the Elite 10 earbuds are built to offer excellent audio quality. Thankfully, they succeed in doing so.
For starters, the Elite 10s offer nice, deep bass. Kick drums sound impactful and deep, while bass guitars are heavy and smooth. There's no real muddiness here either, though you could certainly add some with the built-in EQ. The kids, I found, are a little scooped — meaning that the earbuds prioritize bass and high-end. That, however, is only how they sound out of the box — and you could easily fix some of that with the EQ. Lastly, the high-end is detailed and clear — very much so, for a pair of earbuds in this price range. I was very impressed with the detail on offer here — it beats the majority of other earbuds in this price range, for sure.
Generally, these are among the best-sounding wireless earbuds out there. That's largely aided by the built-in EQ. While most third-party earbud manufacturers are pretty good at including an EQ in their app, I wish Apple was better at doing so.
Conclusions
The Jabra Elite 10 earbuds are among the best out there right now. They're not cheap — but they're built to compete with the other top-of-the-range options, like the AirPods Pro and the Sony WF-1000XM5 earbuds. They easily compete with these options, and ultimately, I think they're absolutely worth buying.
The competition
The main competition here comes from the likes of Apple and Sony. I find that the Jabra earbuds sound better than the AirPods Pro, plus they get close to the feature-set with Dolby Atmos and Bluetooth Multipoint. That said, the AirPods Pro are still perhaps better for those who are deep in Apple's ecosystem and want features like Automatic Switching with more than a few devices.
Then there's the Sony WF-1000XM5 earbuds, and I think the Jabras are a slightly better choice. They may not have quite as high-quality audio, but they do boast a better fit, which I find to be pretty important.
Should I buy the Jabra Elite 10 earbuds?
Yes. They're an excellent pair of earbuds.