If you're looking for a new pair of premium noise-cancelling headphones — and regularly use Apple devices — you might be deciding between the Apple AirPods Max and the Sony WH-1000XM5. It makes sense. Both headphones are top-of-the-line options that are loaded with features.
But they're also both fairly expensive. While the AirPods Max are definitely the more expensive option, if you're willing to spend that much money, you want to make sure you're getting the best ones.
Of course, we can get one decision out of the way right now — if you're an Android user, you can avoid the AirPods Max headphones altogether. They still work with Bluetooth, but you won't get the same level of features that you'll get on the Sony cans. You should buy the Sony WH-1000XM5 headphones.
But what if you do use Apple products? Should you buy the AirPods Max headphones or Sony WH-1000XM5 headphones?
BGR may receive a commission
Design
Perhaps the most obvious difference between these two pairs of headphones is their design. They're very different.
Apple has opted for a retro, minimalistic look with the AirPods Max. The headphones offer large metal ear cups, along with a dial and button on the top of the right ear cup to control volume and playback. The headphones come in a range of different colors — so you can get one that matches your style. For ports, you'll only get a Lightning port. That's how you charge the headphones, and use them in wired mode, with a cable that costs extra.
The AirPods Max, don't fold up. The ear cups do swivel, and they can then be placed in the rubber case, which only really protects the ear cups themselves.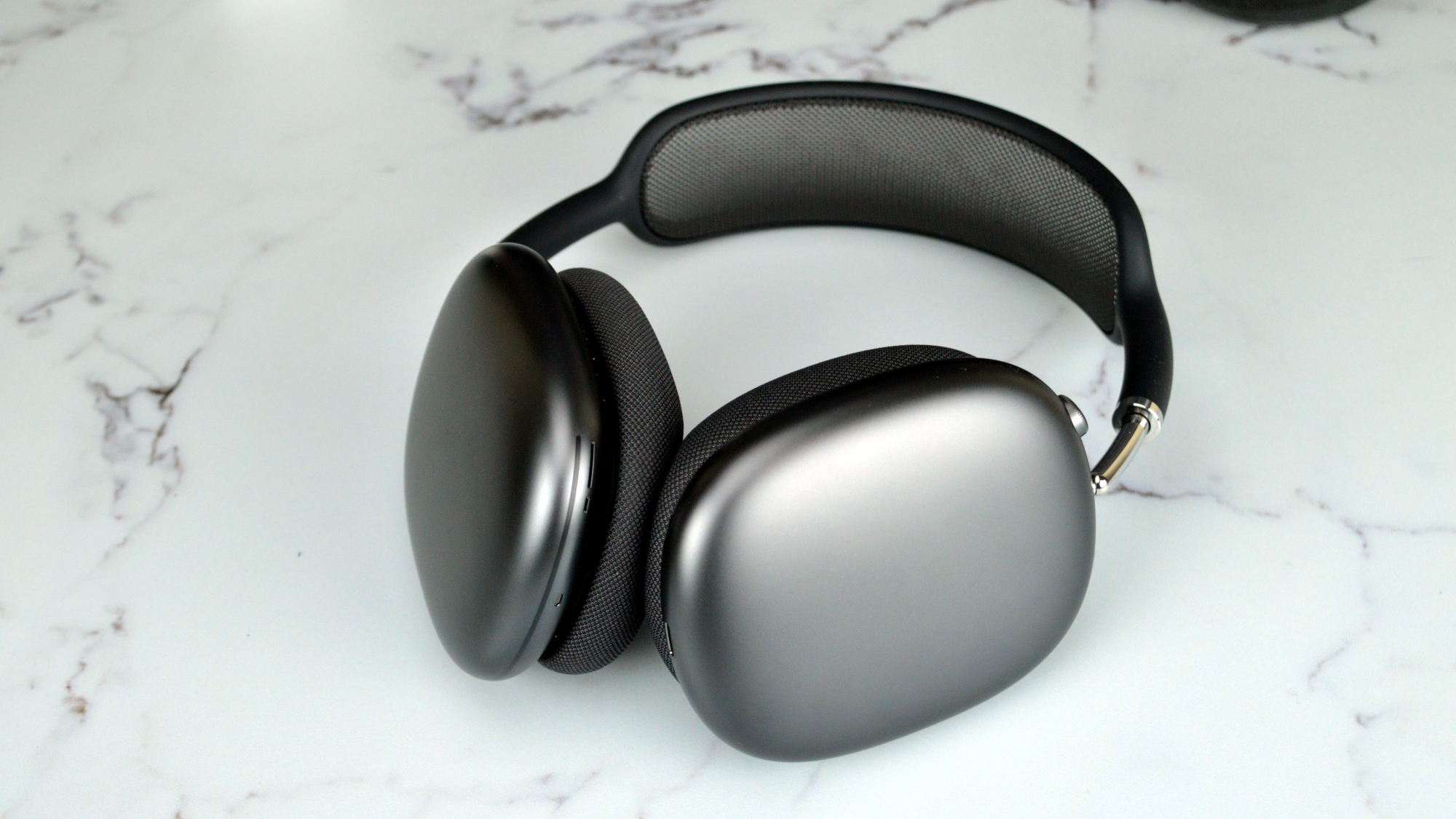 The WH-1000XM5 headphones are a little less unique, but still great-looking headphones. They swap out the metal build for plastic, and use traditional padding under the headband, instead of the mesh-like system on the AirPods Max. You'll also get a full array of ports and controls, including a standard 3.5mm jack for wired listening and a USB-C port for charging. They also come with a more robust protective case.
Many would argue that the AirPods Max look cooler, but with the use of plastic, the WH-1000XM5 headphones are much lighter and less obvious. They're also a little easier to use in wired mode, thanks to the more standard port.
Features and battery
Another major difference between these headphones is the features that they offer. Both are smart headphones, but they offer slightly different features that might make one of them better for your needs.
The AirPods Max, for starters, offer Apple's Automatic Switching feature, which can switch your music between devices that are connected to the same iCloud account, without needing to keep pairing and re-pairing. They also offer Apple's Spatial Audio feature, which some love and some hate. And, you'll get Siri, noise cancellation, and transparency mode. Both the ANC and transparency modes are top of their class, and the latter is especially natural-sounding.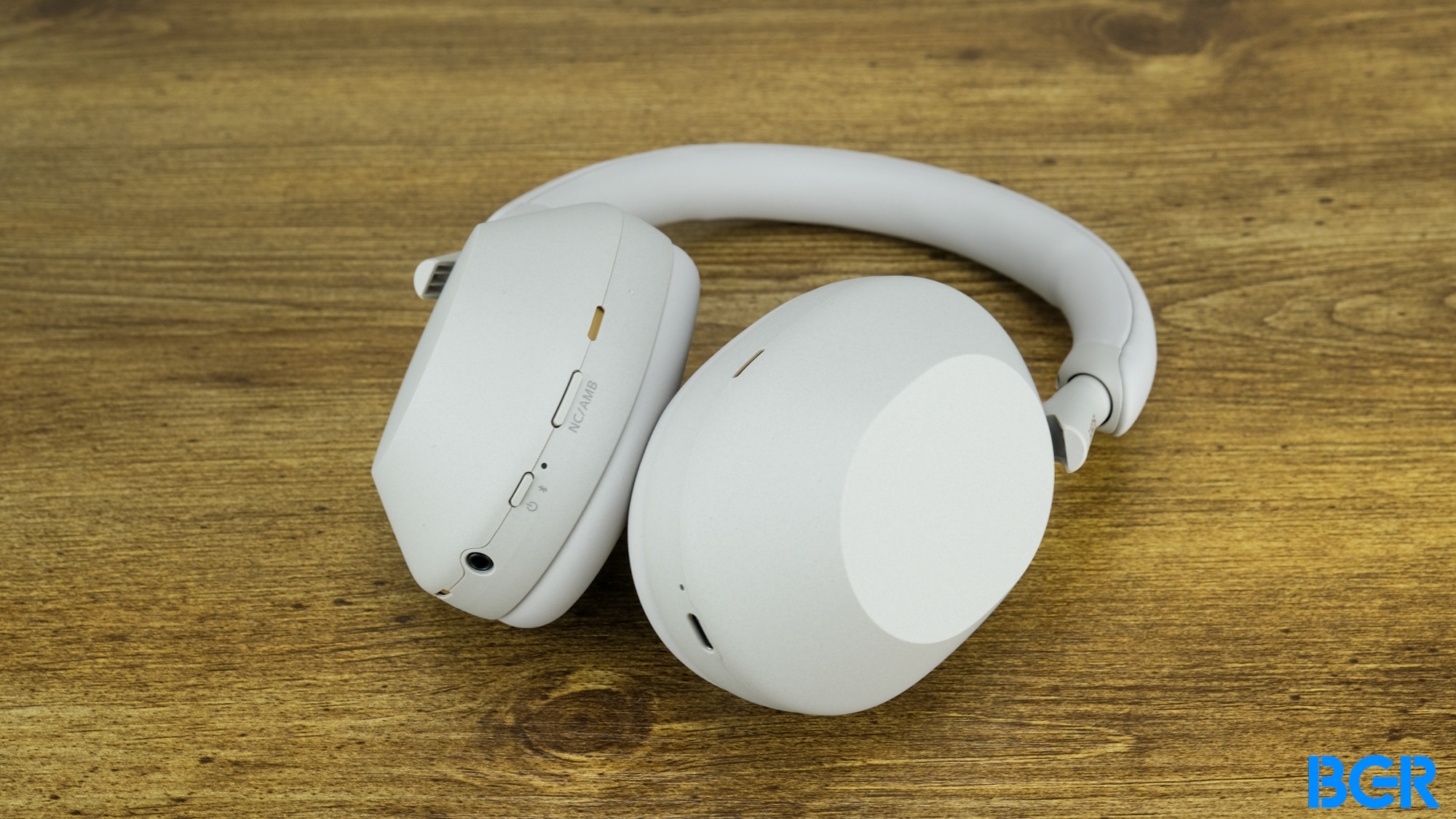 The Sony headphones offer other interesting smart features. As you would expect, they also have both ANC and transparency mode, and both are excellent. The headphones also can be used with the Sony Headphones Connect app, which allows you to tweak EQ, set location-based profiles, and more. These are features that the AirPods Max doesn't really offer. And, the headphones have Bluetooth Multipoint — so while you can't pair them with all of your devices, you can pair them with two at the same time.
The battery life is another difference — the Sony headphones can last for up to 40 hours with ANC off, or 30 hours with it on. The AirPods Max are rated for 20 hours, but in our experience, you won't get anywhere near that if you don't use the case to turn them off in between usage. Sony is the clear winner for battery, but you'll have to decide for yourself which other features are more important to you. If you're really embedded in Apple's ecosystem, features like Automatic Switching might be particularly useful, but otherwise you might be perfectly happy with what's on offer by the Sony headphones.
Comfort
Next up is comfort. The AirPods Max aren't uncomfortable by any means, and the mesh system helps to distribute the weight evenly on top of the head. That being said, the Sony headphones are much lighter, and as a result, more comfortable. Put them on and you'll barely feel them, even when wearing them for extended periods of time.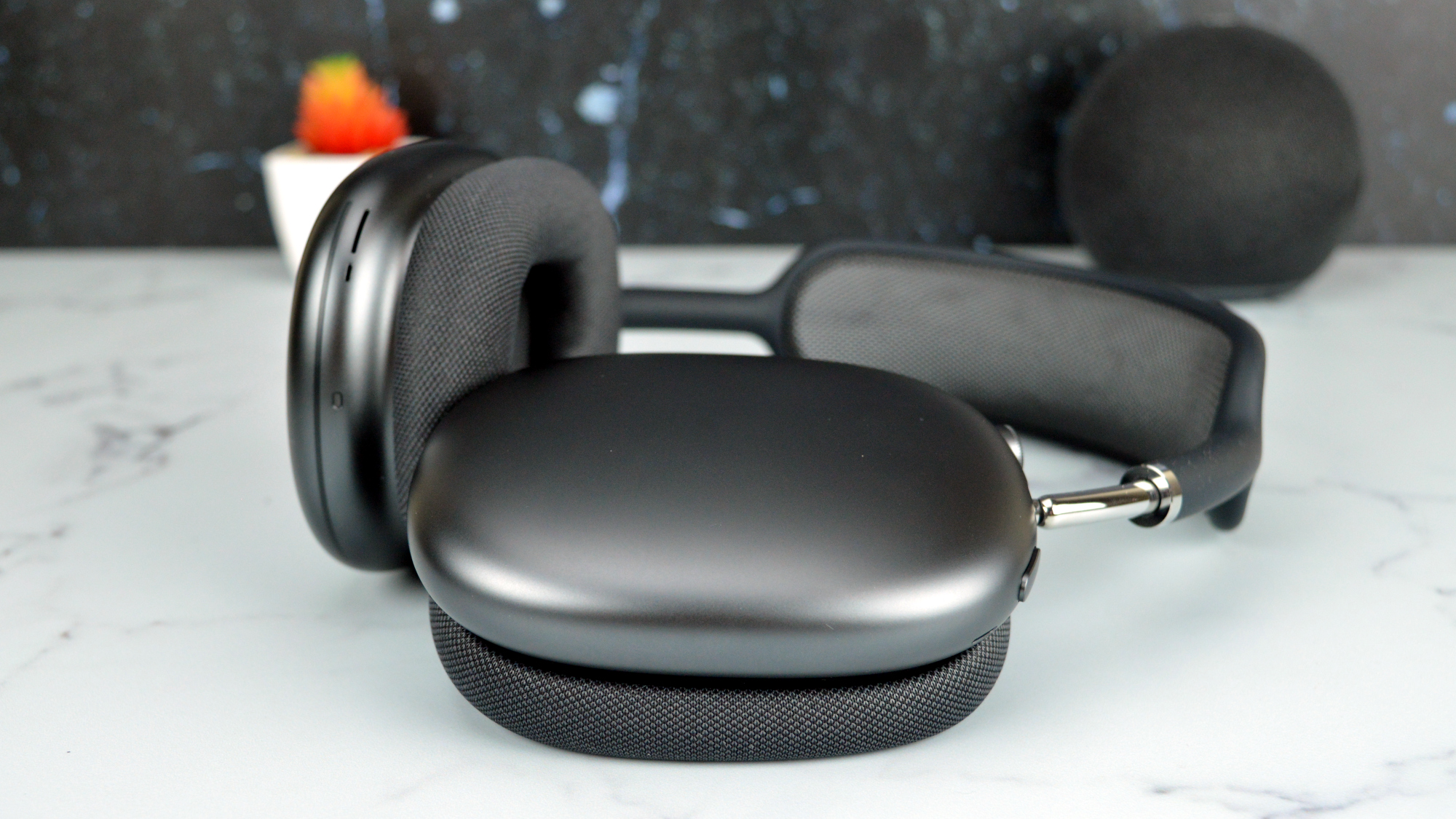 You'll also get used to the AirPods Max over time, but the Sony headphones are generally better for those concerned about comfort.
Sound
Both the Apple AirPods Max and the Sony WH-1000XM5 headphones sound excellent — and you really can't lose here.
No matter which pair of headphones you choose, you'll get great bass response, including good bass extension. That means that kick drums and bass guitars will sound full and heavy. They also have well-tuned mids, which give those electric guitar and vocal elements some cut. The high end, too, sounds crisp and clear, and each pair of headphones is able to handle things like strummed acoustic guitars, cymbals, and synths without question.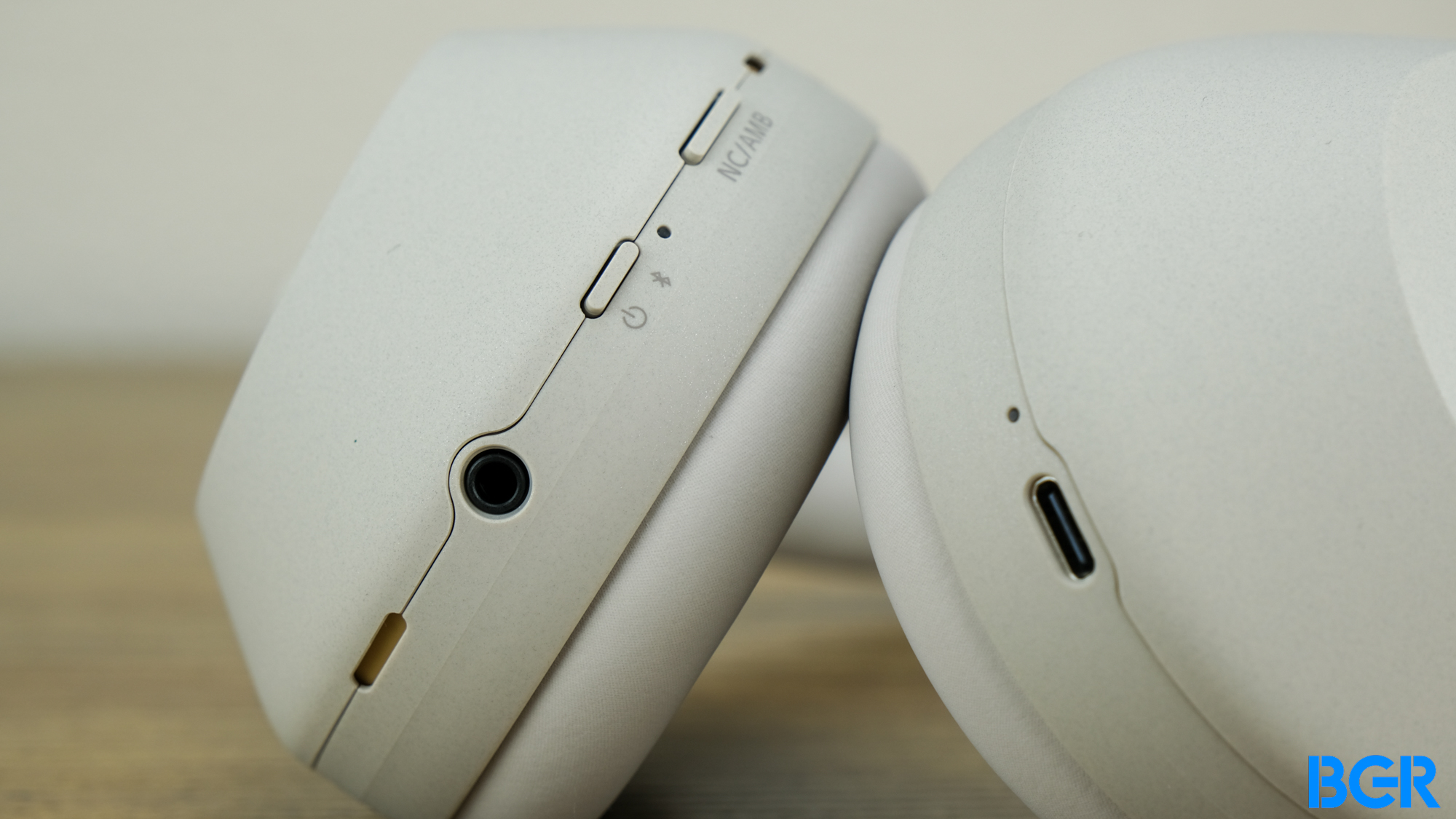 The AirPods Max have a more natural sound out of the box, while the WH-1000XM5 are a little warmer sounding. But, the latter ones are easier to EQ and make sound more to your liking, which is a huge advantage.
Conclusions
So, at the end of the day, which pair of headphones should you buy? It all depends on your needs and budget. The Sony WH-1000XM5 headphones are cheaper, and offer some great features, like Bluetooth multipoint and some useful tweaks from the Sony Headphones Connect app. They also sound great, and are much more comfortable for long listening sessions.
However, if you find the AirPods Max headphones for a good price and don't mind the higher cost, you'll also get some great features like Automatic Switching, Spatial Audio and excellent noise cancellation and transparency modes. And, of course, you'll get Apple's popular design — complete with distinctive colors.
If you're deep in Apple's ecosystem and want to easily use the headphones with all of your devices, buy the AirPods Max. Otherwise, stick to the cheaper, more customizable Sony WH-1000XM5 headphones.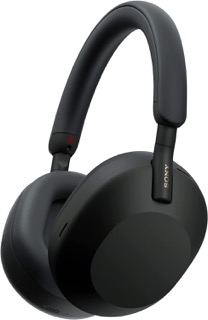 BGR may receive a commission