In a world of first-party earbuds that don't always sound great, there's plenty of room for options from high-end audio companies for those who want a little more from their music. The original Bowers & Wilkins Pi7 offered excellent audio quality and great features. Now, the company wants to take the earbuds a step further.
The Pi& S2 earbuds are built to offer even better audio quality and better Bluetooth connectivity. How well do the Bowers & Wilkins Pi7 S2 earbuds perform? I've been using the earbuds to find out.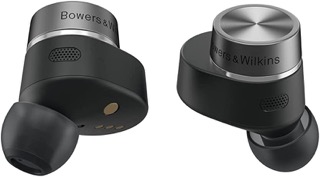 BGR may receive a commission
Pros
Great audio quality
Sleek design
Good noise cancellation
Cons
Not the best fit
Expensive
Bowers & Wilkins Pi7 S2 design
The overall design of the Bowers & Wilkins Pi7 earbuds remains mostly unchanged compared to the previous generation — save for a new blue color option. That's not a bad thing, though. The earbuds are far from ugly, with a multi-tiered design that sets them apart from much of the stem-laden competition.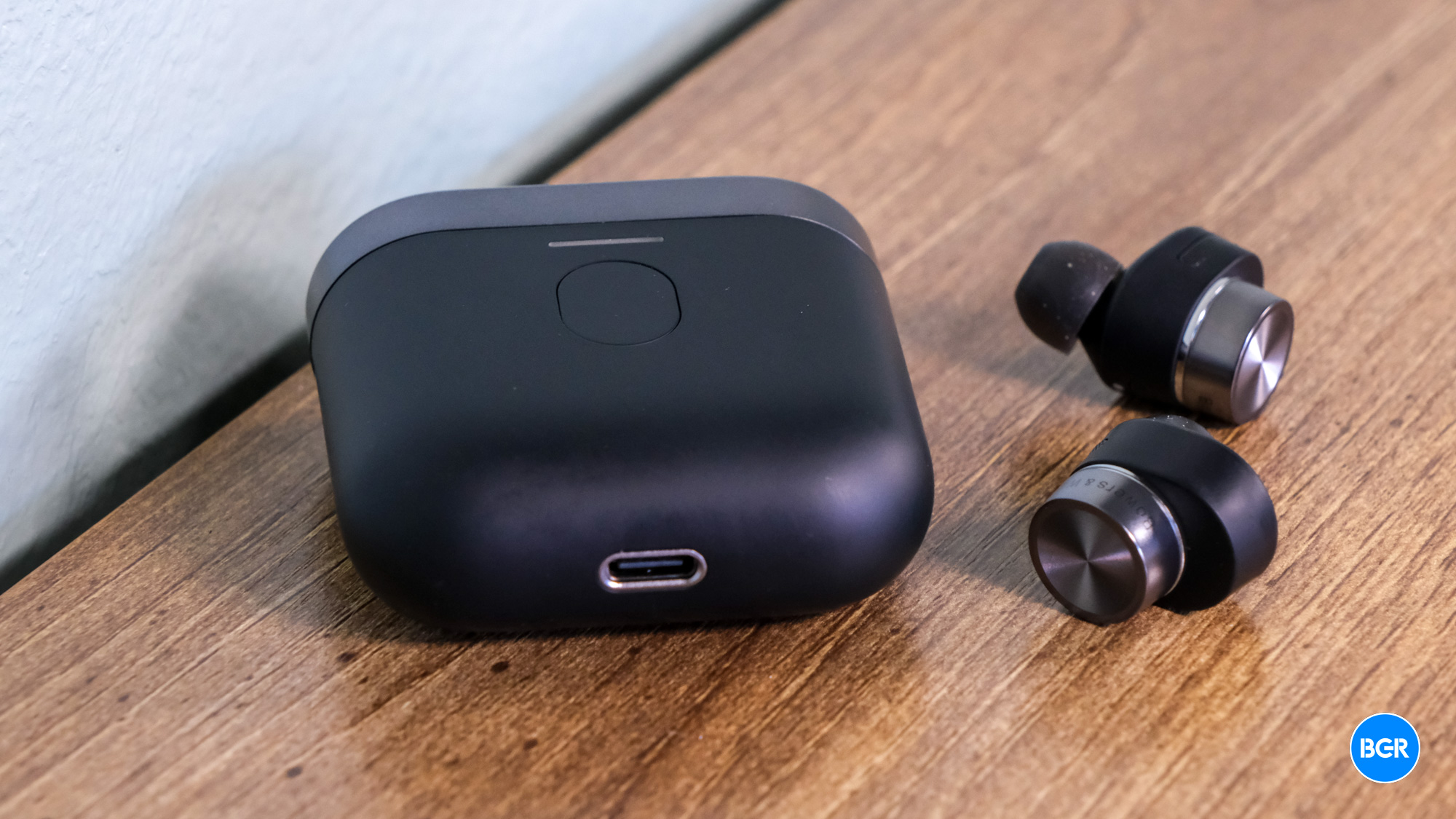 The Bowers & Wilkins Pi7 S2 earbuds feature intuitive controls designed to enhance user experience. Each earbud has a touch surface that allows you to control audio playback seamlessly. However, one limitation is that there's no way to control the volume directly from the earbuds themselves. Despite this, users will find that the touch surfaces are relatively responsive, making it easy to manage playback during usage.
The charging case for the earbuds is undoubtedly well-designed, featuring a sleek and modern appearance that complements the overall aesthetic of the product. There's a USB-C port on the bottom of the case. However, you can also use wireless charging, which is nice to see. However, the case is slightly larger than I would have preferred, making it a bit more cumbersome to carry around in pockets or small bags.
Still, generally, the earbuds are well-designed and mostly easy to use.
Bowers & Wilkins Pi7 S2 features and battery
The earbuds support a number of features that makes using them easy. For starters, while I used them with an iPhone, they also support Google Fast Pair, meaning that you can pair them quickly and easily with an Android device.
The earbuds also offer noise cancellation, and it works very well. I found it to be on par with or better than many of the best noise cancelling earbuds out there, easily blocking out most outside noise.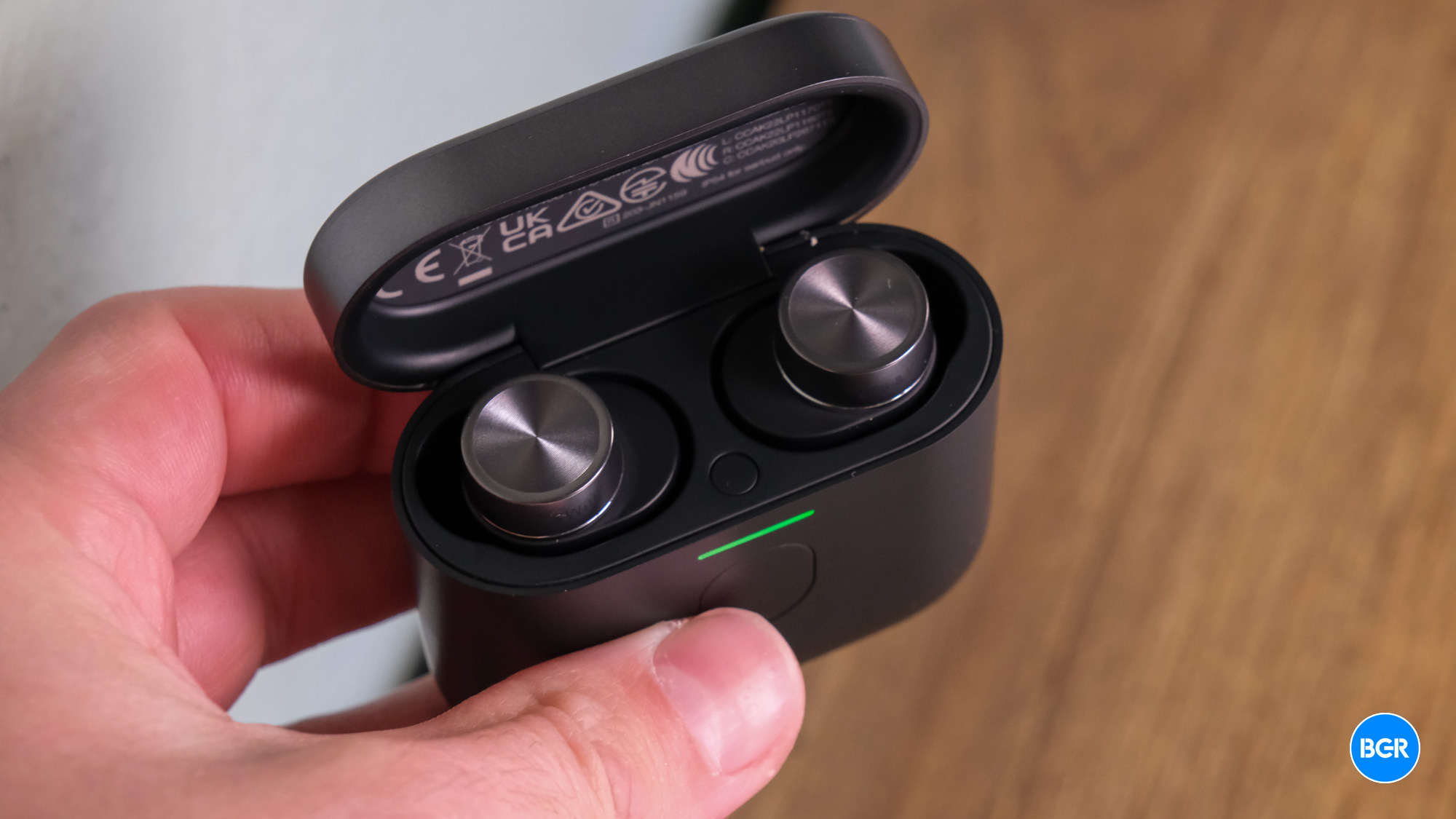 The headphones work with the Bowers & Wilkins Music app, which worked fine. The app is pretty basic and, unfortunately, doesn't allow you to do much beyond check your battery and change ANC modes. I would have liked to see an EQ, for example, along with the ability to change the tap controls.
The battery life on the earbuds is 5 hours on a single charge, with ANC off. That's not bad, but it's also not great. I would have liked a longer continuous battery life. The charging case offers an additional 16 hours, which is pretty good — though you would expect that from a case as large as this one.
Bowers & Wilkins Pi7 S2 comfort
The Bowers & Wilkins Pi7 S2 earbuds offer a mostly comfortable listening experience. The earbuds are crafted with ergonomics in mind, providing a snug fit for extended periods of use. The silicone ear tips come in a few sizes, ensuring a personalized fit that conforms to the unique shape of each user's ear. The size of the earbuds can be a minor issue for some users, though. Their slightly larger design may not accommodate all ear sizes or shapes, potentially causing mild discomfort during extended wear.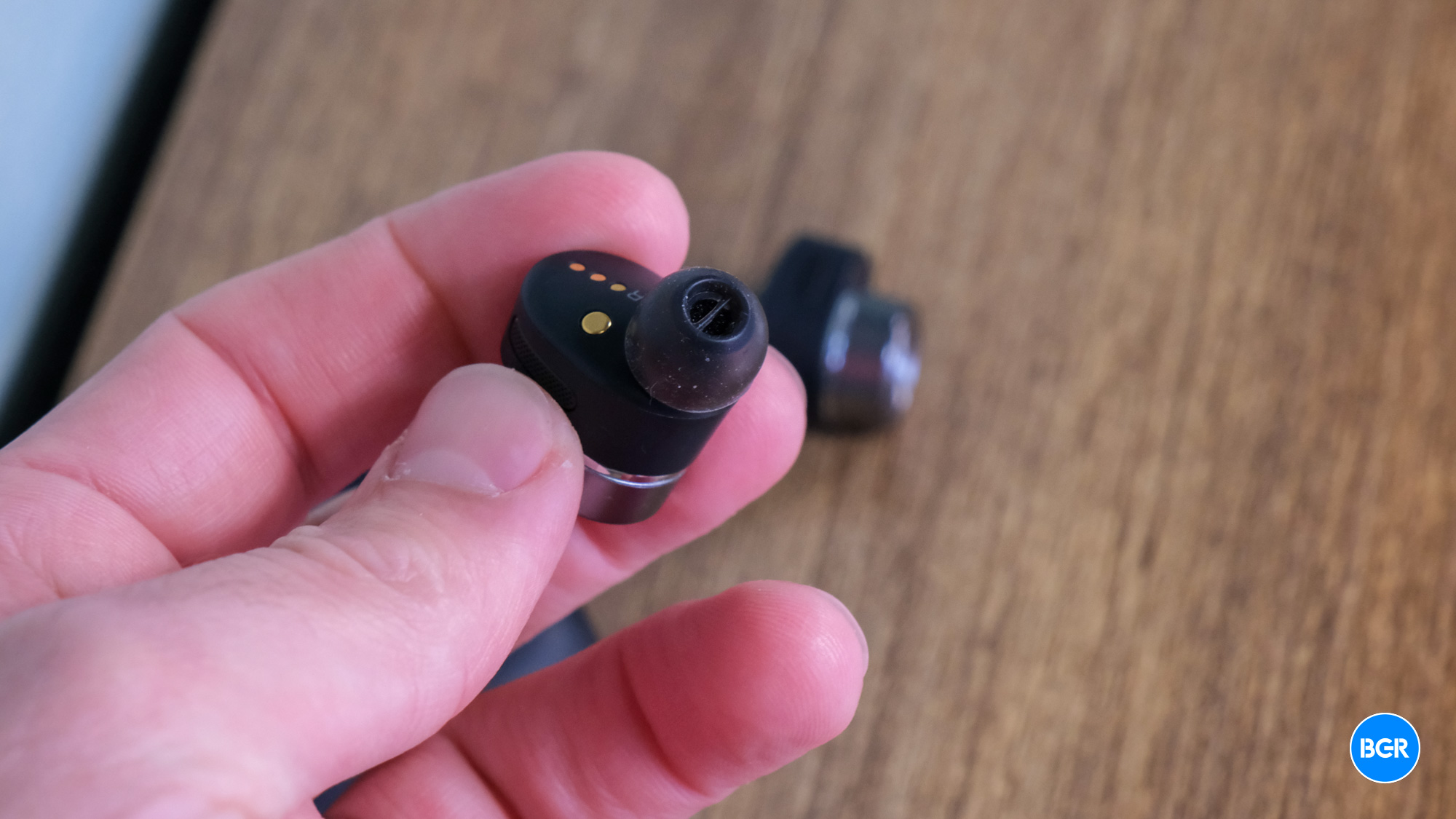 While the earbuds deliver an impressive audio experience, they may not be the ideal choice for individuals with active lifestyles or those engaging in rigorous physical activities. The earbuds have a tendency to fall out under heavy movement, which could prove frustrating for users looking to enjoy their music while exercising or participating in sports.
Bowers & Wilkins Pi7 S2 sound
The Bowers & Wilkins Pi7 S2 earbuds deliver exceptional sound quality.
For starters, the bass response is both strong and deep. These earbuds are capable of reproducing low frequencies with precision, providing a rich and satisfying listening experience for bass enthusiasts. The powerful bass does not overpower the overall audio balance, ensuring that the other frequency ranges are still distinguishable and enjoyable.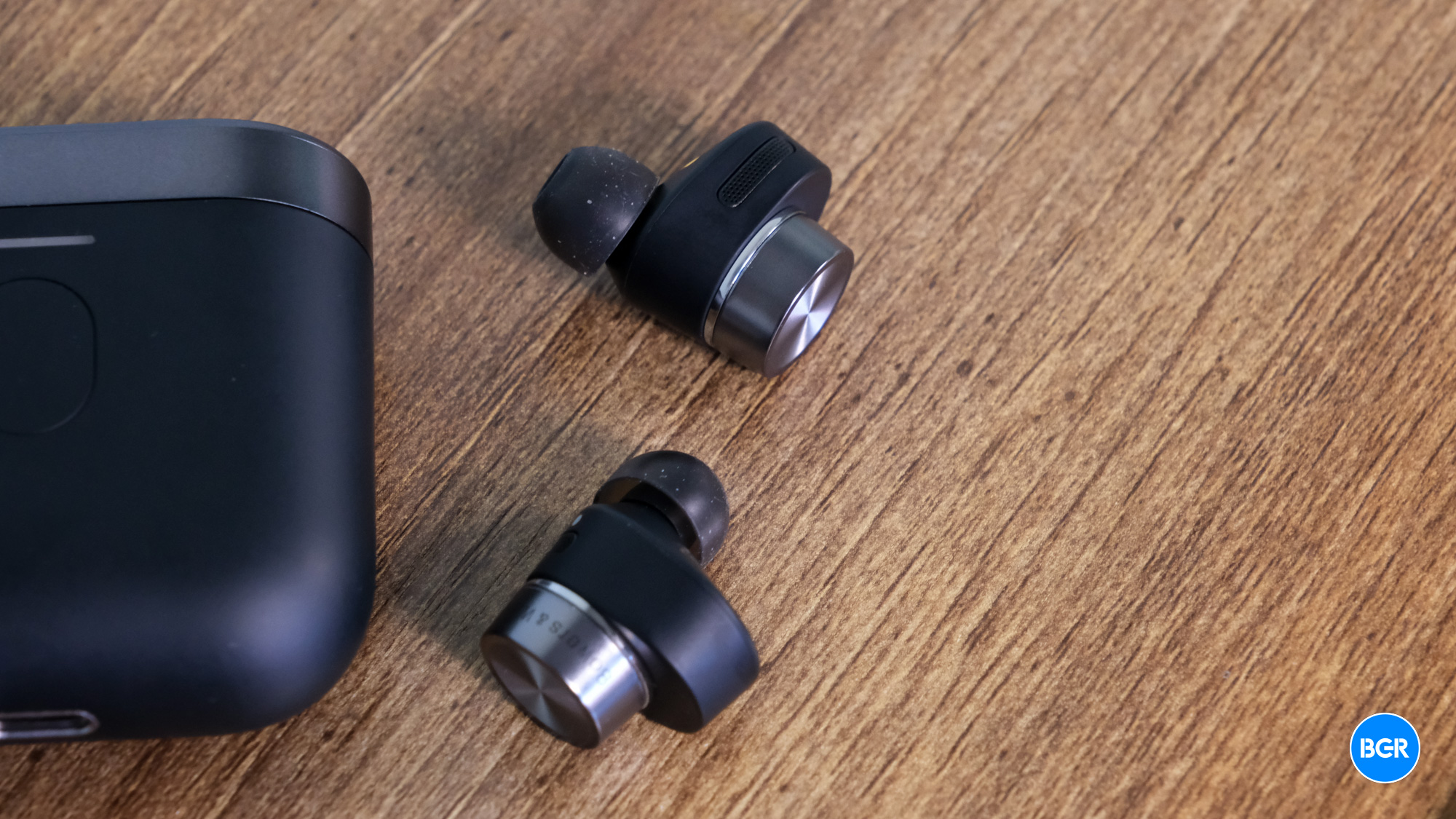 When it comes to the midrange frequencies, the Bowers & Wilkins Pi7 S2 earbuds exhibit a slightly scooped sound signature. This means that the mids are somewhat recessed, which can lead to less natural reproduction of vocals and instruments. However, despite this, the mids still sound great, offering a pleasant listening experience that complements the strong bass and clear treble. This unique sound profile ensures that the earbuds can cater to a wide range of musical genres and preferences.
In terms of the high frequencies, the Bowers & Wilkins Pi7 S2 earbuds excel in delivering clarity and detail. The crisp highs provide an accurate representation of instruments such as cymbals, strings, and other high-pitched elements. This level of detail allows listeners to fully appreciate the intricacies of their favorite music, as well as pick up on subtle nuances that might be missed with lesser-quality earbuds. The combination of defined highs, scooped mids, and powerful bass creates a well-rounded and engaging sound experience.
Generally, the Bowers & Wilkins Pi7 S2 earbuds offer a great listening experience, marked by their strong and deep bass, slightly scooped but still great-sounding mids, and clear and detailed highs.
Conclusions
The Bowers & Wilkins Pi7 S2 earbuds offer a high-quality audio experience backed by a comfortable fit and user-friendly design. While they might not be the best choice for those with active lifestyles, these earbuds provide exceptional sound quality, which includes deep bass, slightly scooped mids, and clear, detailed highs.
They're also pretty expensive. At $400, there are many other options that are worth considering first, and frankly, they don't quite do enough to warrant the high price tag.
Should I buy the Bowers & Wilkins Pi7 S2 earbuds?
Maybe, but only if you're willing to pay a premium for the Bowers & Wilkins name.