I've loved the concept of Rivian since it first announced the R1T. An adventure-focused electric vehicle that could take on the every day as well as the rugged terrain that nature has to throw at it? Yes, please.
I love the outdoors. I love hiking, camping, backpacking, kayaking, and all of the things you'd expect from someone who currently owns a Subaru Crosstrek and spends their weekends at their local REI. While I love my Subie, I'd love to switch to an electric vehicle — not only for the environmental benefits but for the performance and technology improvements as well.
While Subaru does have one electric car in its fleet so far — the Solterra — I'm not a fan of the design. So, for someone who is looking for an adventure EV, Rivian really has that niche on lock right now for me. However, the barrier to entry with Rivian, like many electric vehicles, has always been the price. Getting into its electric truck, the R1T, starts at over $70,000 right now. If you'd prefer an SUV, the R1S starts even higher. And, after adding in the upgrades you may want, those prices can easily climb over $100,000.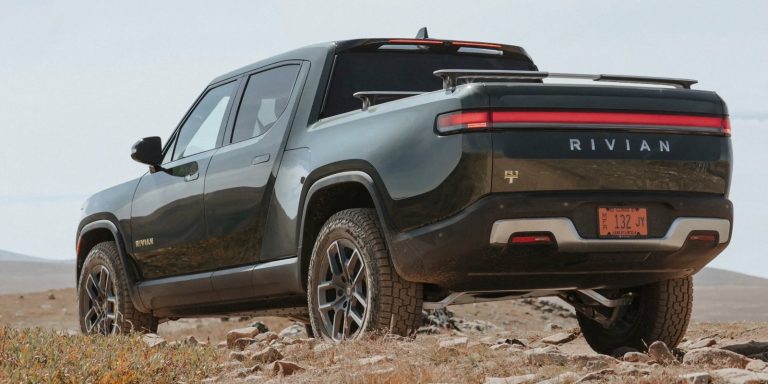 I personally have my Subaru paid off, so I've started to set money aside for my next car whenever the time is right. That said, there's no way I'm going to feel like I'm making a good financial decision dropping over $70,000 on a car, no matter how much I save right now. Because of this, I've been considering picking up a Tesla Model 3 or Model Y. They are fantastic cars with a software and charging network like no other and I imagine, especially for the day-to-day and for road trips, they would be a blast to drive.
However, I want to be able to take my vehicle on the beaten path, and the Tesla Model 3 and Tesla Model Y were definitely not made to go off-road. Of course, there are some trails they could do and, with some modifications, many more, but that hasn't been the intention of those vehicles. They're great for getting to the campground, but not driving out into the backcountry to find a primitive site or just take on an off-road trail. I still feel more confident taking my Crosstrek out for those kinds of adventures.
There's hope for an affordable adventure vehicle yet
So, I found myself staring longingly at the R1T with no hope of ever actually buying one in the near future. That is until Rivian CFO Claire McDonough said that the R2, the company's upcoming and still mysterious smaller SUV, could start as low as $40,000. Speaking at the Deutsche Bank conference covered by CarBuzz, McDonough revealed that the new SUV will cost between $40,000 and $60,000 and be revealed in early 2024 with a release in 2026.
McDonough says that the R2 will maintain a lot of the design elements of the more expensive R1T and R1S but be a smaller SUV targeting the general SUV/crossover market.
"R2 really leans on the brand and ethos of what R1 has started," she adds, suggesting the baby R2 will be similar to the larger models but in a more condensed package. "It still maintains some of that adventure aesthetic, but it's also contemplating and thinking about … where we're investing in capabilities that allow us to maintain that more affordable price point, and, therefore, a larger addressable market for the vehicles."
The smaller SUV, with such a smaller price point, is sure to miss out on some of the more premium features and experiences that the R1T and R1S enjoy, but it does sound like the company is trying to maintain the core purpose of what makes Rivian different with its vehicles. So, I'm expecting the R2 to actually be quite similar to my Subaru — a vehicle that works great for the day-to-day but, on the weekends, can head out into nature with little to no problem.
Why the R2 will likely be my first EV
If Rivian is really able to deliver an adventure-focused electric vehicle at a $40,000 starting price point, it will likely be the first EV that I buy. My Subaru is still going strong so I don't need to rush into a new car in the near future and can use the next three years (if it does end up coming out in 2026) to save for it.
A $40,000 car is still really expensive for someone like me who has never paid more than $20,000 for a car. With the current interest rates, financing the full car for 72 months could easily make the monthly payment come to well over $600 per month. For me, that's not something I'm comfortable with. But, if I have three years to save for it, I can make that a much easier leap in terms of monthly payment and overall cost.
The R2 will also benefit from Tesla's NACS connector and the company's vast charging network, two things that make the transition even easier for anyone with range and charging anxiety. Major props to Tesla and Rivian for working together on that one.
I'm ready to make the jump into an electric vehicle. Between the environmental benefits and the performance/experiential benefits, I can't wait to dive into this future. For me and the adventures I want to go on, it's looking like the R2 is the vehicle I've been waiting for.