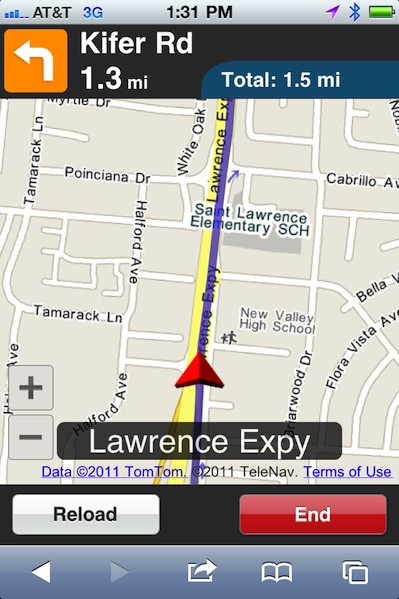 TeleNav just announced that the company will soon introduce a brand new voice-guided GPS navigation service for use in mobile apps and web sites. The innovative navigation solution will be HTML5-based and it will include spoken turn-by-turn directions. By using one line of code, TeleNav will provide free navigation to any mobile app or mobile web site, supplanting the need in many cases for something static like Google Maps. TeleNav let us know that this service will be free even for non-TeleNav subscribers, which is amazing if you think about it. The service will be launching "early next year," though developers can start testing the service starting today. TeleNav's full press release is included after the break.
TeleNav Announces World's First HTML5 Browser-Based, Voice-Guided, Turn-by-Turn GPS Navigation Service

Free for both developers and consumers; Access available now for select developers

Sunnyvale, California — Dec. 15, 2011 – TeleNav, Inc. (NASDAQ: TNAV), one of the largest global wireless location-based services providers, today announced that it has created the first HTML5 browser-based, voice-guided, turn-by-turn GPS navigation service for mobile devices. By simply adding one line of code, developers of mobile websites or of apps with local content will have a free and easy way to integrate full GPS turn-by-turn directions into their services, creating a more seamless user experience and increasing user engagement and time spent within their applications.

Similar to TeleNav's award-winning GPS navigation application, the HTML5 navigation service will include full-color moving maps, audio directions, and automatic rerouting if the driver misses a turn. TeleNav's HTML5 navigation service will be free for both developers and consumers and will support all major mobile platforms.

"This is an enormous amount of added value for any mobile, location-based website or app focused on travel, shopping, local search, deals and more," said Sal Dhanani, co-founder and vice president of products for TeleNav. "With one line of code, you can give your customers one-click access to premium, voice-guided turn-by-turn directions to any location, including hotels, restaurants, merchants or deal locations. Customers never need to leave your app."

TeleNav would like to partner with select developers to test the service. Interested mobile website publishers and app developers can apply for early access by visiting TeleNav's website at www.telenav.com/developer/HTML5.

TeleNav expects to publicly launch its HTML5 service in early 2012. Consumers will not need to be current TeleNav customers but will need to have an HTML5-compatible feature phone or smartphone.