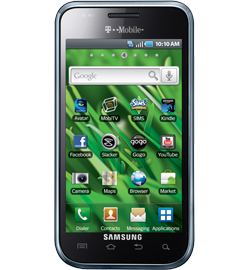 T-Mobile has just sent out a press release to let us know about its newest 4G smartphone, the Samsung Galaxy S 4G. The Galaxy S 4G will have an 21Mbps HSPA+ radio, Android 2.2, and Super AMOLED display. The press release is pretty light on specs and, conveniently, doesn't include a picture of the new device (the above image is the Vibrant). T-Mobile is promising to provide more details "in the coming week" — a price and release date would be nice — and we've got the full text of said release waiting for you after the break.
T-Mobile to Deliver Fastest Smartphone Running on America's Largest 4G Network

Galaxy S 4G Offers Rich Entertainment Experience at Lightning-Fast Speeds

BELLEVUE, Wash., and DALLAS — Jan. 20, 2011 — T-Mobile USA, Inc. and Samsung Telecommunications America (Samsung Mobile), the No. 1 mobile phone provider in the U.S.1, today revealed the Galaxy S™ 4G, exclusively from T-Mobile.

According to T-Mobile, the Galaxy S 4G will be the fastest smartphone running on America's Largest 4G Network™. Powered by Android™ 2.2 (Froyo), the Galaxy S 4G is T-Mobile's first smartphone capable of delivering theoretical peak download speeds of up to 21 Mbps, delivering rich entertainment experiences at even faster speeds through its brilliant Super AMOLED touch screen display.

T-Mobile's 4G network, America's largest 4G network, is currently available in 100 major metropolitan areas, reaching approximately 200 million people nationwide. With aggressive plans to expand and double the speed of its 4G network in 2011, T-Mobile expects that 140 million Americans in 25 major metropolitan areas will have access to these increased 4G speeds by midyear.

"With Galaxy S 4G, T-Mobile will deliver its fastest smartphone yet on America's largest 4G network, providing rich entertainment virtually whenever and wherever consumers want," said Cole Brodman, chief marketing officer, T-Mobile USA. "And with 4G data plans from $10 per month, we're making blazing-fast 4G speeds and super smartphone experiences easily accessible to the millions who crave them."

More information on the Galaxy S 4G from T-Mobile will be available in the coming weeks.

T-Mobile's HSPA+ 4G network not available everywhere. See coverage details at T-Mobile.com. 4G used in connection with the Galaxy S™ 4G product name refers to the fact that the Galaxy S™ 4G is designed with HSPA+ technology.