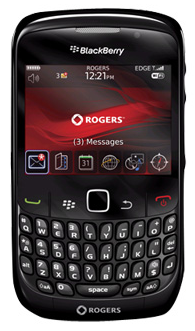 If we told you how many emails we get asking about BlackBerry 8520 availability and pricing for Canada, there's a good chance you wouldn't believe us. It so happens that one of our Canadian connects (ninja is so yesterday) just blessed us with more information on the Rogers BlackBerry 8520 than we know what to do with. As far as colors go, as we've seen, it will be available in black and violet color options. The built-in UMA support will enable the device to take advantage of Rogers' TalkSpot service just like the T-Mobile variant in the United States does. Here's a brief recap of device specs before we get into the really good stuff:
512MHz CPU
2 megapixel camera, fixed focus, no flash
320×240 display
256MB of RAM
3.5mm headset jack
QWERTY keyboard
Trackpad
Wi-Fi with UMA
Quad-band GSM/GPRS/EDGE
In terms of pricing and availability, the BlackBerry 8520 is available starting tomorrow, October 8th, for $99 on a three-year agreement with minimum combined service fees of $45/mo or more.