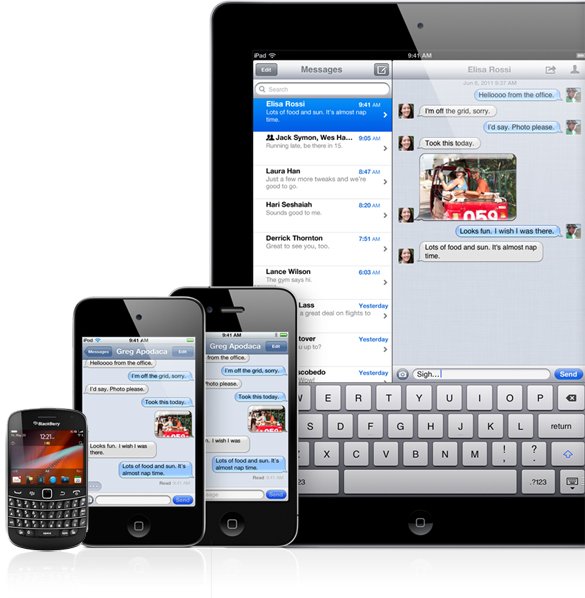 Look, people that know me know that I've been a BlackBerry fan from the beginning. The entire reason BGR was started was because I was breaking information on upcoming BlackBerry devices, mainly because I was obsessed with RIM and wanted to share that information. As we've all seen, however, RIM isn't the market leader any longer. The company really isn't innovating, and even worse, it's not even competing with the titans of the smartphone space now: Google and Apple. All three companies have different product strategies, with Google and RIM being the most similar — they view devices as products, and features as check lists. Apple views devices as windows, and features as end-to-end experiences. Hit the break for the rest.
The real problem with RIM is that it hasn't innovated for years. In that time, RIM's entire product portfolio has been arguably lackluster, reduced to meaningless hardware upgrades and meaningless software upgrades. The company has tried to right its path by transitioning to QNX, an OS it purchased that will not only run the company's tablets but smartphones as well in the next year to two. And the PlayBook by itself isn't a bad product — but compared to the iPad, it's a non-starter. RIM's BlackBerry OS 7 (also known as BlackBerry OS 6.1, also known as the same OS as BlackBerry 6, also known as the same OS as BlackBerry OS 5, also known as the same OS as BlackBerry 4.7, also known as the same OS as BlackBerry 4.5, also known as the same OS as BlackBerry 4.3, also known as the same OS as BlackBerry 4.2, also known as the same OS as BlackBerry 4.0…) isn't an overhaul, but just another stop-gap solution until QNX.
So the question now becomes: if a company that hasn't shown any leadership in the smartphone space hasn't caught up to where it needs to be today, then how will it ever catch up? As it stands, RIM offers decent hardware with borderline-terrible software. In the future, judging from the PlayBook, RIM will offer decent hardware with mediocre software.
A high-level source at RIM told me that co-CEO Mike Lazaridis' biggest fear was Apple creating a BlackBerry Messenger competitor. Today, Apple introduced iMessage, an app and service that not only looks better than BlackBerry Messenger, but probably works better as well. RIM's push email and corporate integration pitch is losing steam, and the company pretty much just got out-fruited. We exclusively reported the company was planning on launching an Android and then iPhone BlackBerry Messenger app, but that was supposed to be at least 3-4 months out for Android, and possibly a year for iOS.
I'm sad. Sad because RIM doesn't get it — and I'm not sure it ever will get it — and sad because RIM had the opportunity to once again be that innovator that it was in the past. It's still possible… but with each day, each press conference, and each product introduction from elsewhere in the tech community, that chance looks smaller and smaller.
You know what was the other thing Mike Lazaridis is scared of most from Apple? A hardware keyboard on an iPhone. Shit.