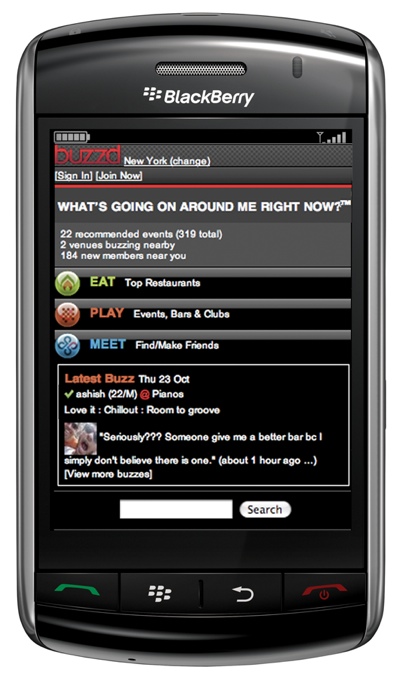 If you're keeping score, this is the second mobile application investment fund to start plowing money into potentially successful developers. Android had a developer challenge, but that's not really the same sort of beast. RIM's announcement came after Apple's highly publicized $100M iFund, and we now know what three companies RIM's BlackBerry Partners Fund has invested in:
buzzd
Digby
WorldMate, Inc.
Buzzd is basically a location-based information city guide with a splash of social networking, Digby is a mobile e-commerce service, and you're probably already familiar with WorldMate live and their mobile travel software suite. There's only one thing left to be said, folks… Is this the best they could friggin' come up with? Full press release is after the jump if you can keep your eyes open long enough.
BlackBerry Partners Fund Announces Investments in buzzd, Digby and WorldMate Mobile social networking, commerce and travel applications to receive funding from the BlackBerry Partners Fund
Toronto – October 29, 2008 – The BlackBerry Partners Fund LP, a $150 million venture capital fund formed to focus on applications and services for the BlackBerry® and other mobile platforms, announced today that the Fund has made investments in buzzd, Digby and WorldMate.
"Since its inception this past May, the BlackBerry Partners Fund has had the opportunity to review thousands of business plans from companies focused on developing the next generation of business and consumer applications for BlackBerry and other smartphone platforms," said John Albright, Co-Managing Partner of the BlackBerry Partners Fund. "Today, we are announcing investments in companies that are leaders in the mobile application marketplace."
"Around the world, people are becoming increasingly reliant on mobile devices in every facet of their lives, whether for business or personal use," said Kevin Talbot, Co-Managing Partner of the BlackBerry Partners Fund. "To capitalize on this unprecedented market opportunity, the BlackBerry Partners Fund is helping entrepreneurs drive innovation and develop cutting-edge mobile applications and services with a compelling user experience. Our goal is to be the primary destination for entrepreneurs that are building behavior changing smartphone applications and that are determined to be the architects of the mobile ecosystem of the future."
BlackBerry Partners Fund is proud to announce the following investments:
• buzzd, a location-sensitive city guide and social network for mobile devices, has raised $3.2 million in a Series A Preferred Stock financing with BlackBerry Partners Fund, Greycroft Partners, Monitor Ventures and Qualcomm Ventures.
"buzzd is proud to be one of the first investments of the pioneering Blackberry Partners Fund," said Nihal Mehta, CEO of buzzd. "With the proliferation of smart phones around the world, we are excited to be part of a revolution that leverages rich handset functionality such as location-sensitivity and increased relevance to consumers everywhere."
• Digby, a leading mobile commerce service provider, has raised $5.5 million Series B Preferred Stock with the BlackBerry Partners Fund and existing shareholders.
"We're thrilled to be working with the BlackBerry Partners Fund to advance our business to the next level. Their knowledge of the mobile market and experience with building successful companies will play a critical role as we expand our marketing and sales activities", said Dave Sikora, Founder and CEO of Digby, Inc. "We are looking forward to solidifying our leadership position and accelerating adoption of our storefronts in the mobile commerce market."
• WorldMate, a company that has paved the way for mobile travel innovation and serves over one million frequent flyers and road warriors around the world, has raised $8 million in a Series C Preferred Stock financing with BlackBerry Partners Fund, Motorola Ventures and AMC Communications.
"We share the BlackBerry Partners Fund's vision for a mobile internet business based on meaningful, valuable and profitable consumer experiences, and are honored that they consider us one of the companies spearheading movement toward this vision," said Nadav Gur, CEO of WorldMate. "We've been instrumental in helping the travel industry enter the mobile space. This funding, as well as our association with the BlackBerry Partners Fund will help us take our leadership in this segment to the next level of commercial success."
About BlackBerry Partners Fund
The BlackBerry Partners Fund™ is designed to deliver superior returns on the compelling investment opportunity in applications, services and supporting infrastructure for the BlackBerry and other mobile platforms. The Fund's mandate is based on the premise that in the future smartphones will be powerful portable computers for use at home, work, and leisure. The Fund invests in companies developing applications that make smartphones a compelling platform for media, commerce, enterprise, entertainment, and lifestyle applications. The Fund is global in scope, will consider all stages of development and is co-managed by JLA Ventures and RBC Venture Partners. For further information visit: http://www.blackberrypartnersfund.com.
About buzzd
buzzd (http://buzzd.com) is a location-sensitive city guide and social network on the mobile device. buzzd answers the question, "What's going on around me right now? ™" by allowing consumers to get up-to-the minute information on what's happening at any venue right now, rate events and connect with friends and other people in the area.
About Digby
Digby is the premier mobile commerce solution provider powering the mobile channel for top retailers. The award winning Powered by Digby platform delivers an optimized shopping experience with both web and application based mobile storefronts that include easy search, browse and purchase capabilities, personal information integration, secure wallet and location based service functionality. Led by software industry veterans, the privately held company is headquartered in Austin, Texas. For additional information, please visit http://www.digby.com.
About WorldMate, Inc.
Based in Lod, Israel, privately held WorldMate® develops award-winning mobile travel software. Removing stress and paperwork from the travel experience, WorldMate turns a mobile device into a personal travel companion, providing frequent fliers all the travel services they need at home, work or on the go. Dubbed a traveler's "guardian angel," the newest addition to the WorldMate product family, WorldMate Live, tracks every trip and sends real-time "push" alerts about itinerary updates and changes, including flight delays and cancellations. WorldMate products also feature travel resources, such as flight schedules, weather forecasts, travel directories, maps, world clocks, a currency converter and much more. For more information, visit http://www.mobimate.com.  WorldMate® is a registered trademark of MobiMate Ltd. All other trade names and trademarks are the property of their respective holders.