Apple didn't exactly surprise the tech world with a MacBook Air update at its Back To The Mac event a couple weeks ago. The infamously-thin notebook hadn't been updated in over 500 days, and there were more rumors and leaks on the unannounced product than we could shake a stick at. When the new Air was finally revealed, we got a look at some decent to very-good specifications, an even better and thinner design, and a more functional and useful product; that's not to mention the device's 11-inch baby brother which retails for only $999. We did our hands on thing with the 11-inch unit, but, in our eyes, it proved to be too small for daily use, so we've gone ahead and reviewed the 13-inch model. Read on for our thoughts!For starters, the new MacBook Air, even though it's not drastically externally-different from the first one, seems like a completely new product — especially since we only used the first, first generation laptop. The two USB ports, something that should have been standard all along, have finally appeared and — thankfully — on opposite sides of the notebook. This way, you can plug in multiple USB devices without having to worry about them knocking into each other and making only one of them usable at a time. There's an SD card slot on the right side of the device, a mini display port just next to it, and a headphone jack and a mic on the left.
It feels like Apple has evolved the MacBook Air into a new class of notebooks — one based solely around solid-state parts to give users an "instant" experience — much like how an iPad operates. There is no user-accessible anything on this computer, no hard drive access, RAM access, nothing. This allows the computer to literally boot in around 15 seconds from a powered-down state, wake almost instantly from sleep, and also enter into what Apple calls a "deep sleep." This new mode will allow the computer to practically stay in suspended animation for up to 30 days. This is also in addition to around 7 hours of "real world usage" battery life, which we can confirm is reasonably accurate.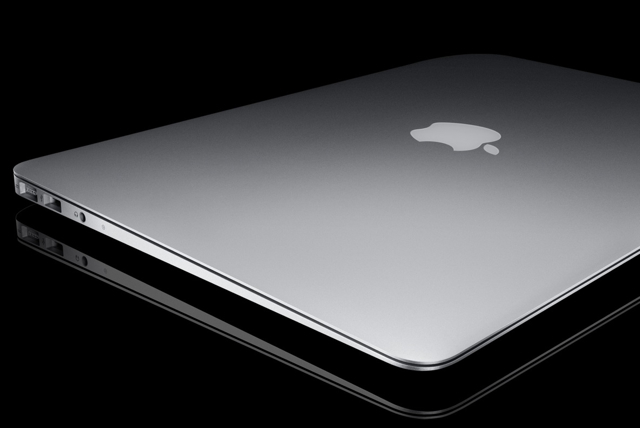 Now, what have we missed since we switched from a 15-inch Core i5 8GB RAM 256GB SSD MacBook Pro? Honestly, you're going to laugh, but not much. Sure incredibly intensive tasks take longer on the MacBook Air, but realistically we haven't noticed a day to day difference in 95% of the work we do. Even something as complex as importing 1GB of HD video into iMovie '11, editing the footage, and exporting and uploading a movie trailer creation was effortless. It took us around 7 minutes to export and upload a high quality movie trailer.
Aperture also functions very swiftly on the 1.86GHz machine with 2GB RAM that we're using, and Photoshop — in our normal usage — hasn't bogged down or hampered our workflow once.
We're always carrying a notebook to and from the office, covering events in real time, and working from the car. The sacrifice in raw horsepower from switching from a MacBook Pro is dwarfed by the amazingly light and sufficiently speedy Air. We can't even look at the 15-inch MacBook Pro the same, and this is what the future of all Apple notebooks will be someday. The MacBook Air barely has heated up on us, and we have barely heard the one singular fan within humming away — a real testament to how perfectly engineered the notebook is. We have no doubt that Apple will slowly transition even the MacBook Pro into a much thinner, portable product. If we had to bet, we'd be willing to say that the MacBook Air will replace the MacBook category, be called simply a MacBook, and the MacBook Pro will be left at the top, though slimmed down a bit.
For all our praises, there are definitely a couple things that bugged us about the new unit, though obviously nothing big enough to deter us from making it our main machine. We're not thrilled with the visibility of the caps lock key — of all things — it's a very faint green and it's difficult to see when it's active or not. It also requires more pressure than the rest of the keyboard, at least on our unit.
We miss the backlit keyboard which existed on the first generation MacBook Air and we miss the ambient light sensor even though we basically would fight it on all occasions. Not having an ethernet port is also a slight bummer, but we understand the port physically wouldn't fit height wise with the notebook's design. Still, we'll have to carry a USB ethernet adapter at all times in the event Wi-Fi isn't available, and it will take up one of the USB ports.
All things considered, what the new MacBook Air is, is an advancement of the laptop in ways that no other manufacturer has come close to touching. It's not the least expensive option out there, though we wouldn't necessarily call the most expensive option either. What the MacBook Air has done, is slowly start to transform the laptop industry much like the iPad and iOS have started to transform the mobile industry. Soon, all laptops will not require moving parts, they will also offer almost instant boot times, run cool, run fast, and they'll be thin. Because thin is in.