"Once upon another time,
Before I knew which life was mine,
Before I left the child behind…"
Sara Bareilles' song Once Upon Another Time, the title track from her fifth EP released back in 2012, is one of a pair of tunes that forms something of an emotional, musical throughline pervading Lost Ollie, Netflix's just-released gem of a limited series and a Pixar-like ode to toys and growing up that will take your heart and break it into a million pieces.
The other song heard even more often throughout this series about a toy (the titular Ollie) searching high and low for the young owner who lost him is the Everly Brothers classic All I Have to Do is Dream. We hear the song, for example, when an effervescent Gina Rodriguez — who plays young Billy's angel of a mother — is wearing a hospital gown, leaning down to comfort Billy in front of an MRI machine.
Lost Ollie Netflix series
When I want you in my arms
When I want you and all your charms
That hospital scene morphs into an image of Ollie, a young toy bunny with floppy ears brought to life by the wizards at Industrial Light & Magic. He's singing the same tune, not knowing what else to do as he desperately searches for the owner he can't find.
I need you so, that I could die
I love you so, and that is why
If those songs tell you anything, it's that there's a Pixar and Toy Story-like comparison to be made here. But only on the surface, really. If the animators and storytellers at Pixar weren't afraid of darkness and loss, Lost Ollie is the kind of story they might produce.
"A heartwarming tale"
This series was inspired by the book Ollie's Odyssey by author and illustrator William Joyce. Netflix says it's, basically, "an epic adventure about a lost toy who braves the many dangers of childhood as he searches the countryside to reunite with the boy who lost him."
It's also "the story of the boy who lost more than a best friend. It's a heartwarming tale for the child in us all, remembering those special souls that we've lost but who forever changed our lives."
READ MORE: Here are the 4 new Netflix releases everyone will be talking about next week
---
A note to parents: Don't let this series' trailer fool you. Lost Ollie is probably not appropriate for the youngest viewers out there. It's as much about loss and the danger of letting grief overwhelm you as it is the magic and wonder of childhood.
Indeed, one of the toys herein is a clown, Zozo. He falls in love with Nina, a toy Balinese doll, in the episode Bali Hai. And then — well, let's just say he goes to a pretty dark place in trying to find her again after she's sold off to a new owner. He pines, laments, stews, and eventually lashes out over the loss of his love. And that's just one of many examples I can point to in defense of why I say this utterly magnificent series is ambitious in its storytelling like nothing else you've probably ever seen in a series about children's toys.
"Do you know how much you mean to my boy?"
If nothing else, Lost Ollie will remind you of that halcyon, all-too-brief period of your childhood when toys like these were your world. Before you learned about grief and hard times and everything else … well, out there.
"It's been said that time passes over us but leaves its shadow behind," Zozo, voiced by Tim Blake Nelson, narrates at one point during his search for Nina. "I'm lost in that shadow, drifting from the light into the darkness. As the years march on. And on. And on."
In desperation, Zozo takes refuge inside a thrift shop run by a woman named Flossie. Outside of the shop stands a sign that reads: Rare finds can only be found in exceptional places. An adventurous bear named Rosie with a lightning bolt patch over one eye (and voiced by Mary J. Blige) eventually befriends Zozo. And she reassures him that: "Nina's lost, but you don't have to be. Because I'm here with you."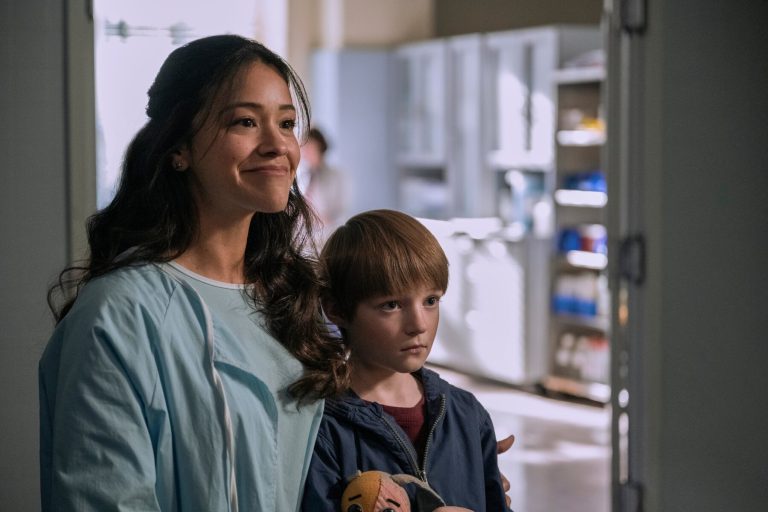 In my opinion, only the most stoic and emotionless viewers out there will be unmoved by the places this show goes to. Like the moment, near the end, when the sick mother gives Ollie a message to pass along to Billy. "Do you know how much you mean to my boy?" she tells her son's bunny, fighting back tears. It's one of the most memorable scenes, in one of the most singular Netflix releases of the year.
---
More Netflix coverage: For more Netflix news, check out the latest new Netflix movies and series to watch.