Back in 2015, when Splatoon launched on the Wii U, all I could think about was all the people that would never get a chance to play it because it was only available on a dying console. Thankfully, Nintendo knew it had something special on its hands, and immediately got to work on a sequel for its new console.
On the whole, not much has changed in the two years since Splatoon launched on the Wii U.
Every time you boot up Splatoon 2, you'll be greeted by a short video from Pearl and Marina (taking the place of the Squid Sisters from the first game). They'll run through all of the multiplayer maps currently in rotation on their show "Off the Hook," and once the broadcast ends, you'll be set to do as you please in Inkopolis Square — the hub world replacing Inkopolis Plaza in Splatoon 2.
From Inkopolis Square, you can jump into the game's competitive multiplayer (the bread and butter of Splatoon), shop for new clothes and weapons to get a leg up on the competition, travel to Octo Canyon to take on the game's single-player campaign or head over to Grizzco to participate in the game's new co-op mode: Salmon Run. Plus, the square is filled with avatars of other players.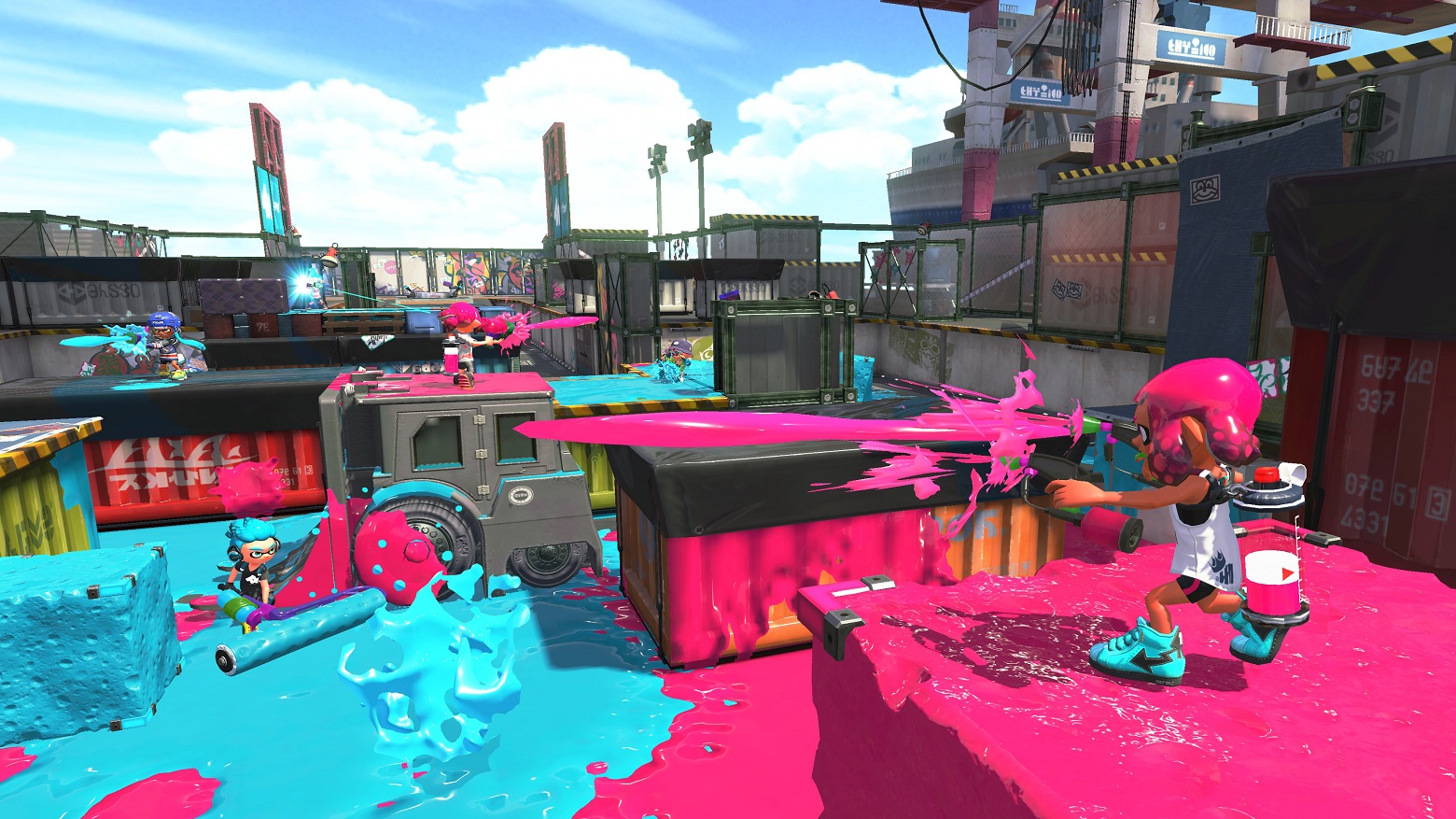 The most important thing for Nintendo to do was to bring the exceptional, unique multiplayer of Splatoon to the Switch without breaking anything in the process. With Splatoon 2, the company has done exactly that. In Turf Wars — the game's main competitive multiplayer mode — two teams of four players compete to cover as much of the map with their color of paint before time runs out.
They'll do so with a wide variety of weapons, some of which have been recycled from the first game (with new abilities), some of which are brand new. Painting the map not only earns you and your team points, but by turning into a squid, you can swim through surfaces covered in your paint, allowing you to move faster around the map and hide from your opponents. It's genuinely thrilling, and after spending several hours playing online over the past week, I've already picked out my favorite maps.
There are still several confounding quirks that left me scratching my head — like forcing players to back out of matchmaking altogether in order to swap out their gear or refusing to let players leave while the game is searching for more players — but as a reviewer, I'm playing online with a much smaller pool of players. These issues won't be as big of a deal when the game launches.
If you want to get your feet wet (or maybe "inked," since it's Splatoon) before you start competing against other players, you're going to want to check out the story mode in Octo Canyon. Much like the first game, the campaign of Splatoon 2 consists of five sectors, each containing several puzzle-platforming levels and a boss fights. Some of the levels were incredibly inventive, while others left me frustrated, but it's not a bad way to spend a few hours while you wait for Super Mario Odyssey.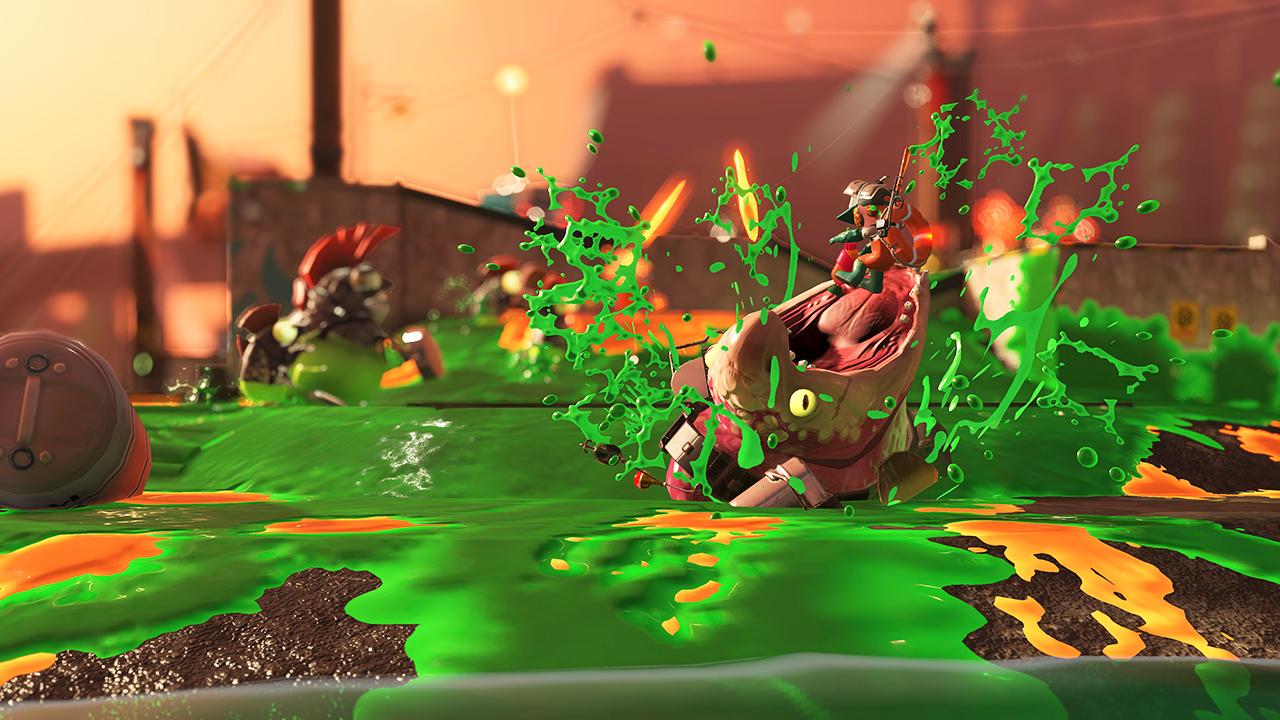 But the most substantial addition to Splatoon 2 is the cooperative hoard mode called Salmon Run. In Salmon Run, you and up to three other players are dropped on a small island where you're forced to fight off waves of enemies emerging from the depths.
Your secondary goal is to stay alive and revive your teammates when they need help, but your main goal is to work together to defeat the boss monsters, which drop golden eggs that have to be collected and dropped off at a specific location in the middle of the map. Each run lasts for a few rounds, but if you don't collect enough golden eggs in a round, you're done.
As much fun as I have competing against other players in Turf Wars, I might actually prefer working with players to accomplish a goal. All Salmon Run needs now is more maps.
Splatoon 2 really didn't need to be anything other than a director's cut of the original Splatoon. The first game was good enough that it deserved to exist after the Wii U's inevitable death, but rather than port Splatoon over to the Switch with upgraded graphics, Nintendo made a legitimate, worthwhile sequel.
Splatoon 2 isn't perfect, and it doesn't fix everything that was wrong with the first game, but it's a fantastic addition to the franchise and will be one of the best games available for the Switch when it launches on July 21st. Whether you missed out the first time around or have been playing Splatoon nonstop since 2015, Splatoon 2 is both a worthy successor and a great jumping-off point.
---
Nintendo provided BGR with a copy of Splatoon 2 on the Switch for this review.