Skyrim has become something of a meme in recent years. Since being heralded as one of the best action RPGs of all time when it launched, it has been remastered and re-released repeatedly on the Xbox 360, PS3, Xbox One, PS4, PC and even on the Switch. And now, in what might be its final restoration (until Bethesda finds a way to cram the game on to mobile devices), Skyrim has been adapted for virtual reality in the appropriately named Skyrim VR.
Having played through Skyrim from start to finish more than once, and having drudged through the opening act more times than I care to remember, I was skeptical that what amounted to a gimmick would be enough to draw me back into the snow-capped region that I'd already seen every inch of. But within moments, I was captivated.
Skyrim VR just happened to launch on the same day as Skyrim for the Switch. I spent some time playing both games pre-release, but even with the added perk of being able to take the massive RPG with me wherever I went, the Switch version simply didn't hold my attention. It is a completely adequate version of the game, but it's the same game I've exhausted over the past six years. On the other hand, seeing Tamriel in VR piqued my interest immediately.
I have a long history with The Elder Scrolls, having spent days and days engrossed in Morrowind back in the early 2000s. Even though I didn't think that Oblivion or Skyrim lived up to the promise of Morrowind, I still enjoyed existing in that fictional world. With Skyrim VR, I can actually step into that world for the first time.
As big a fan as I am of VR, there haven't been many triple-A experiences on the Vive, the Oculus or PlayStation VR to date. Farpoint was about as close as I've seen, but it was still a rather linear game. What I really wanted from VR was an open world I could explore beyond the boundaries of my TV's bezel. That's what Skyrim VR provides, as the whole of Skyrim has been translated to virtual reality. But a VR walking tour of Skyrim wouldn't have been enough. I wanted to feel immersed in this world, and in many clever yet subtle ways, Bethesda accomplishes this.
Sitting in that familiar cart after starting a new game, I realized that I was actually turning my head back and forth to watch the other passengers as they had a discussion which I've basically memorized by now, rather than using the right thumbstick to move my character's head. Instantly more engrossing than it ever had been. Once I actually took control of my character, it was a bit of an adjustment. Because there haven't been many (or really any) open world VR games of this scale, running around the environment freely made my head spin at first. But after hacking, slashing, jumping and sprinting my way through the intro mission, I felt comfortable with the controls.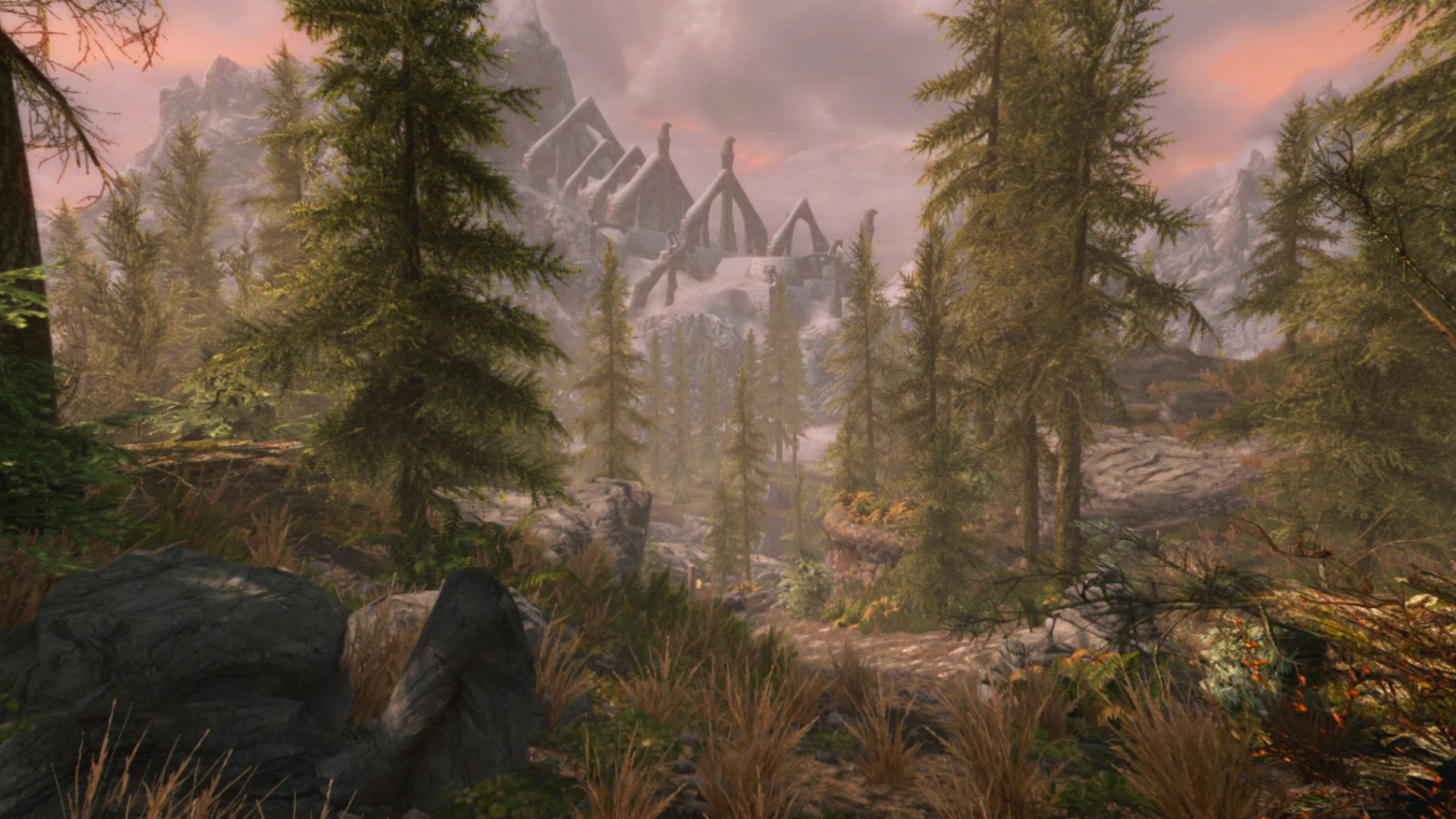 There are two ways to play Skyrim VR: with the DualShock 4 controller or the PlayStation Move controllers. Although the Move controllers are more dynamic and engaging, I had an easier time with the DualShock. I don't need to really swing the sword to get what I wanted out of the experience. There are also a couple of different movement options. I personally can't stand the teleportation movement option in VR games, so I stuck with direct movement.
Although the movement takes some getting used to, I actually found that I could aim with the game's bows far better using my sight as the reticle than I ever could with the thumbstick in the standard version of Skyrim. And as for those little immersive touches I alluded to above, having to physically look at an object or a container or a corpse in order to interact with them drew me in that much more. I've only spent a few hours with the game so far, but for the first time in ages, I can see myself getting back into Skyrim in a big way.
Unfortunately, even on my PS4 Pro, Skyrim VR doesn't look as good as the Special Edition that hit PS4, Xbox One and PC last year, but that's to be expected from a VR game. It looks good enough that you can lose yourself in the world, and that's really all that matters. If you have a PS VR, Skyrim VR is a must-buy this holiday season.