As much fun as I had with Mario Kart 8 on Wii U, it didn't bowl me over like I hoped it would. It was just another solid entry in a franchise that I've been playing since I was a kid, and nothing more. That's part of the reason why I'm so shocked that Mario Kart 8 Deluxe feels like it might be the best Mario Kart of all time. Nintendo managed to correct every mistake without messing anything up.
Before I go any further, I should probably point out that I reviewed Mario Kart 8 back when it came out on the Wii U in 2014. If you want to read a more complete summation of what the game has to offer, you might want to read that review, as it covers all of the basics of MK8. For this piece I'm going to focus on what Nintendo changed or fixed, and how those changes made the game unquestionably better.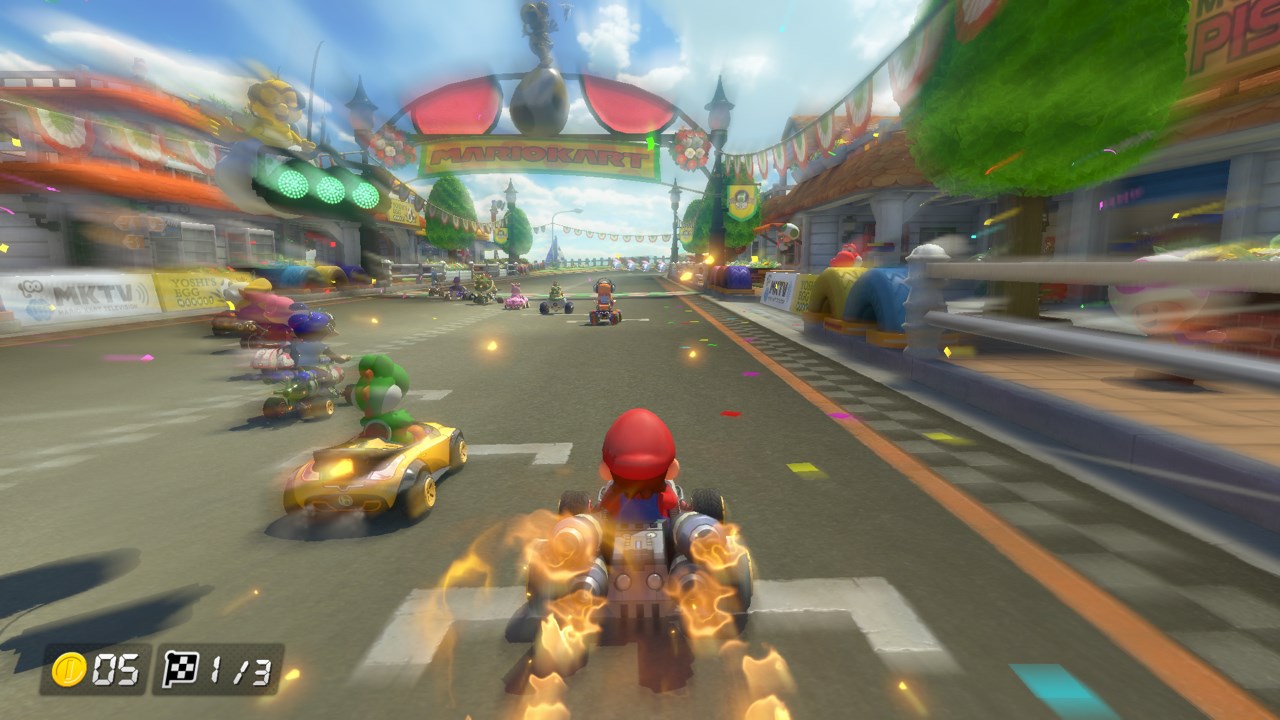 First and foremost, Nintendo added a full-fledged Battle Mode to Mario Kart 8 Deluxe. This was one of the most baffling and frustrating exclusions from the original game, which featured a halfhearted version of the popular multiplayer mode that repurposed tracks from Grand Prix.
Not only did Nintendo completely overhaul the Battle Mode to make it more like Battle Modes from previous Mario Kart games, it added a great new game type called Renegade Roundup.
Renegade Roundup is basically MK8 Deluxe's take on cops and robbers. One team's racers have Piranha Plants attached to their cars and can capture players on the other team by getting close enough to them. When a player on the Renegade team gets caught, they are put in a jail cell and can only be freed by their teammates. A dozen or so matches later, Renegade Roundup is my new favorite game type.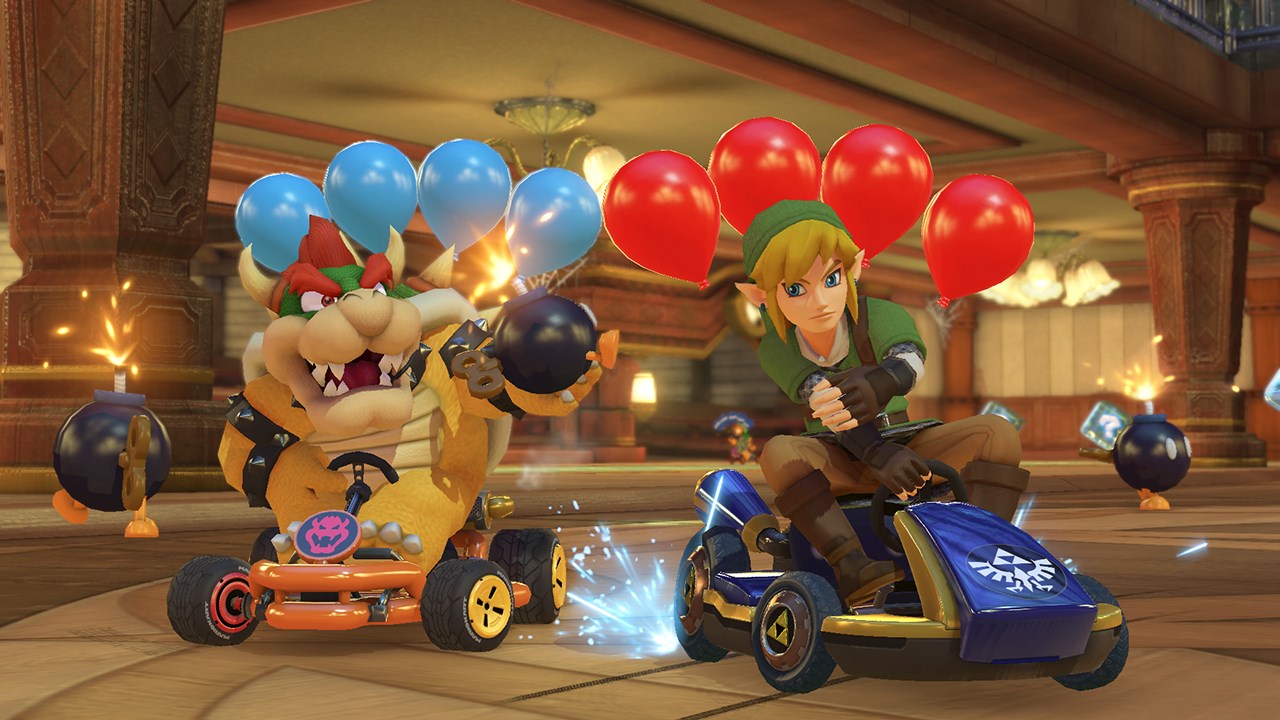 There are four other game types in Battle Mode as well: Bob-omb Blast and Shine Thief (from Mario Kart: Double Dash), Coin Runners (from Mario Kart Wii) and the classic Balloon Battle. All five game types can be played on the eight battle courses, three of which were carried over from old games.
Battle Mode is the most drastic change, but there are several other tweaks in Mario Kart 8 Deluxe that completely alter the experience on the Switch version of the game as well. For example, racers can now hold up to two items at a time, which might not sound like much, but makes races more hectic and gives players more chances to catch up when they're trailing behind the rest of the pack.
There are also six new characters (Bowser Jr., Dry Bones, Gold Mario, Inkling Boy, Inkling Girl and King Boo), Time Trials in 200cc and all of the courses and vehicle parts from the DLC. That brings the grand total to 42 characters and 48 courses, which is a massive amount of content.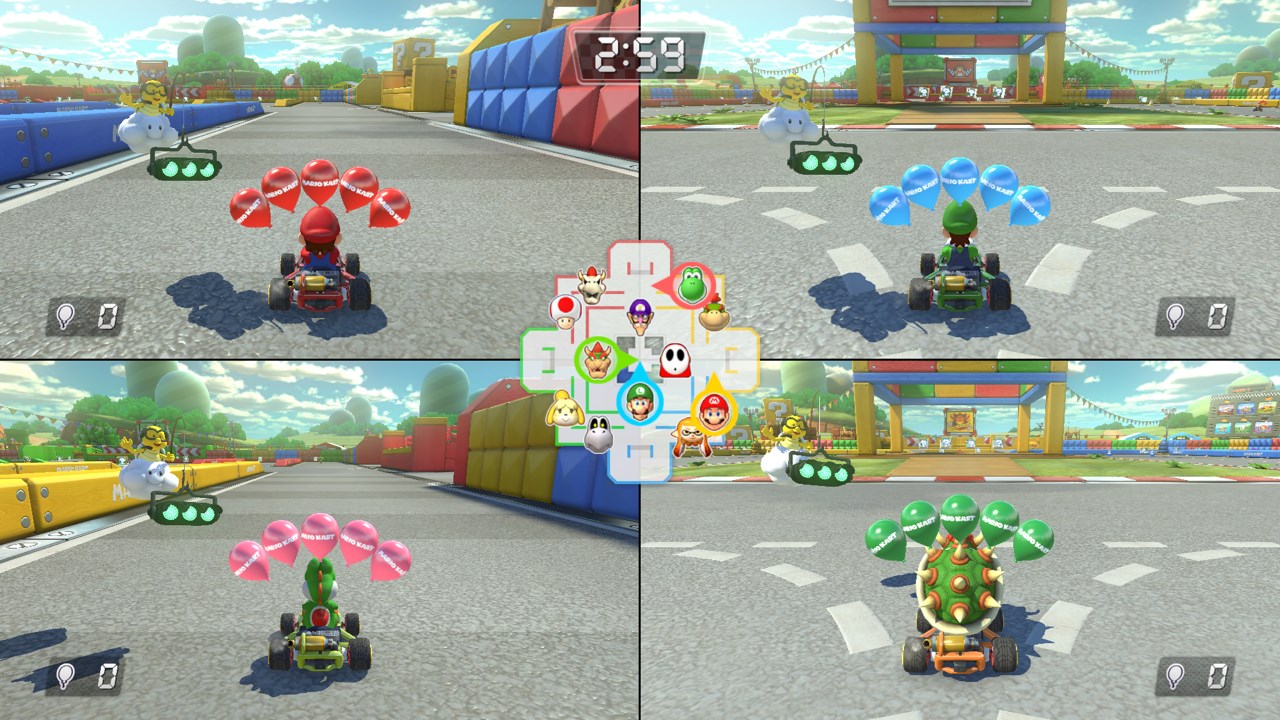 That's not to say that Mario Kart 8 Deluxe is perfect. It's still not quite the leap forward I was hoping for back when it launched on the Wii U. There are some fun new wrinkles, but other than new courses, a bigger character selection and prettier visuals, Mario Kart 8 is a fairly conventional follow-up to Mario Kart 7 on the 3DS. It's not as revolutionary as Mario Kart 64 or as surprising as Double Dash.
But here's what it is: the definitive version of Mario Kart 8 and a must-buy for Nintendo Switch owners. Racing through these courses again in 1080p, having the ability to take the game with me anywhere I go, popping off the Joy-Con controllers at any time for a quick race or battle with a friend — I had an absolute blast rediscovering Mario Kart 8 on the Switch and approve of each and every change. Even if you already own the game on Wii U, Mario Kart 8 Deluxe is completely worth the price of admission.
---
Nintendo provided BGR with a copy of Mario Kart 8 Deluxe on Switch for the purposes of this review.