We saw Peter Quill (Chris Pratt) drop the F-bomb in one of Marvel's recent Guardians of the Galaxy Vol. 3 clips, which was surprising for a Disney movie. It wasn't especially surprising that Star-Lord used the word, but that Marvel didn't censor it. Then again, many might have assumed that the real scene in the movie would censor the F-bomb. After all, this isn't an R-rated movie like Deadpool 3.
But the scene won't change in the final cut you'll see in theaters come May 5th. You'll hear Quill swear in one of the film's scenes, making Guardians of the Galaxy Vol. 3 the first movie to feature an uncensored F-bomb. Some spoilers might follow below, as we discuss the clip that Marvel released.
We know from the trailers that Quill will have trouble driving a car, as he's been away from Earth since he was a kid. Hilariously, Nebula (Karen Gillan), an alien who spent some time on Earth between the events in Infinity War and Endgame, asks him if he wants her to drive. Apparently, she learned how to drive stick at some point in the past few years.
With that in mind, the F-bomb clip is even more hilarious. Nebula might know how to drive, but she certainly doesn't know how to get into one of those old cars.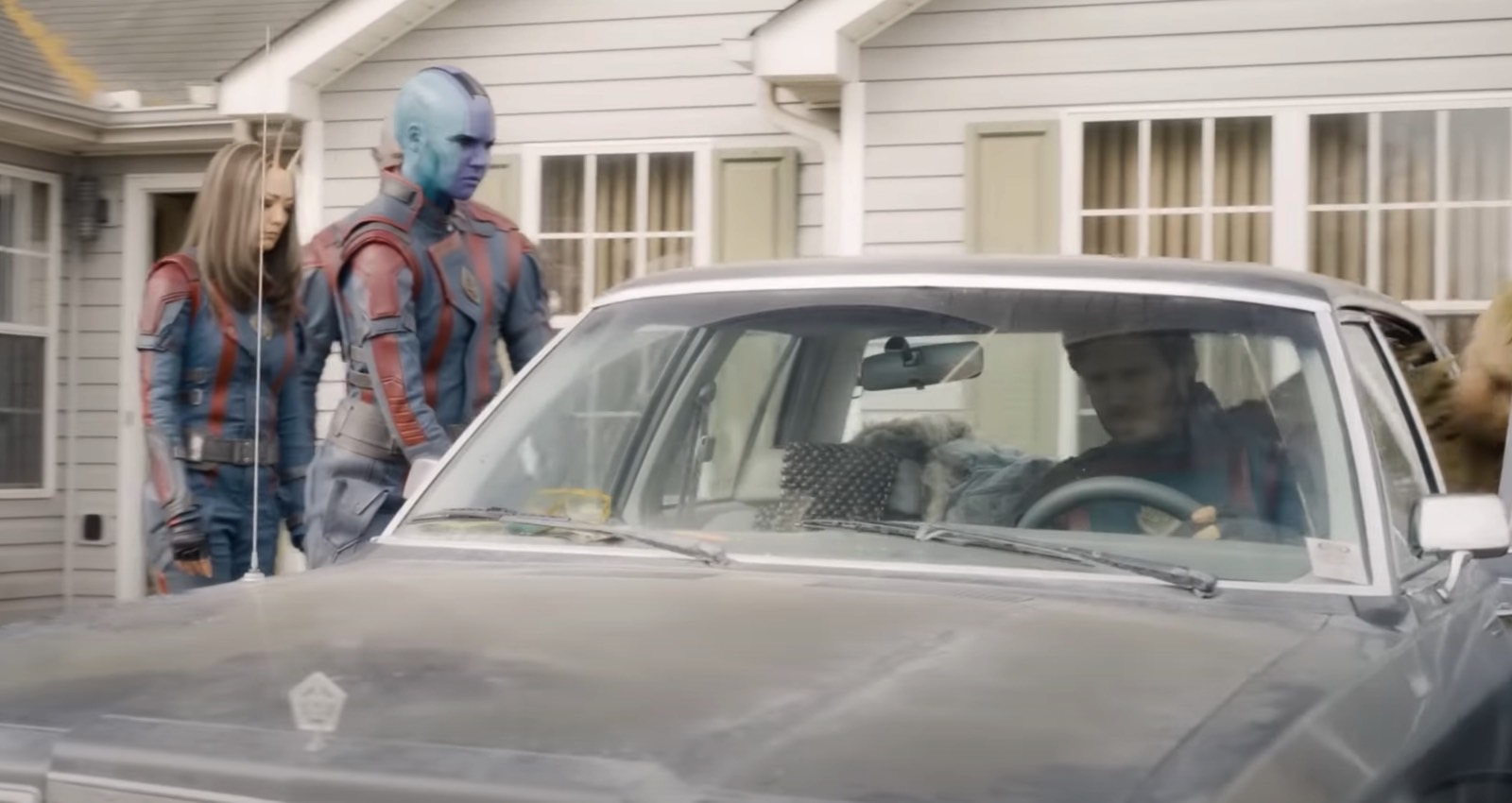 On the other hand, Quill is familiar with those car doors and gives her instructions on how to push the button to get into the car. The car door bit occurs just before the driving scene, as Quill, Nebula, and Groot (Vin Diesel) will leave to get help for Rocket (Bradley Cooper).
Annoyed that Nebula can't figure out how to get into the car, Quill finally yells, "Open the f*cking door!" at his fellow Guardian. She eventually does and gets into the passenger seat. Sure, Quill could have opened the door for her, which would have been the more gentlemanly thing to do. But then, we wouldn't have had this gem of hilarity in the movie.
Guardians of the Galaxy Vol. 3 F-bomb is here to stay
A Guardians fan took to Twitter to ask none other than the writer and director of Guardians of the Galaxy Vol. 3 whether the F-bomb will be uncensored in the movie. "Ofc," Gunn said, which is short for "of course." He reacted with a "Fuck no" reply on Instagram when asked if the F-bomb would be censored.
Interestingly, Gunn revealed on Twitter that the F-bomb wasn't even planned. It's something the director decided while filming. The scene turned out to be hilarious, so they kept it in:
You can only have one in a PG-13 movie. That said it wasn't planned – I told Chris to add it on set and it just made the moment funnier so we kept.
Guardians of the Galaxy Vol. 3 hits theaters on May 5th, with early screenings taking place on April 28th in some markets. Meanwhile, you can watch the F-bomb scene below: