Licensed games aren't known for their consistent quality, but on the App Store this week, we managed to find two free movie games that are totally worth downloading. The first is a fighting game based on the upcoming King Arthur: Legend of the Sword, while the second is an "action-fighting RPG" featuring the Transformers. There are also three other notable time wasters on the list, so start scrolling.
Deep Town
Deep Town is science fiction strategy game where you play as an AI, with a sole purpose to gather, construct, and replicate.

DIG DEEP

Crust of a planet is many kilometers/miles deep, filled with different metals, gems and rare findings.
A high tech digging system as yours, is capable of drilling through any rock, using tons of different techs like
driller bots, cryogenic freezing techs, fire blasts and others, you name it!

MAKE FACTORIES

Building factories on top and under, is crucial to produce complicated production pipelines. Auto mine resources, then smelt them into bars, craft them into items, and make sure your factories are working at full capacity!
There are many things to produce, and it's up to you to choose a specialization!

EXPLORE YOUR PLANET

One word – archeology. On your digging journey – find caves and send explorer bots to see what's inside, uncover the hidden story behind your planet's past, and answer the age long question – where are we?
[Download Deep Town free on the App Store]
---
King Arthur: Legend of the Sword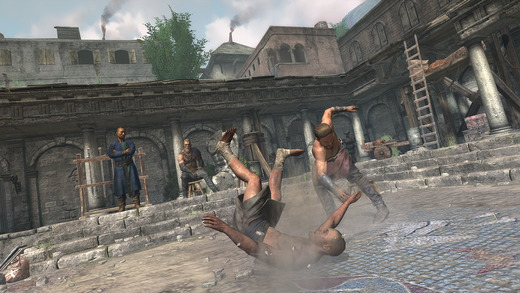 From nothing comes a king. In this official film game, train as Arthur alongside his gang in order to harness the powers of Excalibur and hold off Vortigern's assault.

Do you have what it takes to wield Excalibur? Do you have what it takes to become the born king?

Features include:
– Time your attacks for optimized fight power
– Fluid cinematic martial combat optimized for touch controls
– Wield the powerful Excalibur
– Compete on the leaderboard in challenging ranked missions
– Record your gameplay in HD video and share it on social media
[Download King Arthur: Legend of the Sword free on the App Store]
---
Tap Summoner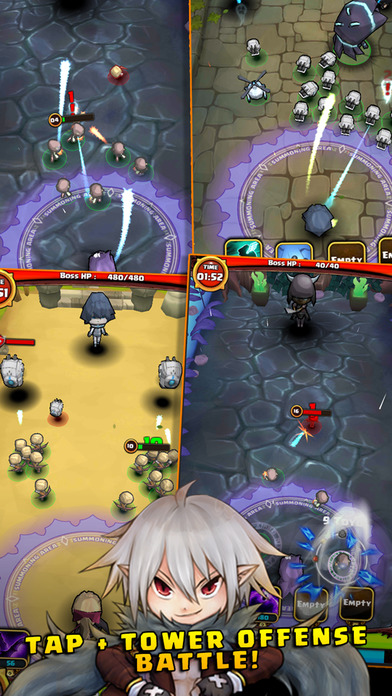 Tap Summoner is a mobile RPG Tower Offense action card battle game. A real-time fast paced tapping combat! This game is focused around tapping your screen repeatedly, in so summoning minions to attack the monster.

• Recruit Unique Custom Made Dungeon-Crawlers
Play 15 unique summoners and 45 unique minions, each with their own strengths on the offense battlefield. Choose the Bo-Moh for curse creatures, Mad Scientist for zombie apocalypse, a Taoist for jumping fear and many more!

• Answer the call
Only you and your summoner card can journey to help Lord Devi to conquer the world and unlock their special powers to repel the overlord of each world. Rise from the mystery Underworld, rise under the burning hell of legion, travel through the advance surface of earth to be the strongest overlord.

• Taping offense battles
Real-time and fast paced tower offense combat! Tap on the screen to summon minion to quickly decimate your foe. The more tappings you make, the more devastating your offense will be. Deliver character specific special abilities like Scientist's Poison Cloud or the Wrath of the Overlord!

FEATURES:
* Real Time Strategy – Tap and hold to summon the minion of your choice
* Choose your masters to help offensively and defensively
* 15 Unique Masters – All with their own special abilities
* 45 Unique Minions to Summon
* 5 Worlds to conquer
* Real-time and fast paced tower offense combat!
* Addictive Collect them all gameplay
* Treasure Chest reward
* Equip your summoners with legendary equipment!
* Unlock and Upgrade your Summoners
* Final Localised languages to be supported and will be confirmed soon.
[Download Tap Summoner free on the App Store]
---
Tiny Gladiators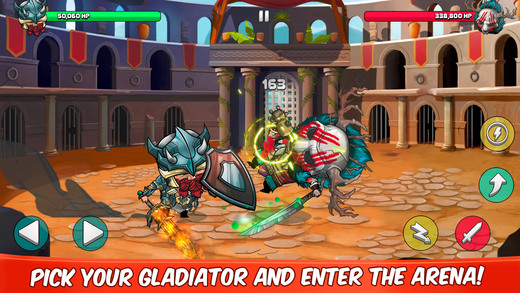 Tiny Gladiators combines elements of action-packed fighing game and engaging RPG. Venture into 4 distinct regions, each one full of powerful enemies for you to battle. During your journey of vengeance you will have to not only defeat them, but also stand tall against intimidating bossess. Defeating them will help you get closer to your final goal and finding out what exactly happened to your father…

To stand a chance against your enemies you will have to upgrade your character, learn new skills and purchase powerful gear. The game features dozens and dozens of unique pieces of weapon and armour. Discovering them and the effect they have on combat is a fun on its own – but it also lets you prepare for the biggest challenges.

In addition to completing the single player story mode you can challenge other players to online battles. Bring your best items, prepare your deadliest abilities and rise in the global ranks of the best Tiny Gladiators!

And if you're feeling really strong, go forth into the Survival Tower where the greatest dangers await. If you manage to survive long enough and defeat multiple enemies in a row, you stand to earn a fortune in diamonds. One entry per day is on us – but beyond that you have to put your in-game earnings on the line. It's a high risk and high reward mode tailored to the needs of the bravest players.

TURN BASE MULTIPLAYER
Multiplayer mode is where the real fun begins! Play with friends or with hundreds of thousands of players from around the world. Send them a challenge and show them who is the ultimate Champion!

3D TOUCH
Start a Single Player, Multiplayer or Apple TV game directly from the game icon.

iCLOUD SYNC
Synch your progress to iCloud to continue your games on any iOS device.

LOCALIZATIONS
You can now play the game in 24 different languages
Arabic, Chinese (China), Chinese (Taiwan), Danish, Dutch, English, Finnish, French, German, Hindi, Indonesian, Italian, Japanese, Korean, Malay, Norwegian, Polish, Portuguese, Russian, Spanish, Swedish, Thai, Turkish and Vietnamese
[Download Tiny Gladiators free on the App Store]
---
TRANSFORMERS: Forged to Fight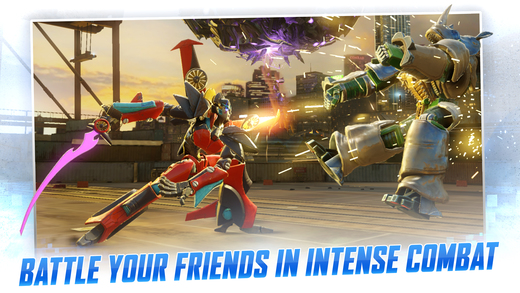 Calling all Autobots, Decepticons, Predacons and Maximals!

Join Optimus Prime, Megatron, Bumblebee, Waspinator, Rhinox, Grimlock, Soundwave and many more of your favorite characters in the battle for supremacy where Transformers universes collide. This exciting action-fighting RPG brings the heroic storytelling and spectacular action from over 30 years of Transformers history to your mobile device!

Features:
• Collect iconic bots from the entire Transformers universe
• Battle other players with devastating special attacks, ranged blasting, destructible terrain and huge 360° arenas
• Team up with your friends, forge alliances and battle in global events
• Set a gauntlet of bots and defenses to protect your base, get revenge on those that attack and raid enemy bases
• Deploy away teams to score epic loot.
[Download TRANSFORMERS: Forged to Fight free on the App Store]