The biggest Netflix movie in the US right now, as well as one of the most-watched in the world, is Reptile — a crime thriller from director Grant Singer about a detective, played by Benicio del Toro, trying to solve the brutal murder of a real estate agent. The film, which is #1 today on the streamer in the US, racked up 17.7 million views worldwide for the 7-day period that ended on October 1. And so far, audiences seem to be enjoying the movie much more than critics (based on the 42% versus 75% split between the critics and audience scores on Rotten Tomatoes).
Whatever positive acclaim and supportive viewer reaction comes its way, I would argue that Reptile's merits derive in large part from the performance of Benicio del Toro — an actor of exquisite subtlety and dynamism whose eyes alone do more than so many other actors working in Hollywood today. That said, Reptile is too much of a slow burn for me, although del Toro is as fantastic as always.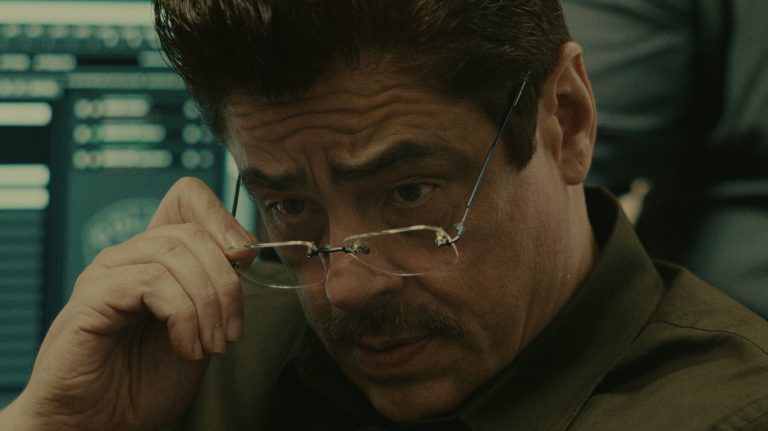 "I have been a Benicio Del Toro fan since I saw him in Che," one Rotten Tomatoes user raves about his performance. "He has such a screen presence that he can carry a film. He certainly did in this one."
Even the critics who've panned the movie have singled out del Toro's acting for praise. Meanwhile, here are three movies I'd recommend watching instead of (or after you've finished) Reptile on Netflix, and if you're looking for some more juicy del Toro dramas to get into.
Traffic (2000)
Director Steven Soderbergh's 2000 film Traffic, which won several Academy Awards, tells a gripping story that explores the drug business in the US from multiple vantage points, in addition to weaving its devastating impact on both people and society throughout the film.
The interlaced storylines encompass everything from a conservative-leaning judge's response to the drug problem to a DEA agent's relentless pursuit of a narco-king — as well as a Mexican police officer (played by del Toro) who comes to realize that he's just a pawn in a much bigger game. With a top-notch ensemble cast and gritty action and realism, viewers are left with a sense of the corruption entailed by the War on Drugs as well as its overall futility.
The Way of the Gun (2000)
Coincidentally, this next drama also comes from the year 2000, and it stars del Toro and Ryan Phillipe as gun-toting drifters who get more than they bargained for when they kidnap a pregnant woman (played by Juliette Lewis) who's connected to a shady money launderer.
Available to stream right now on Prime Video, we can quibble over whether or not The Way of the Gun is a great movie. It's definitely an entertaining one, though, with its neo-Western sheen leading to a climactic gun battle that's a little reminiscent of that shoot-'em-up at the end of Butch Cassidy and the Sundance Kid. The dialogue is also full of memorable one-liners, and the two leads could not have been more perfectly cast.
Sicario (2015)
As for this third del Toro movie that's definitely worth watching if you haven't yet, Sicario (written by Yellowstone's Taylor Sheridan) sort of feels like a years-later sequel to the actor's character in Traffic.
In Sicario, another thriller that delves into the brutal and bloody world of drug cartels, del Toro's mysterious "Alejandro" isn't the main character. He is, however, the most interesting. Emily Blunt plays an FBI agent attached to a covert task force assembled by a menacing operator (played by Josh Brolin) — a task force that also includes Alejandro, whose wife and daughter were murdered by cartel assassins and who now helps the gringos go after them by any means necessary.
The gunplay throughout Sicario is pretty heart-pounding, especially one confrontation that occurs along the US-Mexico border. The first time I watched this movie, I also don't think I breathed once during the scene toward the end of the movie when Alejandro confronts the cartel leader after having snuck into his mansion.