Today is the day countless Android fans have been waiting for. Samsung, the world's top smartphone vendor by sales volume, has unveiled the Galaxy Note 8. After months of leaks and rumors, Samsung's new flagship phablet is finally a reality. The bad news is there weren't many surprises since we already knew just about everything there was to know. The good news, however, is that it lived up to everyone's expectations and more.
The Note 8 is similar in design to the Galaxy S8 and S8+ Samsung released earlier this year, which has pros and cons. The updated Infinity screen is a sight to behold, and the overall design is nothing short of a masterpiece. But just like the S8, Samsung's new Galaxy Note 8 is covered with glass on the front and the back. That means you absolutely cannot use this phone without a case, period. As you may recall, no smartphone in history has ever performed worse in SquareTrade's drop tests than the Galaxy S8.
We've got a few weeks to go before the new Note 8 begins shipping, but you don't need to wait another minute to prepare yourself for its arrival. Market leader Spigen has already released a number of sleek Galaxy Note 8 cases that are available for purchase on Amazon, and you'll learn all about them in this post.
Check out Spigen's complete Galaxy Note 8 case collection right here, or check out each different model below.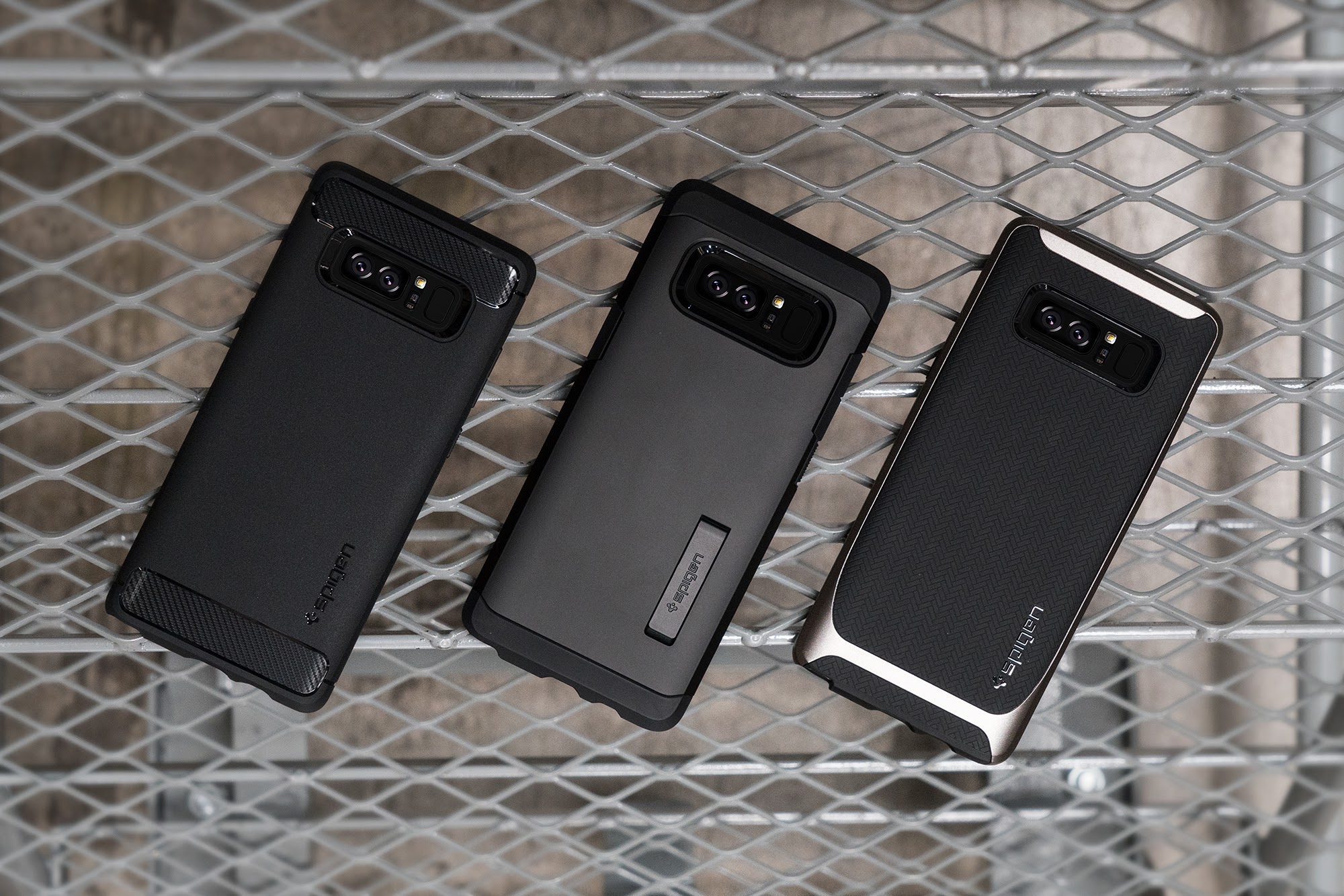 Protective Cases
Tough Armor (Amazon)
If you're looking for a sleek case to really protect your Galaxy Note 8 without adding too much bulk, the Tough Armor case is the way to go. This case offers killer protection with a dual-layer structure for enhanced drop protection. The metallic polycarbonate back has stylish matte black accents, and the case also has Spigen's famous Air Cushion tech to protect the corners. There's even a built-in metal kickstand for hands-free viewing, which is great considering how big and beautiful videos will be on the Note 8's screen.
Rugged Armor (Amazon)
Spigen's Rugged Armor case is the perfect option for Galaxy Note 8 owners who want good protection in a single-layer case. Air Cushion tech in the corners helps cradle the phone in the event of an impact, and the carbon fiber look of the TPU layer makes this case a sleek option for anyone. Raised edges protect the display, camera, and fingerprint scanner.
Neo Hybrid (Amazon)
The Neo Hybrid line has always been a best-seller for Spigen, and the new model for the Galaxy Note 8 is a perfect reminder of why. This sleek case sports a timeless look as well as two-part construction, with a shock-absorbent layer along with a rigid bumper frame. Neo Hybrid definitely provides the perfect balance of style and protection for your Note 8.
Clear Cases
Ultra Hybrid (Amazon)
Ultra Hybrid S (Amazon)
Spigen's Ultra Hybrid cases feature crystal clear backs so you can show off your sleek new Galaxy Note 8, but they offer much better protection than clear cases from most other brands. The TPU bumper offers great grip while the polycarbonate back guards against scrapes and scratches. Of note, the Ultra Hybrid S is just like the Ultra Hybrid case, but it also includes an integrated metal kickstand for hands-free viewing.
Liquid Crystal (Amazon)
The Liquid Crystal case for the Galaxy Note 8 is the perfect way for purists to protect their Galaxy Note 8 phones. The flexible shock-absorbent material is crystal clear to show off the Note 8, but the case still packs several of Spigen's great features like Air Cushion technology and raised edges for screen and camera protection.
Rugged Armor Crystal (Amazon)
The Rugged Armor Crystal case is a brand new option from Spigen. Think of it as the crystal clear counterpart to the popular Rugged Armor case. This great case is transparent to show off the look of the Galaxy Note 8, but it provides much more rugged protection than other clear cases out there, yet it's still easy to remove.
Functional Cases
Slim Armor CS (Amazon)
The Slim Armor CS case for Samsung's Galaxy Note 8 has a slender profile and yet still manages to have a dedicated compartment for cash and up to two credit cards. It's not bulky like a wallet case even though it has that special compartment as well as dual layers of drop protection, in addition to Air Cushion tech on all four corners.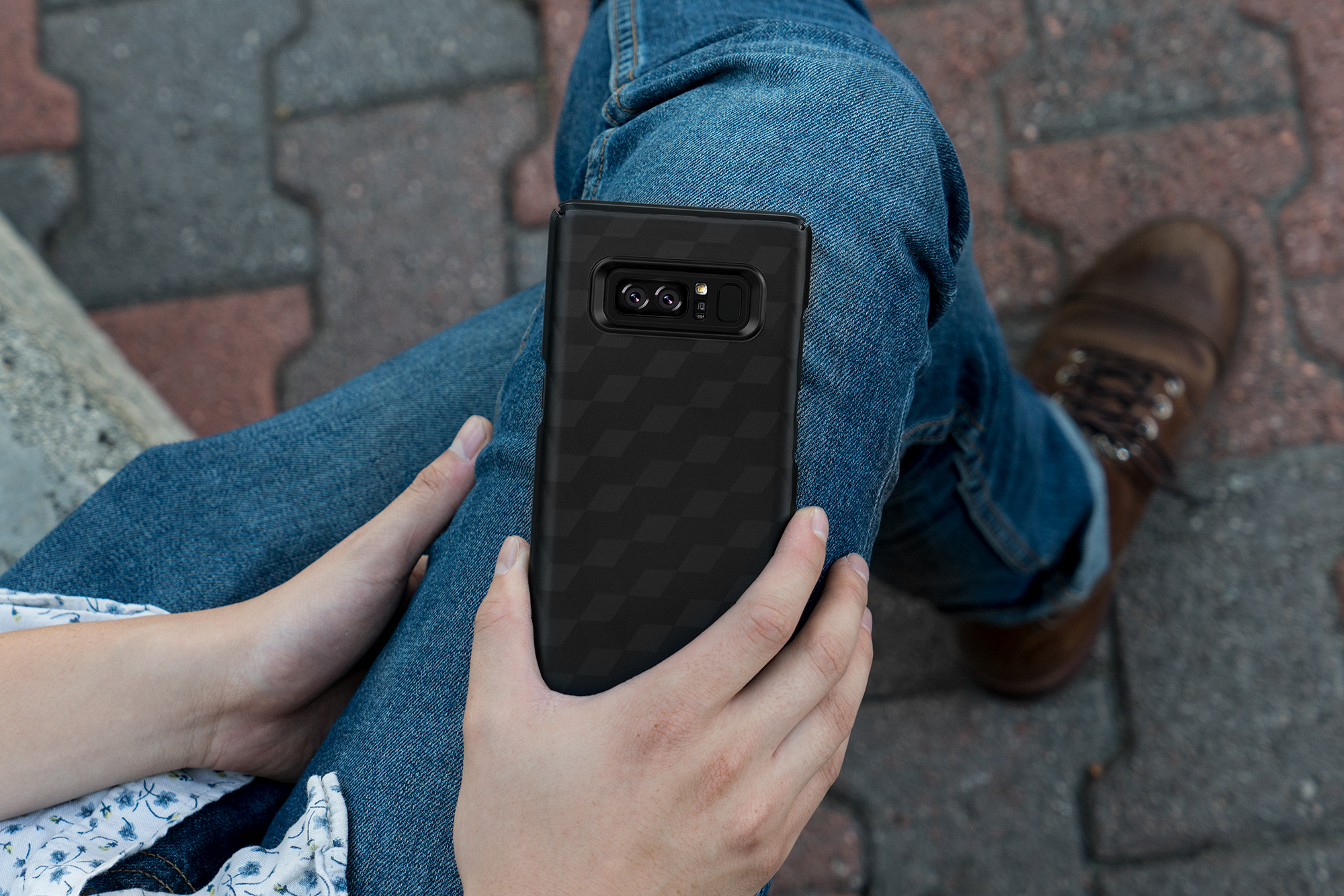 Minimalistic
Thin Fit (Amazon)
The Spigen Thin Fit case is the perfect case for people who hate cases. This smooth case is ultra-thin and minimalistic, yet it still manages to provide durable protection against scrapes and drops. This slim-profile case hugs your Galaxy Note 8 thanks to its perfect fit, and it's made out of lightweight polycarbonate to complete the barely-there look and feel.
Spigen NeoFlex Samsung Galaxy Note 8 Screen Protector
Neo Flex (Amazon)
Now that you've got one (or several) new cases picked out for your Galaxy Note 8, it's time to add the extra protection that people forget about far too often. Cases protect the edges and back of your phone, and they also protect the display from a drop if the phone lands face down on a flat surface. If it lands on a rock or something else, however, you're in big trouble unless you've got a Neo Flex screen protector.
To learn more about our sponsored deals and sponsored posts opportunities, please email sponsored@bgr.com.