If you purchase an independently reviewed product or service through a link on our website, we may receive an affiliate commission. Learn more.
After an extended hiatus, our best free iPhone games of the week feature has finally returned. We've returned with a bang too, as there were tons of interesting free released on the App Store this week. A lot of them are quick, arcade-style games too, so if you're looking for something light to keep you entertained, we've got you covered.
Asteroid Asteroid
Blast Asteroids! Wave after wave, the asteroids keep coming. More and more asteroids. LOOKOUT! UFO's are chasing you. Shoot them before they shoot you.

Your skills will be tested. How long will you survive in the asteroid field?

Asteroid Asteroid is a casual, arcade-style space shooter.

Features:
– Intuitive gameplay. No awkward virtual joystick. Just simple swipes and taps.
– 35 spaceships
– Minigame within the game (play and win a ship)
– Leaderboard
– Share scores with friends and family
– Record and share gameplay
– Live streaming
---
Bridge.io
"Bridge.io" includes real-time multiplayer challenge and single player adventure levels.
"Bridge.io" is easy to learn, hard to master. It only needs one tap to play.

When you are playing, you can earn coins to unlock more characters.

Thanks for playing.
---
Fling Fighters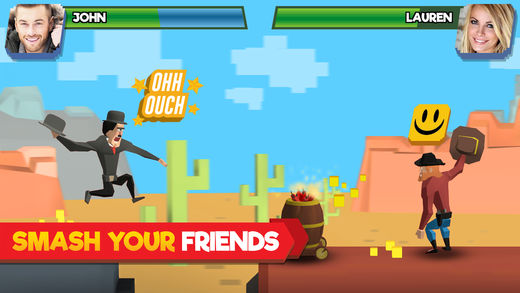 Fling hard or go home.

There's no other way to conquer the five islands in this ultimate PVP battle arena. Fight against Fling Fighters from all over the world or challenge your friends. Once you conquer all islands, you must defend them to win the season and climb the leaderboards.

Fling Fighters is a fling combat game where you time each attack for maximum effect. You jump and you evade enemy throws. You wait for the right moment to throw your weapon.

While you're at it, you must keep attention of your surrounding to avoid getting trapped in steel cages, electrocuted with hi-voltage traps or falling off of a train. At the same time, you should force your opponent to these exact traps to get an advantage over them.

Choose your favorite fighter from 40 available play cards and upgrade them to keep up with your opponents. There's Greenie. There's Apeboy. Big Basketball Fella and plenty more to choose from! They all have their special combos.

Each island is defended by a boss. The bosses guard treassure chests with valuable loot. You're there to fight for it, become the champion and enjoy the spoils!

Game Features

– 5 islands to conquer and hold against players from all over the world
– 40 freaky characters to play with and against
– Card upgrading with powerful combos to unlock and use
– Boss fights on every island
– 10 maps for strategic fight moves
– 9 traps and mechanics to avoid or use to your advantage
– online multiplayer
– Free local multiplayer
– 2-day challenges
– leaderboards and ranking system

Are you ready to fling hard?
---
HeliHopper
Helihopper is a fun game where you hop from a helipad to another. Master the helicopter controls and become a master pilot!

Pilot your way across the beautiful and colorful world, made for jumping and hopping around!

Complete the missions or try your skills in the endless levels. Earn valuables and invaluable experience to unlock large selection of different helicopters and levels.

Everything you do in the game increases your player level, increase it enough and you can unlock even more challenges. Start hopping now!

Features:

– Simple & fun slingshot mechanism for hopping the helicopters
– 10 different helicopters
– Three different themes: City, Desert and Snow

– Parachuting collectables
– A lot of achievements
– Player level up system

– 65 missions
– 9 endless mode levels

– Original music by Hukka
– GameCenter leaderboards and achievements
– iCloud saving
– iMessage Stickers
– Haptic support
---
Logic Dots 2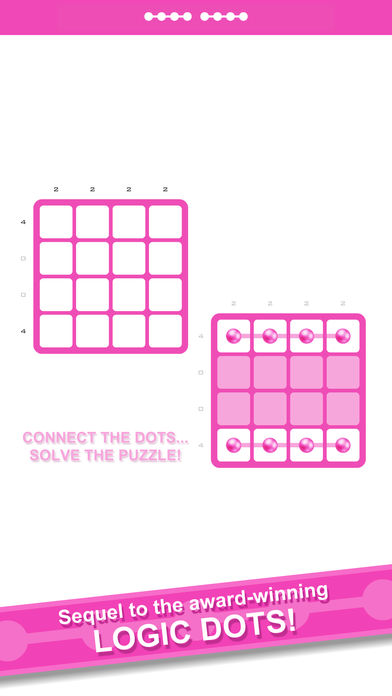 If you love solving ingenious puzzles, you need Logic Dots 2! A uniquely fantastic combination of Sudoku and Battleship, it's easy, addictive and logical to play. Place dots on the grid to make shapes and solve each puzzle. This award-winning puzzle sequel is simple and logical, but increasingly challenging.

Each brain-twisting Logic Dots 2 puzzle consists of a blank grid surrounded by numbers. Players need to find hidden dot lines and now shapes on the grid, making sure each row and column contains the indicated number of dots. This massively-anticipated sequel builds upon its acclaimed puzzle-board predecessor, the #1 puzzle-board game on the App Store with almost 1 million players in a week – incredible!

There are no time limits or move limits, and hints are freely given in some puzzles to make them easier on players. Beware though – as the game progresses, deduction challenges become increasingly devilish. Only true 'Logic Legends' will make it to the end of Logic Dots 2!

– USE LOGIC TO WIN: Place dots in the grid to create dot lines and shapes to solve each logic puzzle.
– BEAUTIFUL PRESENTATION: Gorgeous, colorful levels are now even more of a treat for your eyes. Logic Dots is color-blind friendly as well!
– INCREASE YOUR INTELLIGENCE: Logic Dots 2 sharpens logic deduction and improves cognitive skills in players.
– NO PRESSURE, TAKE YOUR TIME: There's no time limit and no move limit. Take as many goes and as much time as you want to complete each puzzle!
– RENOWNED FRANCHISE: Logic Dots 2 is made by the lead programmer of the original Logic Dots, Logic Traces and hit puzzle game, Tiny Thief!
– UNRIVALLED DEPTH: Over 200 unique and increasingly complex brain-teasers provide many hours of intellectual challenge and fun. Yet more new level packs will also be released in free updates very soon!
– COMPLETELY FREE: Play all the way to the end with no in-app purchases required!
– LEARN AT YOUR PACE: Seamless tutorials for players of any ability level.
– COMPARE AND COMPETE: Your game score, Game Center achievements and leaderboards will show who's the most logical of your friends. Surely it's you?
– FEEL FREE TO MAKE MISTAKES: Any logic errors can be corrected with unlimited undo's!
– HINTS IF YOU NEED THEM: If you get stuck, tap on the hint button and you'll be puzzling again in no time!

As always, your amazing support and positive feedback is always much appreciated. We are working hard and will release new level packs in free updates very soon. Have fun!
---
Nindash: Skull Valley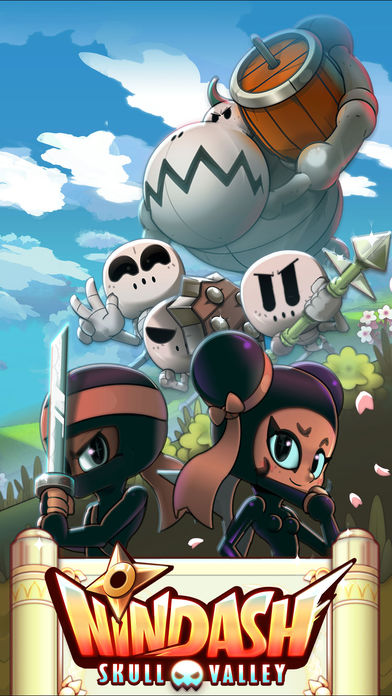 Play a ninja that must defeat a horde of skeletons in more than 90 frenzied levels. Smash the bones of your enemies with your saber or shuriken in the purest arcade tradition. Perform combo after combo in a race for the high score with your friends or players around the world.

• Simple, intuitive gameplay: tap, slide and dash
• On or off line, combat hordes of skeletons in more than 90 levels
• Crush crazy Bosses
• Unlock and collect more than 30 ninja looks
• Climb the rankings and become the top player
• Face off with your friends in a frenetic game

Only your reflexes stand between victory and death.
Download Nindash: Skull Valley
---
Shotgun Pete
Shotgun Pete is rapid action shooting spree game where you have to shoot the bad guys and save the damsel in distress.

You can only move by shooting.

* Excellent Graphics
* Challenging Obstacles
* Limited Ammo
* Quick Reaction challenges
* Lots of Shooting
---
Space Station X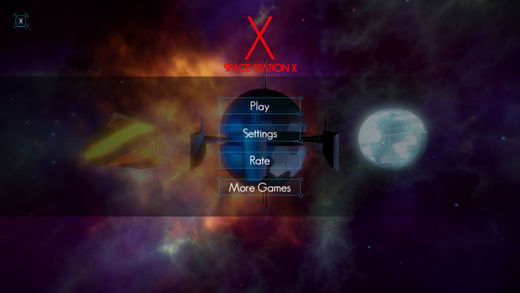 Tap on incoming objects to keep the Space Station intact.
Use different pickups to help with the defense.
---
Unlikely Heroes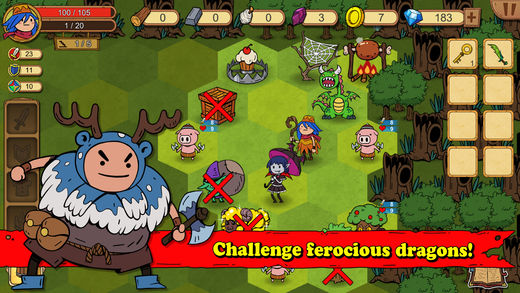 Long long ago, in a land far far away, the vicious dragon came from above. Alas, the dragon destroyed our homeland and villagers awaited for a true hero. Wait…What?! The Mighty Warrior retired already?
Fine, then I'll leap into this grand adventure of Dragons and save the world myself!

Game features:

**Gather Your Heroes**
Only you and your heroic comrades can save the world! Characters like Lonely Shepherd and Tavern Maid await you to take them to march to victory!

**Fight Through the World**
Travel through the thick Forest, across the vast Desert, through the boundless Snowland, and traverse the Enchanting Land to complete all of the challenging mazes.

**Rebuild the Village**
Find the missing villagers, rebuild every house and workshop, help your fellas renovate the village!

**Train as an Alchemist**
Practice Alchemy, Transmute lead into gold, create the elixir of immortality and craft all kinds of items that will help you on your journey!
---
Our deals and product reviews are picked by BGR's expert editors and team.

Follow @BGRDeals on Twitter to keep up with the latest and greatest deals we find around the web. Prices subject to change without notice and any coupons mentioned above may be available in limited supply.