A new Walking Dead mobile game and a new Angry Birds mobile game in the same week?! What did we do to deserve this? Both look like solid time-wasters, as do the rest of the games on this week's list. Personally, I plan on diving into Questland this weekend to keep me occupied between college football games. And remember, there are plenty more free games to check out in our full archive of free iOS games.
Age of Giants: Tower Defense
Giants, powerful mages and brave heroes fight together to protect their world in new epic tower defense game. Take part in epic magic wars: build towers and lead heroes, customize giants to throw evil back. Defend your magic kingdom! Win all of 30 levels of this tower defense free game and you'll unlock secret regime.

In Age of Giants tower defense you will confront numerous enemies that siege your towers. Fight with the army of the dark lord in awesome locations — elven woods, valley of bones, snow valley, sky temple and enchanted forest.

You will lead your army in the battle with goblins, dark witches, wyverns, horrible creatures such as cursed behemoths and spiders and even battle machines! Be cautious, they will fight back – they have unique abilities that will surprise you in the battle.

In Age of Giants tower defense you will be able to play with your Facebook friends in breathtaking multiplayer battles.

Age of Giants – tower defense game with unique features

– 5 unique territories to defend
– 30 levels
– 7 upgradeable towers
– 3 upgradeable heroes
– 3 fully customizable giants – equip them with items you will learn
– Epic magic battles
– Unique bosses and enemies with awesome abilities
– Facebook integration

Age of Giants is a tower defense game that will rediscover this genre for you!
Download Age of Giants: Tower Defense
---
Angry Birds Match
Match the toys, stars, stuff and things to collect everything those cute baby birds from the Angry Birds Movie ask for! Because who can say no to a face like that?

The pigs are trying their hardest to ruin the Hatchlings' party, but nothing can stop these little guys! Of course not without some help from the big birds. Red, Chuck, and Bomb are there to help the Hatchlings whenever they get into trouble… which is pretty often. It's going to take a lot of matching, a wide variety of outfits, and heaps of help from you too, but we just might be able to get this party started!

FEATURES:
– Meet over 50 delightfully darling Hatchlings!
– Find the Hatchlings to earn valuable gifts!
– Visit the Hatchlings to try out new outfits, or just say hello!
– Simple, fun, and casual match three gameplay!
– Match 4 or more items and bring out the Angry Birds!
– Over 1000 fun and challenging levels, and more to come!
– Different challenging puzzles await – pop pigs, collect delicious treats, and more!
– Use cool Boosters to best even the trickiest of levels.
– Connect to Facebook to synchronize your progress!
– Play offline!
– Warning: Critical levels of cuteness.
---
Box Cat Bash
Box Cat returns! Smash cars falling from above before they explode.

Simple, tight controls built for iPhone. Also supports game controllers.

Jump! Dash! Smash! Collect! Unlock! Discover!

Sequel to the 2011 smash hit Box Cat.
---
Castaway Cove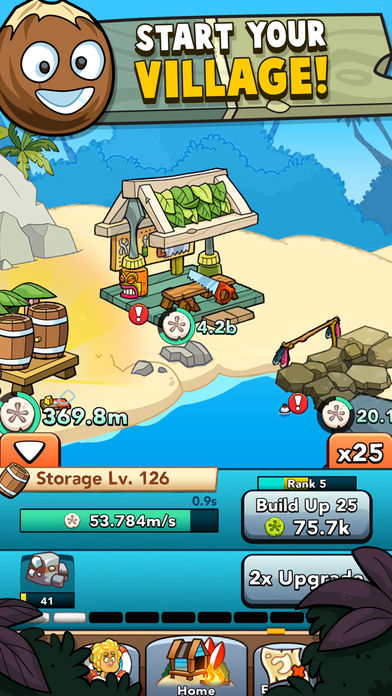 Welcome to the island of Castaway Cove!

Collect survivors to build an island paradise, as they collect supplies and resources by exploring the mysteries of the island.

Features:
*Tap your way into Sand Dollar riches, which can be used to upgrade and improve your village!
*Adventure through exciting special events such as Pearl Diving!
*Discover and collect rare survivors who work harder and have better attributes than the others!
*Use dozens of island resources to upgrade your buildings to even higher levels!
*More than 10 buildings to upgrade and generate Sand Dollars to improve your village.
*Collect enough wealth to set sail from the island to move on to bigger and better things!
*Play your way: supports both portrait and landscape modes!

Castaway Cove is optimized for Phones and Tablets.

PLEASE NOTE: Castaway Cove is free to play, but some extra game items can be purchased for real money. You can disable in-app purchases in your device's settings.

A network connection is required to play.
---
Mini Golf Battle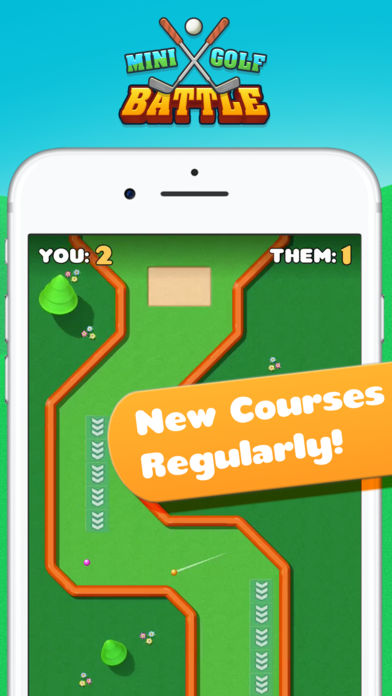 Challenge your friends to a fun-filled match of Mini Golf Battle on iMessage. Experience the innovative multiplayer strike-by-strike gameplay where players interact with each other on the course.

Knock, bump and block your opponent's ball in epic battles to find out who is the Minigolf champion!

Please note that playing the game over iMessage is only compatible with devices on iOS 10.0 or above.

***** Mini Golf Battle Highlights *****
• Play over iMessage – easy to challenge friends.
• Incredibly addicting and fun strike-by-strike gameplay.
• 27 holes and more added regularly – variety of courses with challenge for all levels of players.
• Interact with all the classic hazards – sand pits, water obstacles, powerful boost pads and more.
• Awesome physics and revolutionary shot system – balance between power and accuracy.
• Use the Retry feature to optimize your shot – up to 3 Mulligans per turn!

Fore!
---
Questland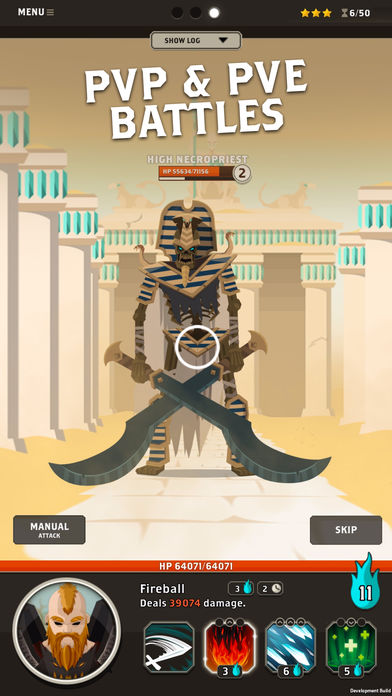 Questland is a first person perspective online role-playing game in the tradition of dungeon crawler cRPGs! Fight epic monsters (PvE) and duel other players online (PvP) in this incredibly dynamic turn-based action game with CCG elements!

Create a character, customize your hero, fight, loot, craft legendary swords and armor and enjoy fast-paced battles. Explore amazing locations, upgrade your legendary gear, make tactical decisions and become The Chosen One! Use your sword, fireball and blizzard! Embark on an epic quest to defeat the Shadow in this never-ending war between good and evil!

[Highly Addicting Fantasy Game!]
It's one of those games, that always leave you satisfied with your progress… yet somehow wanting more.

FEATURES:
– CUSTOMIZE your hero whenever you want to: hundreds of looks to choose from!
– COLLECT exquisite gear: common, uncommon, rare, epic, legendary
– UPGRADE your armor with powerful Orbs and enhancements
– FIGHT and lose yourself in great battle experience – fast-paced action
– FIRST PERSON PERSPECTIVE – feel the thrill of combat thanks first person perspective during battles!
– ENJOY stunning, modern visual effects and beautifully detailed locations
– ASSEMBLE the collection of the most powerful Orbs and use their power to your advantage
– EXPLORE the vast world of Valia: inspect the battle tower, visit shops, embark on voyages, meet colorful individuals and merciless monsters
– QUESTS will keep you entertained and busy. Enjoy hundreds of assignments and funny narrative from fellow characters!

Once peaceful and beautiful land of Valia is now covered in darkness of an unknown origin. Swarms of ghouls, blood-lusting spiders, skeletons and other monstrosities have invaded the land. Who controls them and how can he be stopped? The answers are within your reach, and with each swing of your sword they are getting closer.

Your task? As dangerous as it is obvious – use the power of Orbs, defeat the evil and bathe in glory and fame!

Please note that although Questland is free to play, our users are able to purchase game items with real money. If you don't want to use this feature, please disable in-app purchases.
---
The Walking Dead: March To War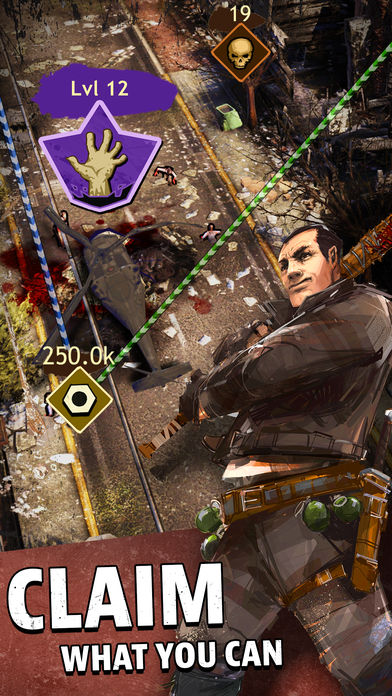 THE WALKING DEAD: MARCH TO WAR is an all-new intense multiplayer strategy game set in the world of the beloved The Walking Dead comics by Robert Kirkman.

DESCRIPTION

Players are survivors in the ruins of the nation's capital now overrun by the dead. Potential allies and enemies lurk around every corner. Real-time competitive play and a shared need for crucial resources drive players to cooperate with and compete against each other in an all-out war for survival.

Set concurrent with the "March to War" storyline in the comics, players will encounter familiar faces from The Walking Dead as they build increasingly powerful bases, recruit and train survivors, form Communities, and capture familiar Landmarks in the shattered remains of Washington, D.C.

ESTABLISH, FORTIFY, AND DEFEND BASES

Find safe ground and start building. Grow your base to produce more resources, recruit more survivors and expand your power base—but be careful: the more you have, the more your enemies can steal!

RECRUIT SURVIVORS

Every survivor NPC you recruit has their own name and backstory. As they gain experience and training, you will be able to customize their abilities, tailoring your group of survivors to your specific strategy. Of course, this makes it hurt even more when not everyone survives an enemy attack or a Walker Swarm!

ASSEMBLE YOUR COUNCIL

Complete daily missions to unlock powerful and familiar Council members who can help guide you on your way to deciding what kind of leader to become. Do you inspire like Rick? Mentor like Hershel? Or do you carry a big stick like Negan? Only you can decide.

BUILD COMMUNITIES

Find other players you can trust for added protection and cooperative gameplay. Work with your community to clear dangerous Walker Swarms for huge rewards, or just team up with the strongest fighters and wipe other players off the map!

DOMINATE THE MAP

Along with your community, take control of familiar Landmarks in the Washington, D.C. area. The bigger the Landmark, the more valuable it is, and the more likely to be targeted by other Communities. How long can you hold the Pentagon? Alexandria? The White House? The Kingdom?

ABOVE ALL ELSE, STAY ALIVE

The action in this game never stops. Be strong. Be smart. Stay alive, if you can.
Download The Walking Dead: March To War
---
War Planet Online: Global Conquest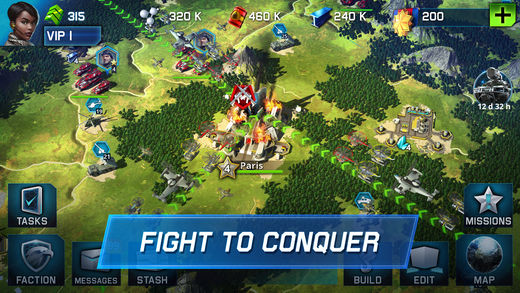 When the entire world is at war, bold generals rise to the challenge and lead their armies toward Global Conquest. The time has come for you to strike! Do you have what it takes? Build your base, dominate your region and lead your faction to conquer the globe!

You are a lone military force in a world completely engulfed by war. But you are destined to rise up and conquer it all! So build a mighty base, gather strong allies, and launch a global assault in the most explosive real-time MMO strategy game!

**GAME FEATURES**

REAL-WORLD ACTION
• Immerse yourself in a world where thousands of real players struggle for dominance 24/7.
• Talk to your allies (and taunt your enemies) in the global chat, or plot your next attack in the private Faction chat.
• Build your forces from units based on actual modern war machines including armored tanks, lightning-fast jets, long-range artillery and much more!
• March your army across a faithfully recreated World Map.

REAL-TIME CONQUEST
• Fight for supremacy in real-time, live PvP warfare.
• Use cunning strategies to strike your enemies where and when they least expect it.
• Call on allies for reinforcements to overcome any obstacle!

REAL MILITARY STRATEGY
• Customize your base to create an impenetrable fortress that will crush any invasion.
• Recruit skilled commanders that specialize in various types of operations.
• Forge a massive alliance with other players and coordinate amazing feats of strategy together.

What are you waiting for, sir? The world needs a general like you to dominate and win this war!