Apple's big iPhone X unveiling isn't until tomorrow, so we're giving Apple fans something else to celebrate today. Monday's roundup of the day's best paid iPhone and iPad apps on sale for free includes 10 different apps that span a wide range of categories. There's something for everyone today, but these are all limited-time deals so grab them while you can.
This post covers paid iPhone and iPad apps that have been made available for free for a limited time by their developers. BGR is not affiliated with any developers. There is no way to tell how long they will be free. These sales could end an hour from now or a week from now — obviously, the only thing we can guarantee is that they were free at the time this post was written. If you click on a link and see a price listed next to an app instead of the word "get," it is no longer free. The sale has ended. If you download the app anyway, you will be charged by Apple.
Heart Rate Monitor
Normally $0.99.
Use this App to measure your heart rate.

How to use the heart rate monitor?

To use this heartbeat counter, just put your finger on the phone's camera and stay still, the heart rate is shown after few seconds.

App Future:
– Measure your heart rate with your iPhone camera
– Tag, Save and Share results;
– Track your Progress;
– Unlimited history;
– Does not require any additional equipment.

Note: This app uses iOS HealthKit to manage your heartbeat data
Relatively: Simple Weather
Normally $0.99.
Relatively is a weather app that gives you only the information you need at a quick glance! The clean interface lets you see the temperature relative to yesterday and the current weather conditions for your location. If you're sick of cluttered weather apps throwing too much data at you, try out Relatively!

Features:
-Temperature change from yesterday
-Current weather conditions in text and image form
-Chance of precipitation
-Current actual temperature

All weather data is provided by forecast.io
Download Relatively: Simple Weather
Telepaste
Normally $0.99.
Download Telepaste for Mac for free at: https://jinghan.me/telepaste/resources/Telepaste4Mac.zip

Copy and paste between devices within 1 second!
Not more than one button need to be pressed!
No wifi/bluetooth connection is needed!
Auto generate QR codes from clipboard!
Auto copy decoded content to clipboard!
You can even auto save to your photo library!
URL, phone numbers or time detection, one tap to browse, to call or to create an event!

Especially useful for those who have more than one iOS devices.

Telepaste uses QR codes as a media, is able to auto capture contents from your pasteboard and generate QR code before you get in the app. You don't have to press any button to generate the code! Telepaste also supports auto-copying the decoded contents to the pasteboard, really a convenient utility! Don't miss it!
Pixter Scanner
Normally $3.99.
Pixter Scanner is a very useful application for:

– High school students, college students, Students
– When traveling abroad
– In your everyday life (Recipe, Books, Newspaper, etc.).
– Etc.
————————————————-

– Cult of Mac 04/08/2013 : "Pixter, A Fast, Accurate And Good-Looking OCR App For iPhone"

– 148Apps : "Compared to other OCR apps that I have used, Pixter Scan seems to be more accurate than most"

– MacLife : "Fast, accurate mobile optical character recognition. Built-in cropping. Wide range of translation and sharing options"

————————————————-

Pixter Scan OCR is a combination between Pixels (your pictures) and text (what you will get) by Optical character recognition usually abbreviated to OCR which is the mechanical or electronic conversion of scanned images of handwritten, typewritten or printed text into machine-encoded text.

Pixter Scan OCR is the most elegant and easy way extract text from your pictures. It's a powerful tool that turns your iPhone into a multi-functional mobile scanner with translation capability.

Snap a photo or choose an existing one from your library and the app will instantly extract your text from the picture.

Pixter Scan OCR turns your physical documents into a digital notes that you can edit, translate or share to many apps.

Pixter Scan OCR just works as advertised. It use an advanced image-processing algorithms to eliminate uneven lighting and shadows and improve contrast. The result is the clearest and most readable scans possible from the iPhone's camera.

What makes Pixter Scan OCR unique:

– Application Interface
It is clean, agile and focused on your productivity.

– OCR Recognition Language
OCR Scanner supports 32 recognition languages:

ENGLISH
BRAZILIAN
BULGARIAN
BYELORUSSIAN
CHINESE (SIMPLIFIED)
CHINESE (TRADITIONAL)
CATALAN
KOREAN
CROATIAN
CZECH
DANISH
DUTCH
ESTONIAN
FINNISH
FRENCH
GERMAN
GREEK
HUNGARIAN
INDONESIAN
ITALIAN
JAPANESE
LATIN
LATVIAN
LITHUANIAN
MOLDAVIAN
POLISH
PORTUGUESE
ROMANIAN
RUSSIAN
SERBIAN
SLOVAK
SLOVENIAN
SPANISH
SWEDISH
TURKISH
UKRAINIAN

– Picture Adjustment
You can crop your picture to only select the portion of text that you want to extract

– Editing
You can edit the extracted text to add or remove words.

– Sharing
You can share your text to almost all your favorite apps including:

# Email
# SMS
# Facebook
# Twitter
# Pages
# Evernote
# Word
# Pdf
# Doc2Go
# Dropbox
# and many more

– Translating
Recognize text can be instantly translated to more than 60 languages.
Echo Dawn: Shattered Visions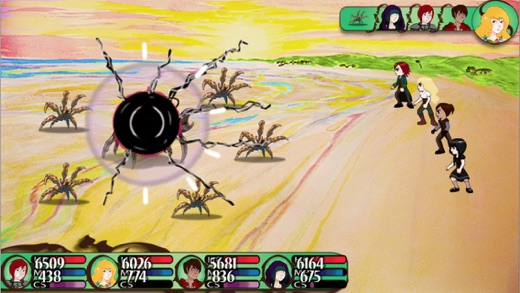 Normally $0.99.
Unveil the world of Echo Dawn, a classic console-style RPG where discovery, strategy and challenge are at your fingertips. Fully customize your party, stats, and difficulty level. Oh and in the process you'll save the world and be a hero of LEGENDARY proportions. Ninja included!

Features:
•Deep, tactical gameplay
⁃With hundreds of abilities and items, you choose what works best for your party.
⁃Each level, you decide 3 of the 6 stats you want to improve for each character.
⁃Play defensively with heavy armor equipment and place your characters in the back row.
⁃Or you can decide to be aggressive and dual wield with your characters in the front row for maximum damage.

•Create the party you've always wanted to play
⁃Choose your class for each of the 4 characters in your party.
⁃7 unique classes.
⁃Do you want to play a party of 4 healers? Why not? (Although, I recommend 4 bards.)

•Customize your play style for each character
⁃Do you want to build your ninja to be slow and hit for lots of damage? Use a katana and improve your strength.
⁃Or do you want your ninja to be lightning fast and hit for medium damage? Improve your agility and use daggers.
⁃Or maybe you just want to sit in the back, throwing shurikens, and poison your enemies to death. To achieve such awesomeness, improve your intelligence. The choice is yours.

•Multiple difficulties
⁃Just playing for the story? Play Easy.
⁃Are you an RPG expert? Play Hard.
⁃Want to experience the game just the way it was intended? Play Normal.
⁃Or maybe, you like dying, reloading, being frustrated and grinding your way to the end. Then play Impossible. But don't say we didn't warn you.

•High replayability
⁃With 7 different classes, 4 different difficulties, hundreds of items and abilities, you can play through the game with many different tactics.
⁃Fight the 4 optional dragons in the Caves of Chaos for a true challenge.
⁃Try to see if you can beat Impossible mode.

•An epic 15 hour long story
⁃Explore an epic fantasy where the first humans face corruption and ultimate destruction.
⁃A story of memories, blood, death, corruption, betrayal, love, life, friendship and the future of all things.
Download Echo Dawn: Shattered Visions
ProCam HD
Normally $2.99.
ProCam HD is a powerful photo editor combined with photo reflection capabilities to take your photos to the next level.

Features:
– Reflection with adjustable light, color and padding
– Powerful photo editor
– Amazing Effects and Frames
– Adjust, Crop, Orientation
– Great overlays and stickers
– Focus Tool

A must have app for photography enthusiasts.
SpeedText
Normally $1.99.
Write quickly! No keyboard needed!!

SpeedText is a memo application for handwriting input. You can write words or numbers on a screen input pad. The content is automatically displayed on a text pad 0.5 seconds after releasing your finger from the screen. You can write smoothly, no need to scroll the window.

Features :
– Write text using your finger.
– Immediately shows the text after you write.
– Insert new line using the "Enter" button.
– Delete text using "BackSpace[BS]" button.
– Move the cursor location by touching on word.
– Add or delete pages. Move page using arrow buttons.
– Device rotation is supported (select from Auto, Portrait Fix, Landscape Fix).
– Selectable input wait (minimum: 0.2second, maximum: 0.8second).
– Selectable the input pad height (High, Middle, Low).
– Selectable word space (minimum: 0px, maximum: 24px).
– List View is availavle.
– Continuing write button which box up wordspace is available.
– Lock timer button and continuing write button are selectable (Yes,No).
– Icon insert and icon serach.
– Evernote Integration!
Switch Dash Pro
Normally $1.99.
Tap To Screen For Switch Color Dash. Go to the top, become the leader of the world ranking!

Features:
– 10 characters
– Online leaderboard

Gameplay:
– Tap To Screen For Switch Color Dash
– Don't touch other falling colors
– Collect coins to unlock new Characters
Weather Now App
Normally $4.99.
Amazingly beautiful 3D images of our planet draws your attention for so long that you may forget that the application has other useful features that allows you easy access to precise, global weather information.

Features:
• Easily select different cities using the city carousel with national flags
• Chic 3D "home screen" with high-quality real-time image of the earth, atmosphere, the stars and the sun
• 15-day forecast chart with detailed daily weather conditions, independent day and night temperature charts
• 48-hour hourly forecast with detailed information with real-time changing of chart step
• Database of 80 000 cities with weather information, quick look-up and automatic detection of location
• Temperature on the icon badge
• Customized Weather Widget
• Weather Maps

The main features of "Weather Now" are the "home screen" and the forecast page with a unique way of scaling the charts. On the "home screen", you can get information on the selected location such as local time and current weather with detailed weather conditions, and, of course, an incredibly beautiful three-dimensional image of the globe with realistic-looking atmosphere, the sun and the stars. You can manually turn it, increase and decrease its size, run the slow spinning animation or stop it. Installed in a cradle or dock station, the application can run as a screensaver, attracting your friends and fellows.

The weather forecast is provided by CustomWeather, Inc, an American weather provider of global weather information for over 15 years. CustomWeather is a leader in technology and meteorological innovation, providing local weather information to companies and application developers around the world.

The current weather data is gathered from thousands of professionally installed and maintained weather stations installed mostly at airports. WeatherNow only shows current weather from stations that have reported local weather conditions within the past hour. Current weather data is refreshed every 30 minutes; that is twice as frequent as most other weather providers can offer. Unique 48-hour forecasts from over 80,000 locations around the world provide a level of coverage and detail that simply cannot be found elsewhere.

Current weather information includes: description, air temperature, wind direction and force, humidity, dew point, pressure, visibility, as well as comfort index with reference to current weather conditions.
Detailed weather forecast information includes: description, day and night air temperature, wind direction and force, humidity, UV index, probability of precipitation, and comfort index with reference to current weather conditions.
Handsy
Normally $0.99.
***FEATURED ON YAHOO TECH, BGR, DIGITAL TRENDS, + APPLE TOP 100***

Get your hands on Handsy!

The only real hand gesture stickers in the app store.

Up your messaging game with Handsy, the best hand gesture stickers pack available.

Over 50+ true hand photo stickers to slap on messages or send as their own message.

Use Handsy to send your loved one roses or your best friend a beer, or tell your boss to f' off.

Stop using drawn or animated hand gestures. Start using Handsy real hand gesture stickers to invigorate your messages.

Getting your hands on Handsy is cheap and fun, so get downloading and sending messages Today!
___

Handsy was created by a Husband and Wife (& their newborn) looking to bring more joy and entertainment into your messaging. We are planning on expanding the hand options in Handsy over time, so send us your requests for any hand types or gestures you'll want. :)

Also, app reviews help please take a second to leave one!

Support and gesture requests can be sent to Support@GetHandsy.com

___
NOTES ON APP INSTALLATION: If you do not see the app in the iMessage dock, go into the iMessage App Store, there is a tab on the top that says "Manage."
When you click this tab you will get to a screen that says "Automatically Add Apps" you can turn this on to make sure you see all iMessage apps that are installed on your phone in the dock. Also, below this section you will see all apps listed and a little toggle next to the app name. "Handsy" should be on this list and if you toggle the switch to on the app will show in the iMessage dock.