If you purchase an independently reviewed product or service through a link on our website, we may receive an affiliate commission. Learn more.
First and foremost, Goat Simulator is still free! You seriously need to grab it if you haven't already… but we won't officially include it again on today's list. We've got nine other paid iPhone and iPad apps on sale for free for you to check out, but do it quickly since these sales could end anytime.
These are paid iPhone and iPad apps that have been made available for free for a limited time by their developers. There is no way to tell how long they will be free. These sales could end an hour from now or a week from now — obviously, the only thing we can guarantee is that they were free at the time this post was written. If you click on a link and see a price listed next to an app instead of the word "get," it is no longer free. The sale has ended. If you download the app, you will be charged.
Surge Defender
Normally $0.99.
Surge Defender helps you find and book an Uber ride at the lowest possible surcharge rate – at any location, any time, anywhere in the world!

How does it work? There are two ways.

1. Search simultaneously for surge pricing at 25 points around you. Choose the point with the lowest surge.
2. Surge pricing changes often, quicker than you may think. The app will refresh every 30 seconds, so you get the surge as soon as it drops, rather than once you've left and booked at a high surge rate.

Simply choose your location, how far you are willing to walk for the lowest surcharge, and the type of Uber ride you would like to take. Then with a single button click, the surcharge rate is locked in and the final booking confirmation is performed in the Uber app.

Why is this app a must have? The Uber app at peak periods may present a surcharge to entice drivers onto the roads. For example, a ride booked via the Uber app, with a surcharge of 1.7x, may cost you $30. Alternatively, using Surge Defender, you could discover that 20 meters from you, the surcharge is only 1.3x. If you took that rate, your trip would have only costed you $23. That's a saving of $7! The savings are even higher when Surge Defender finds you a surcharge of 1x.

So change the way you book your next ride. Don't overpay. Ride smart. Beat the surge!

New features are coming soon and all feedback is welcomed. If you have a suggestion or feature that you would like for the app, simply review and leave a comment on the App Store.
Venus Calendar
Normally $4.99.
If you are tired of the same old boring way of keeping schedules and tedious data entry, then Venus Calendar is for you! The app allows you to plan out your day by writing it in sketches and doodles – much like you would do to an old wall calendar.

Venus Calendar is designed for simplicity and sanity. Let go of all the alerts, notifications, and oppressive schedules eschewed by traditional calendar apps, and find a new a fresh way to get things done. Be creative. Express yourself. Make each day unique and different and fun.

Try Venus Calendar. Because life isn't supposed to be a time clock you punch in and out of. It is a canvas where you paint your experiences, and leave your mark.
Magic Launcher Pro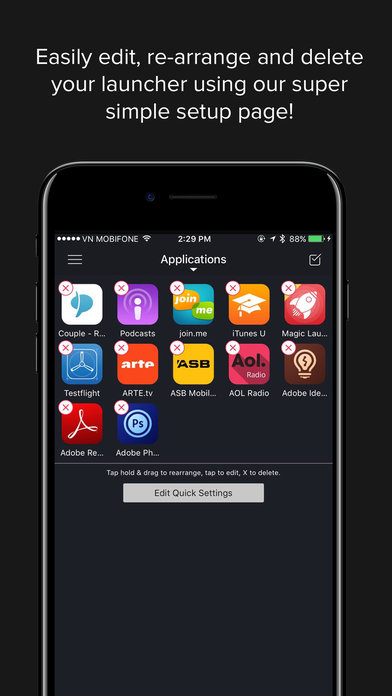 Normally $2.99.
Magic Launcher is the only Today Widget App Launcher you will ever need, with the ability to launch more than 100,000 apps and actions from the Today Widget in the Notification Center it makes using your iPhone or iPad even easier! Launch calls, texts and more with your friends in one swipe and tap with our Magic Contact launchers and our Quick Access actions allow you to manage your phone settings with a tap of a button.

Features Include:
– Unlimited capabilities for launching apps and actions with more than 100,000 apps including all top apps such as Facebook, Instagram and Snapchat all in your Notification Center
– Design your own Launcher layout including modifications for icon size, text and shape
– Magic Contact allows instant contact via Call, Messages (SMS), FaceTime, FaceTime Audio, Mail and Telegram!
– A huge set of Magic Launchers including Google Search, Wiki Search, Weather, Clock, Clipboard search, Clipboard clear, automatic Tweet/Facebook post latest photo, Battery monitor and much more!
– Manage Settings, quickly turn on/off WiFi, 3G, Bluetooth, Location services and more
– Widget Scheduling allows you to automatically show & hide widgets depending on time or location
– Have multiple Launchers for various functions
– Universal app works on iPhone and iPad with support for iOS 8, iOS 9 & 3D-Touch
– iCloud Backup and Restore
– Multiple language support
– Request additional apps via our request form
– And so much more…
Lost in Harmony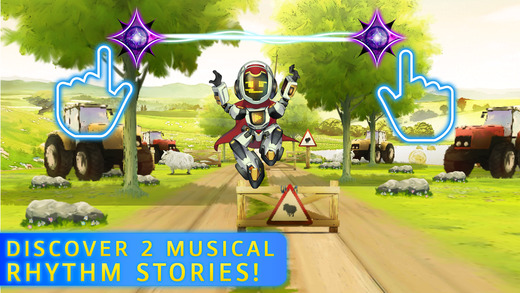 Normally $3.99.
Live the stories of the acclaimed music runner game.

Fall for Aya & Kaito's moving story. Thrill for M.I.R.A.I.'s enigmatic escape.
Tap the stars, and swipe to avoid the obstacles through these two memorable journeys.

*** App Store Best of 2016
*** 9.3/10 – That Video Game Blog
*** 4.6/5 – Tap Smart
*** 4/5 – TouchArcade
*** 10/10 – The Anything Mobile
*** 4.8/5 – PocketMeta

"Lost in Harmony is one of the sweetest rhythm games I've played…"- Kotaku

"Lost in Harmony is one of the most unique, ambitious games we've seen in some time… An unforgettable experience." -TapSmart

"Lost in Harmony is an audio/visual triumph" – Touch Arcade

"Lost in Harmony is a stunning game with an amazing soundtrack. A story that needs to be shared." – ThatVideoGameBlog

"Lost in Harmony deserves 10/10 in all facets of it, originality, graphics, sound, and gameplay!" – The Anything Mobile

"Lost in Harmony features the power of love, and beat in an engrossing gameplay. Try it!" – PocketMeta
Discover 2 amazing stories :

■ M.I.R.A.I.'s Escape
Conduct M.I.R.A.I. in his flight through the universe
Help him to escape his destiny
Discover the thrilling music of famous Japanese composers

■ Kaito's Adventure
An unforgettable journey. Live the tale.
This is a story where boy meets girl, and fate tries to tear them apart.
Embark on a breath-taking journey to help Kaito save Aya.

How to play:
– TAP stars in rhythm according to the song
– SWIPE and JUMP to avoid the obstacles

Features:
• Experience music in a new way with the combination of rhythmic tapping and choreographic runner in an emotional story
• Play songs by famous composers & singers like Wyclef Jean, Onoken, Tadayoshi Makino, Fumitake Igarashi, Godspeed Vivix
• Breath-taking graphics that'll sweep you off your feet!
• Astonishing cinematic effects!
• Tap & Play to your favorite songs!
• Create your own levels, share & play with your friends!
• Moving and original soundtracks
• 10,000+ levels to play generated by other gamers!

Languages: English, French, Spanish, Portuguese, German, Italian, Dutch, Turkish, Russian, Chinese (simple), Chinese (traditional), Korean, Japanese, Indonesian, Thai, Vietnamese, Arabic
Photo Cleaner
Normally $0.99.
Photo Cleaner is a powerful cleaning tool for organizing your photos and videos. It provides features such as cleaning up duplicate/similar media and media compression.

Main features:

– Auto search
Duplicate search finds the exact same photos and videos using up unnecessary storage space. Likewise, similar search finds visually similar photos.

– Deletion
Sort your photos and videos in various modes to easily detect and delete unwanted media. The following sorting modes are available: File size, date, album, screenshots, selfies.

– Compression
Batch compress multiple photos and videos at once and save 90% of storage space on average. Compressed media preserves the metadata such as date, location, album name, etc., so the camera roll doesn't get cluttered after compression. You can also control the compression quality as you like(lower quality means compression into smaller file size). You can compress up to 500 photos & videos in the free version.
Rocket Music Player
Normally $0.99.
Rocket Music Player is a nice vintage Music Player.that users will love to use instead of the iOS native music player app. It's written in Swift, flexible and nice UI design, background selection.

Rocket Music Player allows you to create a playlist and play it anywhere, also you can share the current song to your friends by Mail, iMessage, Facebook and Twitter!

-Build a playlist by picking your favorite songs from your iPod music library (it must contain at least 1 song)
-Music player controls, song meter animation
-Song Progress Slider, it shows the song progress and you can also drag it left or right to skip seconds of the current song
-Share the song you're listening on Twitter, Facebook, Mail and iMessage
Sushi Stickers for iMessage
Normally $0.99.
Grab this collection of Sushi Stickers for iMessage while they are still free. Hilarious puns to get you through the day.

Carefully crafted emoji stickers that will make you laugh, smile and smirk as you send them to your Sushi-loving friends, family and that special someone.

Wasabi, you make miso happy, you're on a roll, let's chopstick together, they see me rollin', Mother of Dragon Roll and more.

A very creative set of funny, punny Sushi-moji stickers. Enjoy!

— Instructions —
1. Open iMessage and message your bestie.
2. Inside the conversation, tap the App Store icon in the lower-left corner next to the input field.
3. Swipe left or right until you see our Sushi stickers.
4. Tap a sticker once to send. Hold a sticker and drag onto a message to overlap stickers.
5. You're a rockstar, you did it!
Download Sushi Stickers for iMessage
Note Pack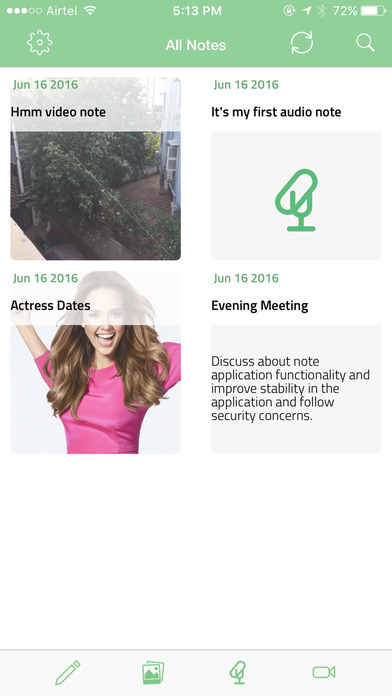 Normally $0.99.
Note Pack is an app for you to store and edit notes on the cloud, it works with Parse backend so you won't loose data even after an update, just login with your own username and password to access your notes.

You can store Video, Audio, Image and Text notes with this app, all comes into a nice.

Easily insert/update your notes, choose from Text, Video Image and Audio notes
noPhone Hour
Normally $0.99.
There are so many things more important than mobile phone in our lives. So, when necessary, please lay aside it and concentrate on what you are doing.

・ This app encourages you to lay aside mobile phone and concentrate on what you are doing. You can set the time (one or half an hour), and briefly record what you've done at the end of the time. Day by day, will cultivate healthy habit of using mobile phone.
・ No limit to the functions of mobile phone, such as calls and texts. Putting your phone on silent mode is a good suggestion during the "noPhone Hour".
・ There are six themes, with the growth of the "noPhone Hour" number, one by one to unlock.
・ With iCloud, it's easy to transfer your data to a new iPhone.
・ No ads.
---
Our deals and product reviews are picked by BGR's expert editors and team.

Follow @BGRDeals on Twitter to keep up with the latest and greatest deals we find around the web. Prices subject to change without notice and any coupons mentioned above may be available in limited supply.