If you purchase an independently reviewed product or service through a link on our website, we may receive an affiliate commission. Learn more.
Amazon kicked off its fourth annual Prime Day sales festival on Monday, but things weren't off to a great start. Many Prime members looking to make the most of the 36-hour sale were greeted to site issues that prevented them from doing any shopping.
In fact, if you were greeted with Amazon dogs soon after Prime Day 2018 started, you were not the only one.
This year's Prime Day will be Amazon's most significant Prime Day ever, with some analysts expecting the retailer to sell goods worth $1 million a minute during peak times, and up to $3.6 billion in total for the entire event. If that forecast does come through, Amazon should rake in $1.2 billion more than last year's Prime Day event. It helps that Amazon extended the sale period to 36 hours, and added even more countries than last year.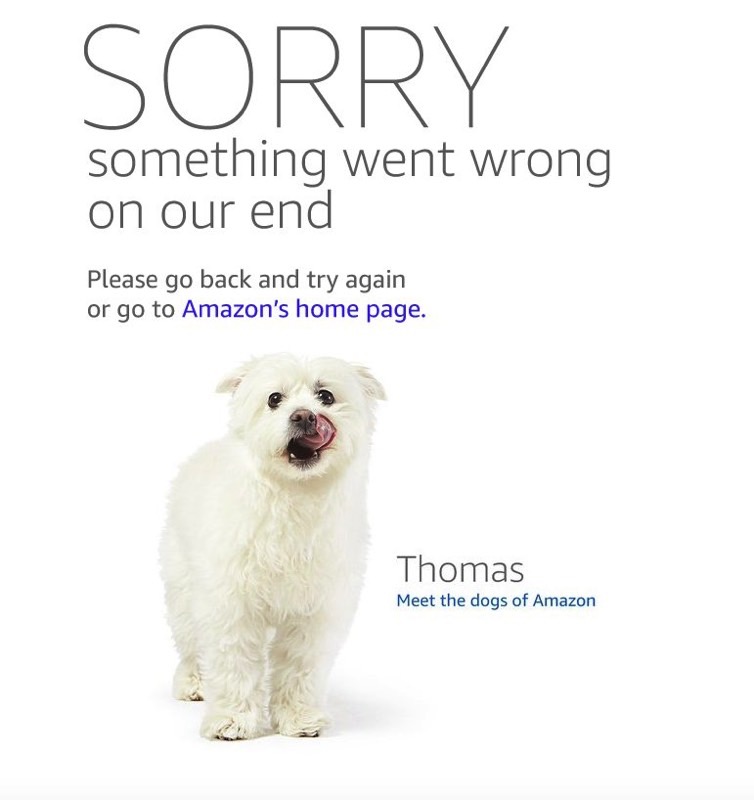 But the fact that some customers were not able to buy products in the first hours of Prime Day business will take a toll on revenue. Amazon quickly issued a statement on Twitter, saying that "some customers are having difficulty shopping, and we're working to resolve this issue quickly."
"Many are shopping successfully," Amazon said, adding that "in the first hour of Prime Day in the US, customers have ordered more items compared to the first hour last year," reminding fans that there were "hundreds of thousands of deals to come and more than 34 hours to shop Prime Day," at the time the statement was posted.
— Amazon (@amazon) July 16, 2018
The site issues are all the more surprising for Amazon, considering the company is also running one of the biggest cloud businesses in the world, so it does know a thing or two about making sure a website as big as Amazon.com works flawlessly, especially during Prime Day events.
The point of Prime Day, of course, is to help Amazon sign up more people to its Prime club. After all, the Prime Day deals are targeting Prime members. If you've been experiencing issues with the site on Prime Day, one thing you can consider doing is cutting your Prime subscription for a period. Although Prime does come with so many perks, it's worth getting a subscription — here are more details on what's included in your Prime membership.
The dog-centric error pages that you may have seen on Monday afternoon have not been created for Prime Day. As Business Insider points out, they were there, part of Amazon's 404 error page since at least 2006.
The dogs of Amazon are dogs that belong to Amazon employees, with the retailer being a dog-friendly working environment. I'm sure some Amazon employees would be a lot happier to receive other perks on top of this.
"At Amazon, bring-your-dog-to-work day is every day," an Amazon blog post reads. The tradition started back in the early days of Amazon when a couple used to bring their Welsh Corgi, Rufus, to work with them.
That said, there's plenty of time left in Prime Day 2018, and a ton of deals to take advantage of, hopefully, without any Amazon dogs sightings.