This time last year, people would have laughed in your face if you merely suggested that Nintendo was about to launch the hottest home video game console in the world. The Wii U was in its death throes, its position cemented as one of the most disappointing gaming machines in recent history. While PS4 sales continued to soar, it seemed like Nintendo had precious little chance of a comeback. Fast-forward to today, and it's still impossible to get your hands on a new Switch console unless you're willing to pay a premium to order one right now on Amazon.
We've seen evidence time and time again of just how impressive Switch sales have been so far, but now there's a single new data point that will really put Switch sales into perspective.
First released back in 2006, the original Nintendo Wii currently stands as the fifth best-selling video game console of all time. In fact, with lifetime sales that sit somewhere around the 101 million or 102 million mark, there is some debate as to whether the Wii is actually #4 on the all-time list; sales of Sony's first-generation PlayStation are believed to be about 102.5 million units.
It's a different world today than it was back then, so it would be crazy to suggest at this point that lifetime Switch sales might end up rivaling the Wii. That said, a tidbit from GameStop's earnings call on Thursday is a good reminder of just how hot the Switch is right now.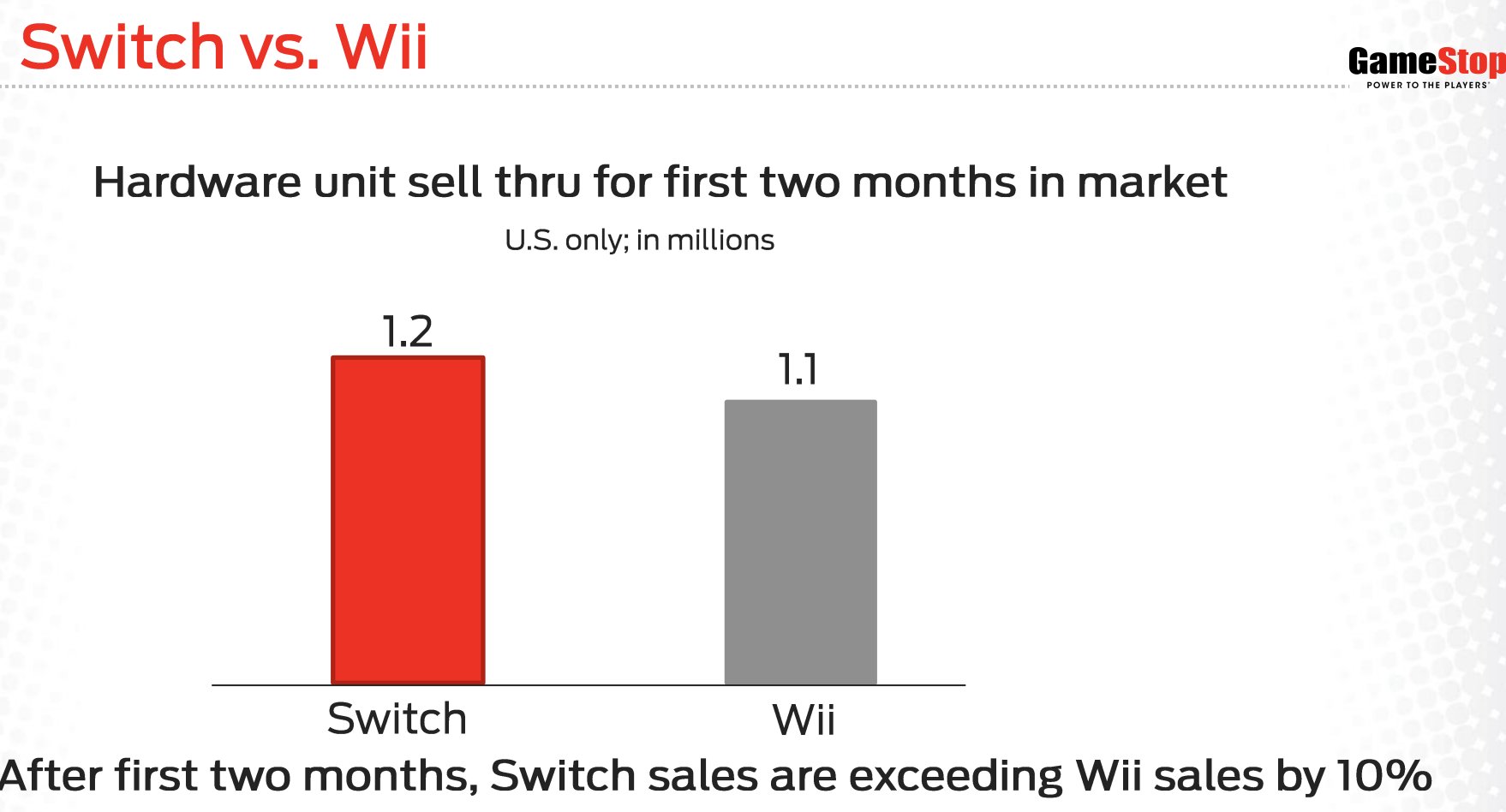 The slide above was posted on Twitter by Niko Partners analyst Daniel Ahmed. It shows one little data point that truly speaks volumes, and it was shared by GameStop on its earnings call. According to the retailer, Nintendo Switch sales in the two months following the console's release topped sales of the original Wii by 10%, reaching 1.2 million units in the US alone. That's a huge accomplishment for Nintendo, especially considering how constrained supply has been thus far.
Nintendo's new Switch isn't quite the transformational console the Wii was when it first launched more than a decade ago. It is novel and fun, though, and it's clearly winning over consumers in the US and around the world.