If you watch a lot of the content streamed by players like Netflix, Hulu, Amazon and the like, at some point you can feel a little bereft when it comes to knowing what's what, provided you're not glued to Twitter or to news about each outlets' offerings. When does your favorite new series premiere? What's coming soon?
Back in the prehistoric era, when you were forced to watch whatever was being broadcast on a TV set at that exact moment, people used an ancient text called a TV Guide to know what was being shown when. Interestingly, Google is testing a new feature that would provide a kind of digital version of that same thing, so that users can know what content they can find on which streaming app.
As spotted by the folks at Quartz, it's a feature being tested that certainly sounds pretty useful and would let you see what's playing from inside a Google search. A few nights ago, according to a Quartz writer, typing "Christmas comedy movies" in the search box in Google's iOS app pulled up a list of titles like Love Actually — and above them, the search results included an option to choose streaming providers like Netflix and Hulu to see which of the choices were available on those platforms.
Google confirmed it is indeed a feature being tested, though there's no word as yet on a wider rollout. "We're always experimenting with new ways to help people find relevant information through Search," a Google spokesman told Quartz. "We don't have anything to announce at this time."
This would seem to be an expansion of something Google started earlier this year — work it started with various streaming content providers to make their offerings searchable in the Google Play Movies & TV app, per a TechCrunch report. It would seem that functionality is now seeping into other Google properties, and it especially makes sense to bring it to a Google property like Search. Speaking of Search, you may also already be able to see this functionality on a desktop search, which pulled up similar detail about Love Actually's streaming presence as did the iOS app search. (You can see the results here near the top of the page below) —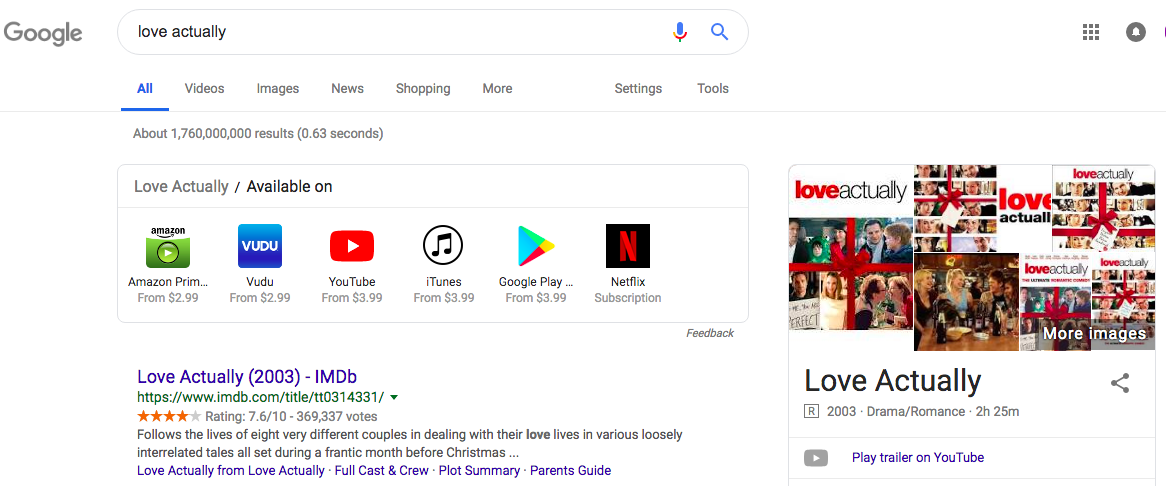 To be sure, this feature is not something unique to Google. Apple's TV app also provides similar functionality, for example. But it's certainly interesting that the biggest search engine out there wants to help consumers make sense of the flood of content coming their way, in terms of where it's playing, which can now apparently be done with just a simple search engine query.