WWDC is in full swing and Apple has already made a number of interesting announcements, including some welcome performance changes to iOS 12. Beyond that, Apple also unveiled some pretty cool advancements with its AR technology, Siri and iOS' Photos app. WWDC, though, isn't solely an iOS affair. Far from it, Apple today also introduced some welcome and intriguing new improvements to watchOS and tvOS.
Following that, Craig Federighi took the stage and introduced some new changes to macOS, an update that's called macOS Mojave. First off, Apple introduced a new Dark Mode feature. Though users have been eager for a Dark Mode to come to iOS, we'll have to do with Dark Mode for macOS for the time being. Not surprisingly, when Federighi revealed Xcode in Dark Mode, the audience erupted in applause.
Moving along, macOS Mojave has a new feature designed to remove desktop clutter. Dubbed Desktop Stacks, all of a user's content can be housed under a stack that can be organized based on any number of categories. For example, you can have a stack called Images that contains all of the images you have on the desktop. As an added bonus, and what separates a stack from a traditional folder, is that you can scrub across a stack and see previews of all the files therein.
macOS Mojave also introduces a new Finder view called "Gallery View" that makes it easier to preview movies, images, presentations, documents, spreadsheets, and PDFs. The Gallery View also includes an area where users can apply commonly used actions to a selected file.
Next up, Apple made taking Screenshots on macOS a lot more powerful. Now when you take a screenshot, Apple has added tools which let users edit photos more quickly efficiently. There's also an ability to record video of a selected webpage, which might prove useful if you're keen on recording a webpage with media content such as animations. macOS Mojave also introduces some new continuity features which lets users seamlessly incorporate photos from an iOS device to an open document on macOS.
Craig Federighi next turned his attention to apps and announced that Apple News, Stocks, and Home are all coming to the Mac.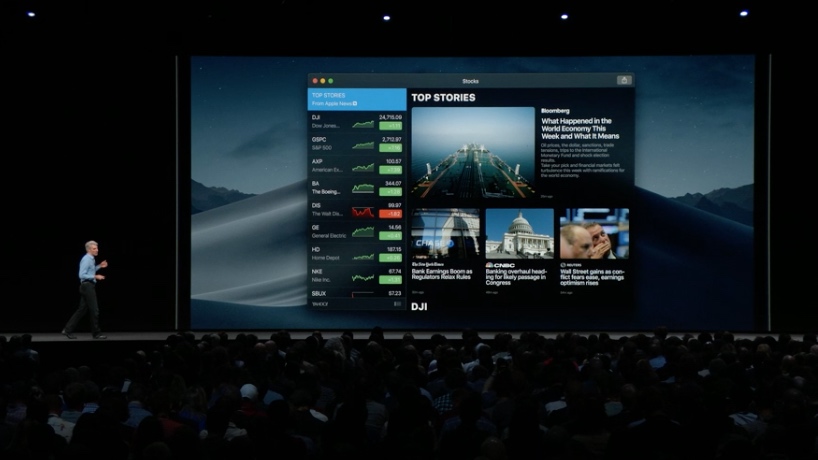 macOS Mojave also brings with it some interesting security updates. Specifically, the next-gen version of macOS enacts new protections regarding how apps can access data on your device. Safari also has some new security enhancements, including shutting down — by default — certain comment fields and like buttons on third-party websites as they can be used to track users. Moreover, Apple says Safari will make it harder for data companies to track you on the web based on your computer's configuration.
The Mac App Store also received a complete overhaul featuring a new look and feel that was designed from the ground up. The new design features curated editorial suggestions along with a list of the best-selling apps across multiple categories. You can also explore recommendations across different categories while also viewing video previews of what an app looks like in action. Notably, Office 365, Lightroom CC and BBEdit are some big name apps that will be hitting the Mac App Store soon.
Interestingly, Craig Federighi emphatically said that Apple is not planning to merge iOS and macOS. "We love macOS because it's explicitly created to the specific characteristics of Mac hardware," Federighi noted.
Still, Apple provided us with a sneak peek of a multi-year project that will enable macOS to tap into the iOS ecosystem by bringing certain iOS frameworks to the Mac.
"Phase 1 of this effort is to test it on ourselves," Federighi said. Apple said the ability to bring iOS apps to the Mac will be available to developers in 2019.