The European Union hit Google with a new record fine earlier this week. The EU says Google has to pay $5 billion for abusing its dominant position in mobile, with the Android-related penalty being almost double the previous record find the EU levied. The recipient of that fine? Also Google.
Unsurprisingly, Donald Trump slammed the EU's ruling, somehow tying the decision to his trade war against the Union. All the while, a different Google-and-Trump story gained prominence over the past few days, as people discovered that a search for "idiot" now delivers a large number of photos of the president. The two events, however, are not related.
"I told you so!, Trump began his tirade against the EU. "The European Union just slapped a Five Billion Dollar fine on one of our great companies, Google. They truly have taken advantage of the U.S., but not for long!"
https://twitter.com/realDonaldTrump/status/1019932691339399168
As much as it would seem like the EU fine against Google may be the result of Trump's comments on trade with the Union, that's probably not the case. The EU began its Android investigation long before Trump took office, and long before the trade wars started. Moreover, the Android investigation is just one of the three separate antitrust probes in the region, and the second one to result in a multi-billion record fine.
Trump's "but not for long" remark suggests he'll do something about it. It's unclear what, or if he has any authority. Google did confirm it'll appeal the decision, which was entirely expected.
Earlier this year, the Trump administration took a similar action against a top China smartphone maker, ZTE, banning the company from dealing with US firms, and effectively killing its smartphone operations. That wasn't an antitrust matter, however, but sanctions violations from ZTE. At the time, it was Trump who decided to intervene and largely overturn the decision in what was interpreted as a move in a different trade war, the US vs. China one.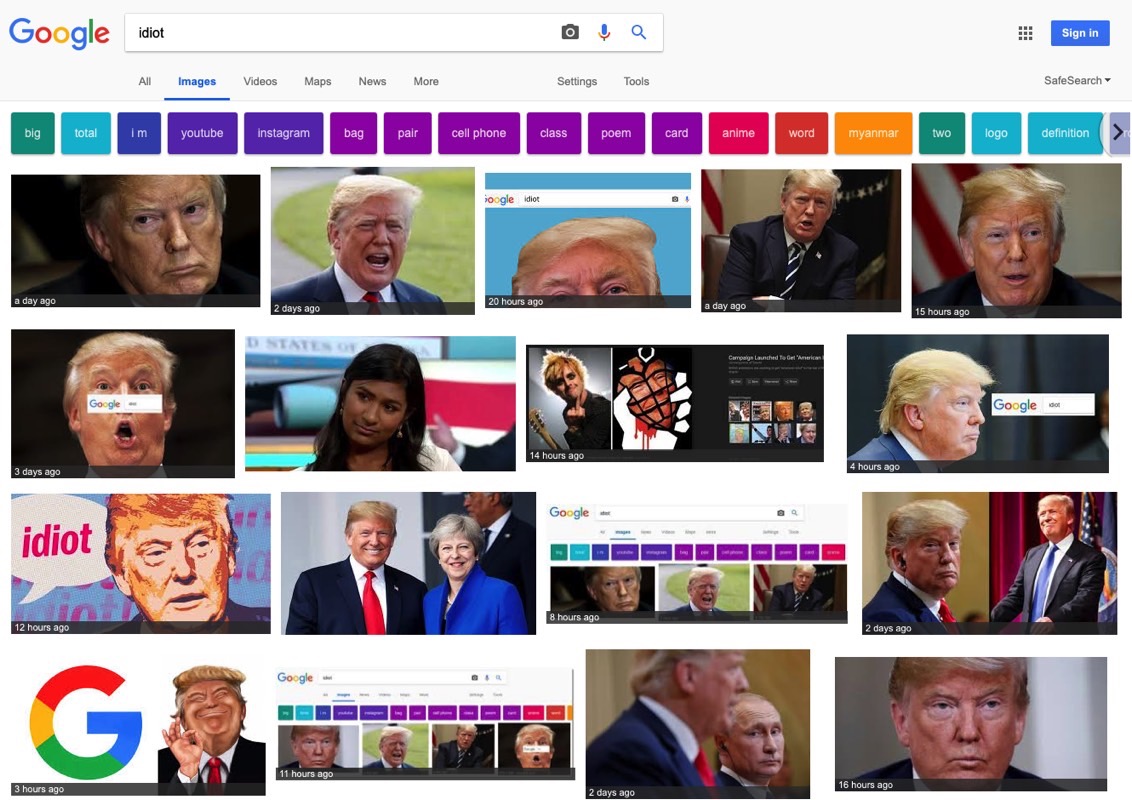 While Trump was pushing out his usual tweets this week, a different thing was happening online. People started noticing that Google Images now shows pictures of Trump when you search for the word "idiot." That's not Google's doing, so it's not like Google is taking a passive-aggressive hit at Trump while Trump is defending Google.
It's just a byproduct of how Google Search works. This sort of manipulation happened before, and it won't stop again. What happens is that a large enough number of people have been pairing images of Trump with the word "idiot" to the point where Google's bots have acknowledged the association. This CityNews Toronto video explains it all: