Not too long after the first photos of a Tesla Model 3 in the wild surfaced online, an eagle-eyed Tesla enthusiast managed to capture the first video of a Model 3 release candidate out in the wild. While various Model 3 videos have appeared online in recent weeks, this is the first video we've seen of a Model 3 out on the open road.
Originally posted by Electrek, the latest Model 3 video doesn't reveal any startling new information, but it does suggest that Model 3 testing and production is moving along as planned. As it stands now, Tesla maintains that mass production will begin in July with deliveries to early reservation holders set to begin later in the year.
As to the vehicle's interior design, Elon Musk recently took to Twitter and, with a few swift key strokes, indicated that the Model 3 will not feature a futuristic dashboard or an advanced HUD. Recall, rumors of Tesla's plans to incorporate a wild new dashboard design began to pick up steam following the Model 3's initial reveal last year.
As it turns out, the Model 3 interior will look similar to the photo below, though Musk has promised that the steering wheel will likely be far more advanced, even going so far as to liken the design to a spaceship.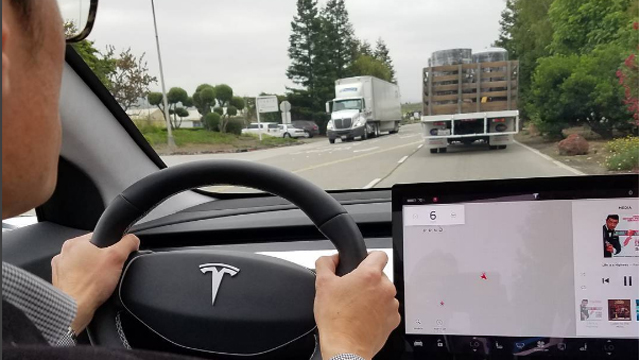 Musk has proclaimed that drivers won't care about the sparse dashboard design, but it remains to be seen if the conspicuous lack of an instrument cluster will ultimately alienate prospective buyers and current reservation holders.
Remember, the Model 3 is a budget-friendly car relative to the Model S. In turn, prospective buyers may be less willing than Model S owners to overlook various shortcomings. A traditional dash obviously becomes less of an issue when cars can drive themselves, but we're still a few years away from truly autonomous driving becoming a reality.